Have you noticed?
Google+ has added a new "local" tab on the left hand sidebar of Google+. It has been up a few months now and is quickly becoming the new "Google Places."
Google Places used to be where you would add your business to get picked up by local Google searches. If you owned a flower business in Boston and wanted to be found when people did a local search for florists, you'd ad your business to Google Places.
Now, thanks to Google Plus, the Local tab is where you want to be found.
Where is the Google+ Local Tab?
You will find the "local" tab on the left hand sidebar of your Google+ home page.
Once you open the local tab, you will see recommendations for places nearest to your current location. However, you can also search for places near your next destination or vacation.
See the picture below.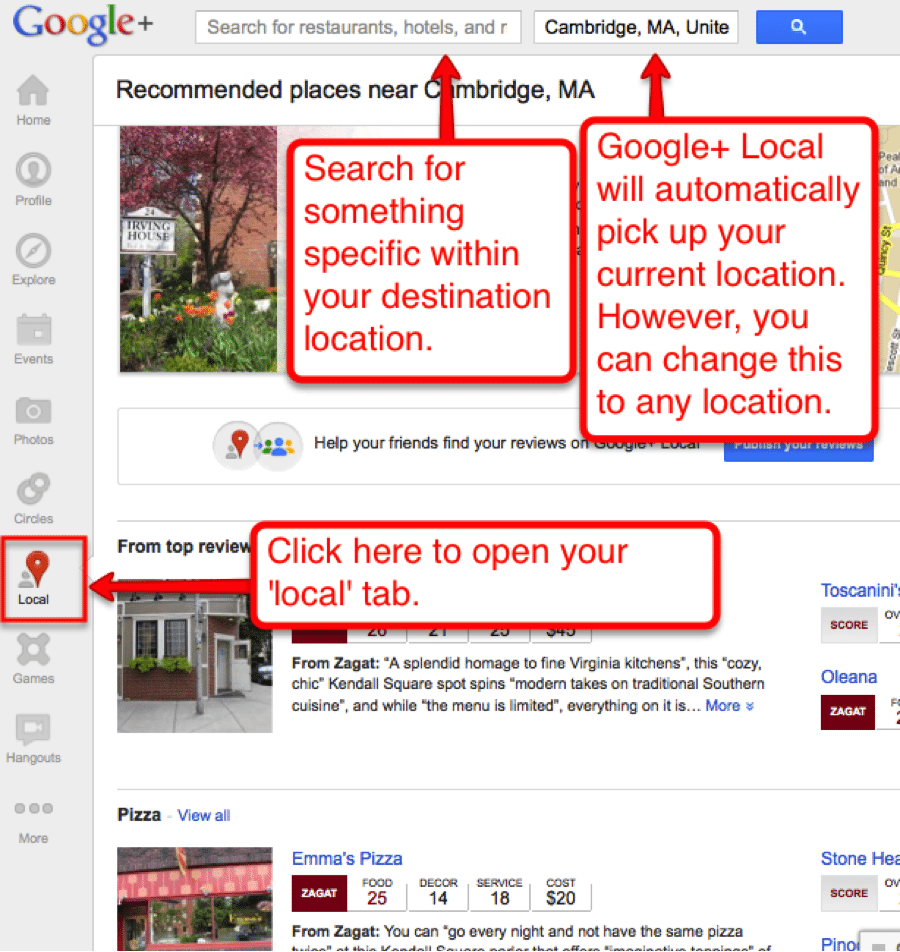 How to Utilize the Local Tab For Your Own Business?
First, if your business serves a local area, it will be important to add your business information. Scroll down to see the step-by-step procedure on how to become listed under Google+ Local.
Second, you want to use the Google+ Local tab to make connections with other businesses in your area.
To do this, visit your local tab and in the search box first type in your area of expertise. This will bring up a listing of other businesses that offer the same or similar services as you.
Then,
Check out their business pages.

Check out their website

Check out their offers and services
Ask yourself, "How can we joint venture?" For example,
Does one of their products compliment a product that you are launching? Could you get in touch with them to potentially offer it as a bonus?

Could you meet to discuss the idea of partnering on a product?

Could you meet with them to potentially bid on a local project together?

Could you co-host an event together?
Next, search for local businesses that serve your same market, but offer different products. For example, if you are a dating coach, you could find all of the local salons or spas and introduce yourself.
They too may be interested in offering a bonus to your next product.
Together, with other businesses you could put together an entire package that meets the diverse needs of your target market.

Interview them. They may be able to offer insight into what your target market most wants/needs/desires. (Their different perspective may give you fresh ideas.)
Additionally, the more you get to know other businesses that service your target market the more clients/customers you'll gain and the more your current clients/customers will like you.
If other businesses know, like and trust you, then they are far more likely to recommend you to their clients.

Similarly, your clients will LOVE you and your products even more if they know that they can ask you for great recommendations in other areas.
How to Add Your Business To Google+ Local?
1. Create a Google+ Business Page: http://www.google.com/+/business/
a. Even if you were previously listed under "Google Places", you will need a Google+ Business Page in order to be put on Google+ Local
2. List your business in the "local business/place" category when creating your Google+ Business Page.
a. If you service more than just local clients, I can understand your hesitancy here. However, you will not get listed on Google+ local if you do not. NOTE: If you set yourself up as a "brand" you cannot merge your Google+ Business Page with Google+ Local
3. Once you've created a Google+ Business Page and chosen the "local" category, the option to merge your page with Google+ Local will become available. Take it!
4. Once you merge, you will need to verify your place of business. Google uses the same method they did for Google Places. (And, yes, even if you did it for Google Places, you'll have to do it again for Google+ Local)
Are you ready to add your local business to Google+ Local?
How will you use the Google+ local tab to connect with other businesses and network? In what ways can you improve your business by linking up with other businesses that service your target market?
Please share your ideas and successes below!
Comment and share…