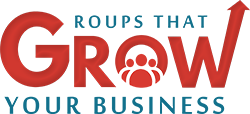 How to Build A Wildly Profitable
Facebook
™
Group from Scratch
with No Ads, Email List or Followers Required
Think you need an ads guru, a huge budget, and a lot of experience to use Facebook™ to build your business? I'm here to tell you…YOU DON'T! The key to making Facebook™ work for your business right now is all about communities – aka Groups.
Says who? Facebook™! That's right, Facebook™ announced earlier this year that the platform's focus was shifting to community building. In other words, Groups!
Now you're probably wondering...
How are you supposed to make Groups work for your business?
No worries, I've got you covered. I'm going to show you exactly how to build a profitable Facebook™ Group – using my very own proven system that attracts your target customer, fosters engagement, and creates a community that breaks down barriers to buying so people say yes to you faster (and more often!).
You don't even need a big list, a ton of followers, or prior experience with running a Group for this to work for you! Sound good?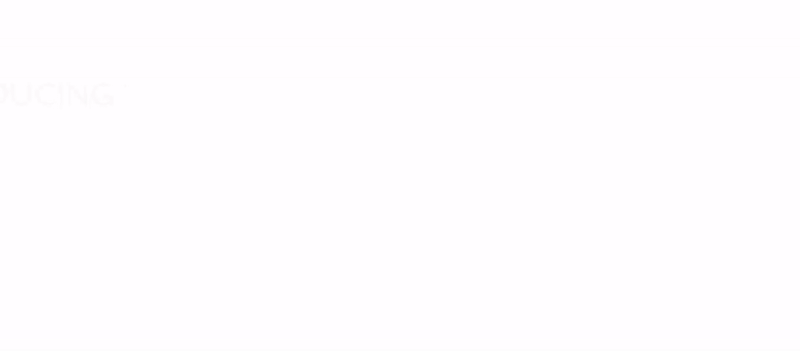 Believe me when I say, I know first hand how hard it is to sell online and scale a business – WITHOUT trading more of your time for money.
#TheStruggleIsReal
My mission is to help you earn more without adding extra hours to your day…which is precisely why I decided to reveal my four-step system for building Facebook™ Groups that grow your business.
This isn't just another online course.  Groups That Grow Your Business is about as "done-for-you" as I can get without creating and managing your Group for you! 😉
In fact, Groups That Grow Your Business is the ONLY system that gives you a tried and tested four-step process to grow, monetize, and manage your Group – plus SIX MONTHS of engaging, appealing, and done-for-you posts to make posting content nearly as effortless as pushing an "easy" button.  You get the exact worksheets, templates, checklists, and guides you need to make group building faster and easier.
180 DAYS
of engaging, ready-to-post content for your group
including images and copy – along with a content calendar to guide you!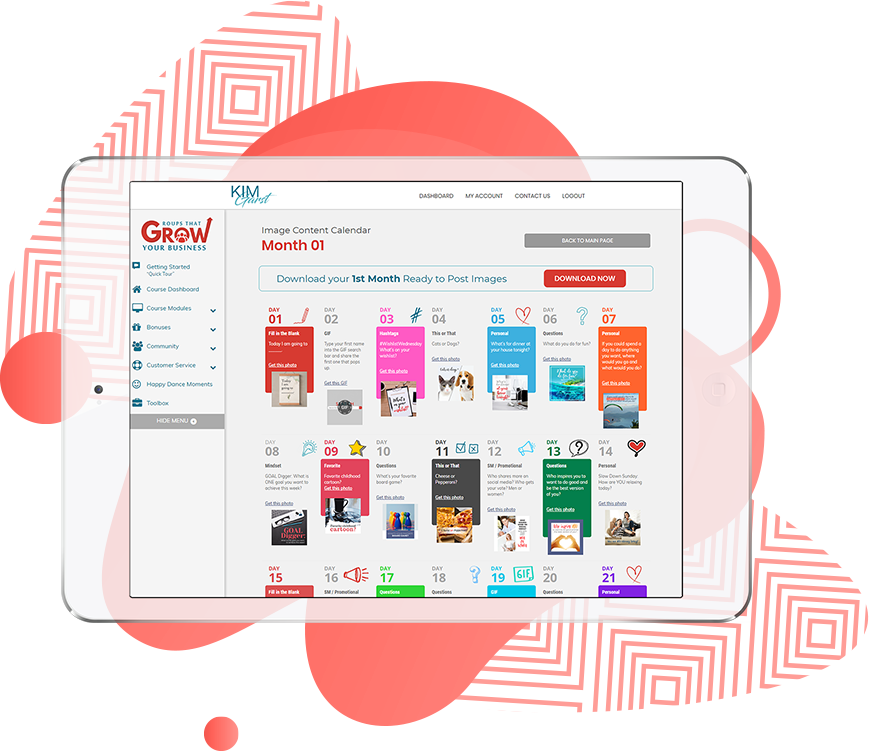 Here's what you get when you invest in
Groups That Grow Your Business TODAY: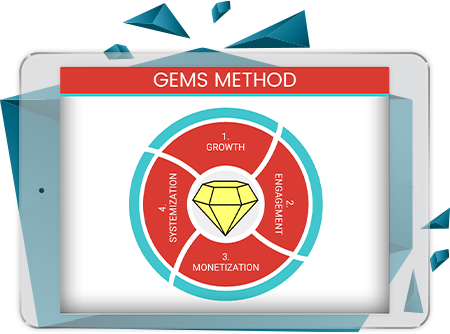 Access to my GEMS Method
You get the complete Groups that Grow Your Business Training Program that includes my GEMS system – a proven, simple four-step system for growing, monetizing, and managing your Facebook™ Group.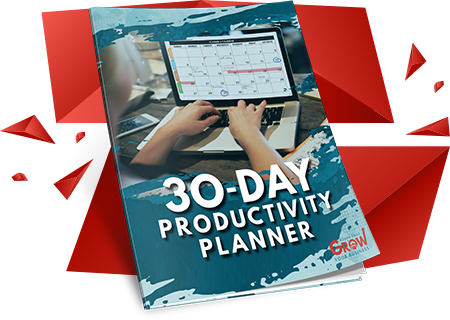 Videos, Audios, Transcripts, Swipe Copy, PDF Guides and Practically Done for You Templates
to make starting, growing, and managing your group easier and faster.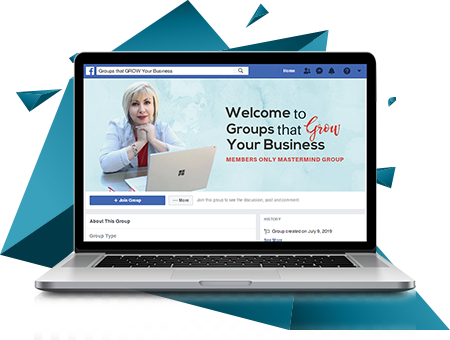 Ongoing support and access
to the Groups That Grow Your Business community via my Facebook™ Group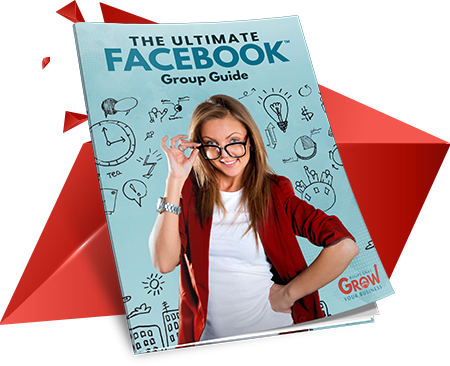 The Ultimate Group Guide
(plus a Quick Action Checklist to take action even faster if you want!)
BONUS #1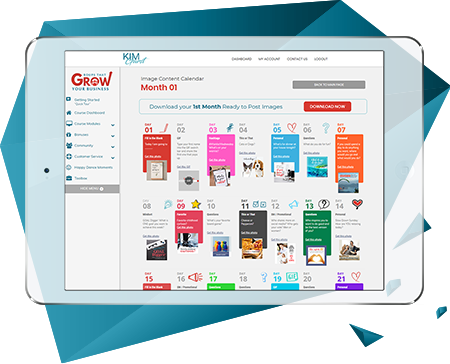 6 Month Content Calendar plus 180 days of engaging content
(copy, images, even animated GIFs!)
VALUE $1,500
BONUS #2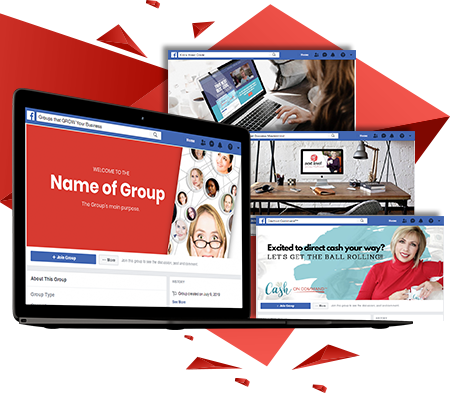 25 Facebook™ Cover
Templates
VALUE $375
BONUS #3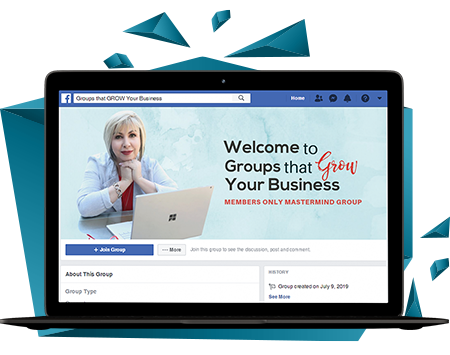 Members Only Mastermind Group
for Groups that Grow Your Business™
VALUE $497
Is Groups That Grow Your Business For You?
This training is meant for you if:
Where Your Answer is YES!
You're a small business owner who wants to sell more stuff, get more clients, scale your business, or connect with more people in your niche.
You are sick and tired of posting on your Facebook™ Page without any results.
You'd rather hear fingernails on a chalkboard than figure out Facebook™ ads or spend gobs of money on an ad guru.
You are ready to commit to building relationships and giving value to a community of like-minded people.
You don't have a Facebook™ Group yet, or you have an existing Group but you need some help managing it and using it to grow your business.
If you checked any of the boxes above…
LET'S GET ONE THING STRAIGHT
You NEED Groups that Grow Your Business
Wanna Know What's in the Training?
Curious to peek behind the curtain before you invest?
Here are just some of the things I reveal
in Groups that Grow Your Business.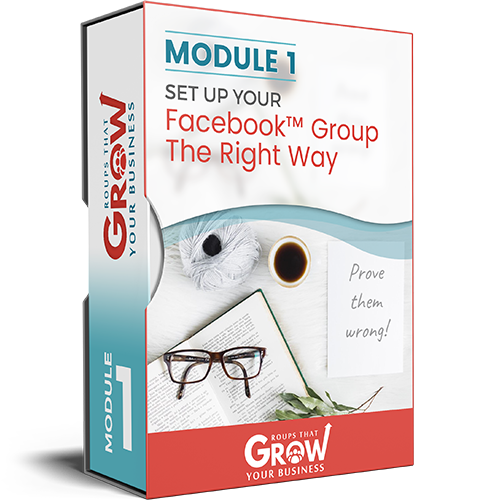 Set Up Your Facebook™ Group The Right Way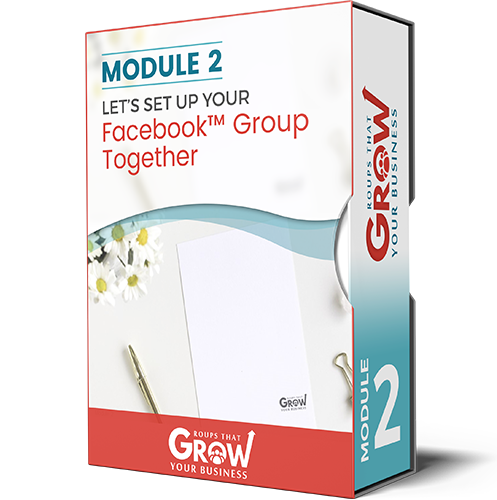 Let's Set Up Your Facebook™ Group Together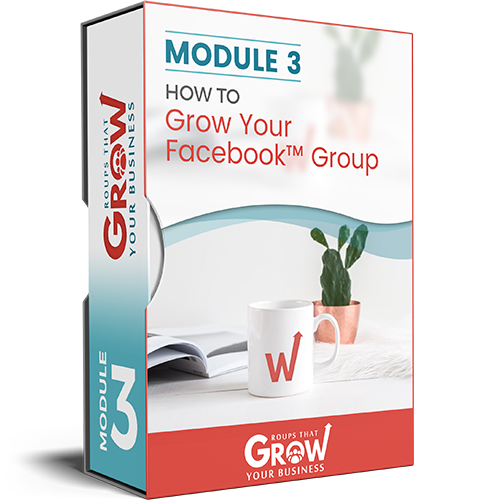 How To Grow Your Facebook™ Group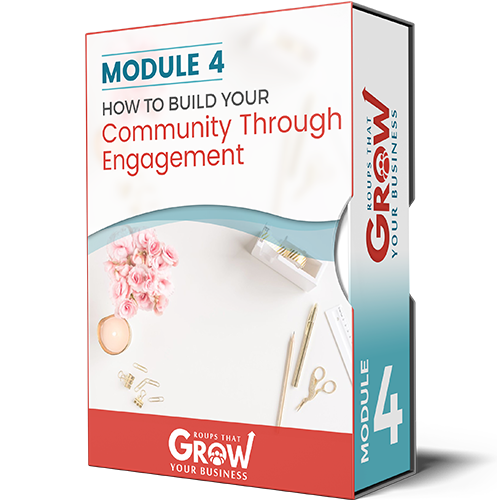 How To Build Your Community Through Engagement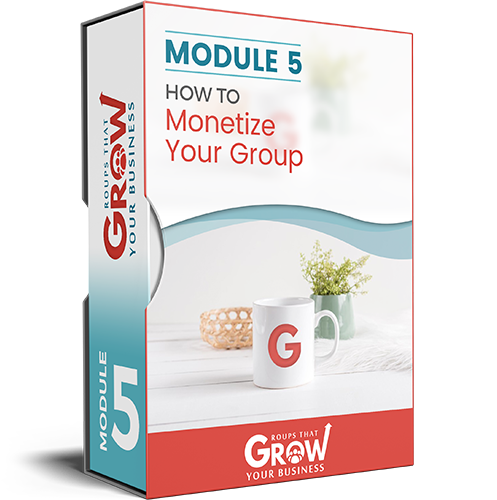 How To Monetize Your Group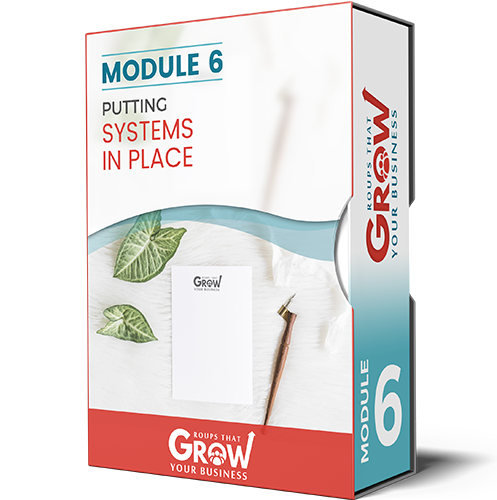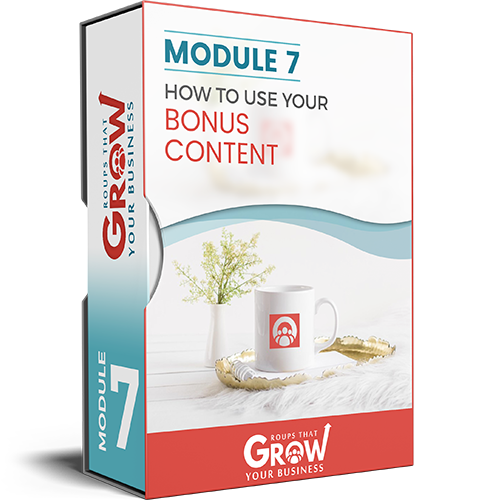 How to Use the Done-For-You Content Calendar and Images
Why You Can't Afford to Wait Even One More Day
Here's Why
TODAY IS THE DAY
to Invest
in Groups that Grow Your Business!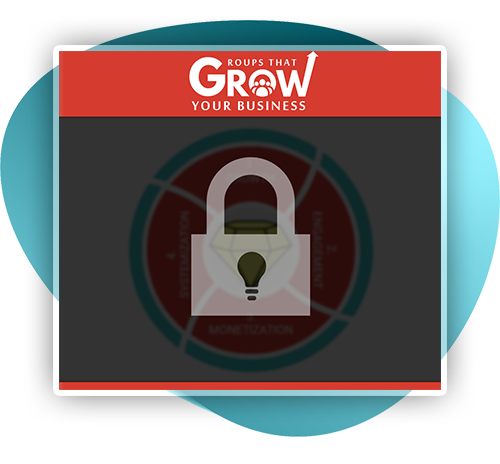 You can spend the next few months searching the web to stitch together some semblance of a plan to launch, grow, monetize, and manage your group.  However, you won't find my exact GEMS Method and all of my worksheets, templates, and checklists anywhere else online.
This is the process I've used time and time again to build multiple successful Facebook™ groups. We're talking 7-figures here! This proven system is a goldmine, and you can have access to it in the next few minutes to start taking action within a week.
PLUS…I give you systems to put in place to manage all of it!
Where will you find all of this information online in one place with guidance and support?  NOWHERE other than right here, right now!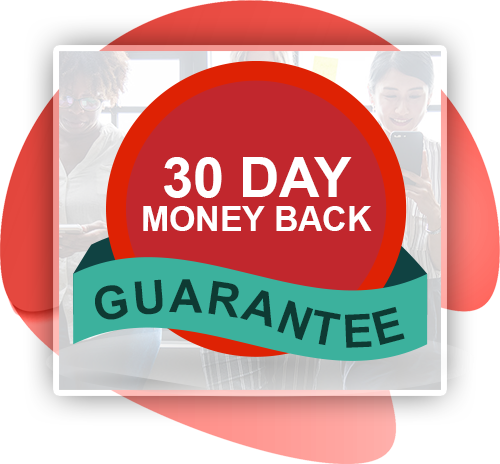 You have nothing to lose.
You get the benefit of my 30-day, 100% money back guarantee. So, whatever concerns you have about this offer, you don't have to worry. I have all the risk, you have zero!
If you invest in Groups That Grow Your Business and find out that it's not for you, no problem. As long as you contact me for a return within the 30-day time frame, you're eligible for a full refund.
(Note: if you choose to get a refund, you will lose access to the bonuses, including the 180 days of done-for-you content.)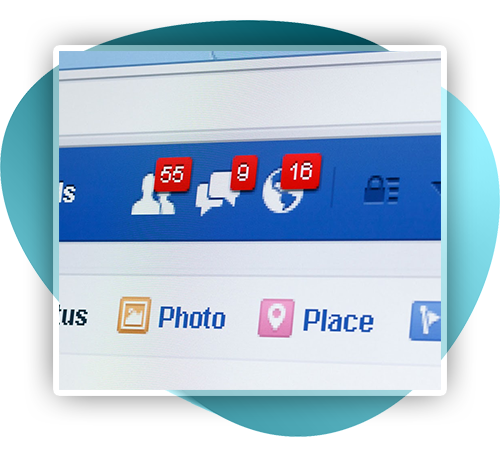 Social media platforms and algorithms change constantly.  I can't guarantee that Groups will be around forever or that Facebook™ will always give preference to Group content.
But we do know that Facebook™ plans to prioritize communities moving forward. That means your Business Page will continue to get less organic (aka free) reach. Meanwhile, those businesses with Groups will dominate the News Feed. It's happening already!
Now's the time to take advantage of Groups for your business. Like the saying goes, "The early bird gets the worm." In other words, build your community now while the algorithms are working in your favor!
All you need to do to get started is to click below…
What are You Waiting For?
Haaaaiiii! If we haven't met yet, I'm Kim Garst, international keynote speaker, highly sought-after online marketing strategist, and small business owner.
Over the past 25+ years, I've built six 7-figure online businesses and learned a lot of tricks to "making da money" as they say. I have helped thousands of entrepreneurs, to include some of the world's top brands like Microsoft, IBM, and Mastercard, and hundreds of influential business leaders with digital and social media strategies.
I'm here to help you build an extraordinary business to live the life of your dreams! I love helping ordinary people discover their unique "possibles," which is the reason why I've been teaching small business owners like you to take action on digital marketing strategies like the ones I'm teaching you in Groups That Grow Your Business.
Since 2007, I've been growing my own business using Facebook™ Groups. In fact, one of my programs and groups generated over SEVEN FIGURES, which equated to about $84,000 a month. I'm living proof that you can create a profitable Facebook™ Group – and, I know exactly how to do it.
I created Groups That Grow Your Business to share my proven GEMS Method with you so that you can scale your business with Facebook™ groups – no ads, email list, or followers required. (BTW, these are the exact strategies I use in my business too!)
Here Are A Few Achievements
I've Been Blessed To Collect Over The Years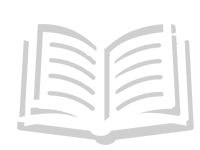 An international best-selling author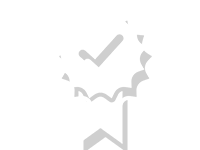 An internationally recognized thought leader in the online marketing space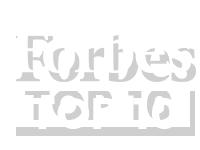 Forbes Top 10 Social Media Power Influencer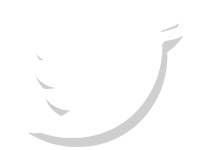 One of the world's most retweeted people among digital marketers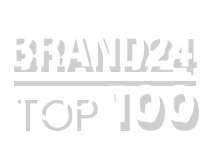 Top 100 Digital Marketer's as named by Brand24
Think about your future for a moment…
Here's Why
TODAY IS THE DAY
to Invest
in Groups that Group Your Business!
Imagine it's a year from now, and you're celebrating. Why?
Because you have built a solid community of like-minded people who care about a common theme as well as about each other, you, and your brand. Serving your community has paid off!
Your profitable Facebook™ Group has helped you grow and scale your business. Whatever your goal was when you started your Group – more clients, passive income, a bigger email list, a membership program – you made it happen, congratulations!
Since you took quick action and invested in your future, you're able to do more of what you want to do, things like…
Ahhh…this is what success feels like, am I right? Ok, back to reality!
Let me ask you a question. If there was something that allowed you to create this life, would you do it?
Because there is!
Groups That Grow Your Business will help you build, monetize, and manage a group so that you can scale your business to be able to do more of what you want.
Just a Little Reminder For 'Ya
Let's get very clear on something right away.
Digital marketing experts tell you all of the time that to make money you must build a funnel, pay for ads, hire a team, increase your followers, and build an email list – even though you don't have the budget, bandwidth, or know-how to support these efforts.
Thankfully, you can breathe a big sigh of relief! While these strategies help, you don't have to do all of these things to sell your products or services online.
The truth is, you could do all of these things and still not see profitable results!
With Groups That Grow Your Business, you'll have a proven blueprint to monetize a community without building a funnel, paying for ads, or hiring a team. You don't need followers, a big email list, or social media marketing experience to get started. ANYONE CAN DO THIS!
I've given you everything you need to create a profitable Facebook™ group:
No other courses on Facebook™ Groups
for your business come close to this offer!
Think about that before you leave this page…