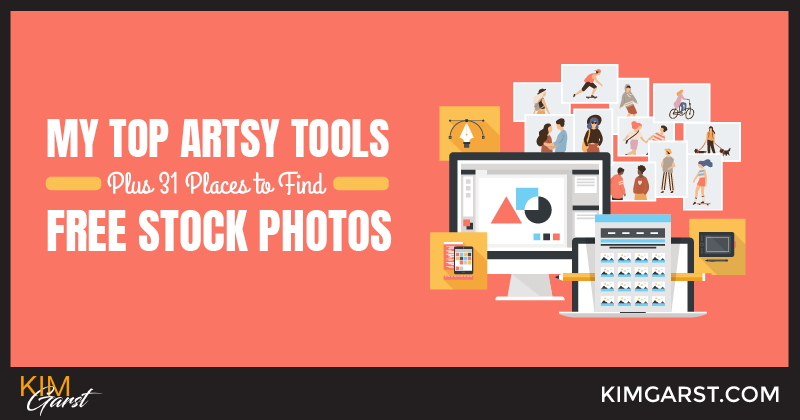 Finding the right images for your blog and social media posts is SO important, but can be costly and time-consuming. This post will save you time and frustration by laying out some of the best 'artsy' tools, and 31 places to find FREE stock photos! Everyone is always looking for places to find free stock photos for website use or for social media graphics, right? Be sure to bookmark this list and refer back to it often!
My Top 6 ARTSY tools
1. Canva – My go-to site for creating eye-catching images for use on my blog and social media! Many free images and templates to choose from, plus thousands more for just $1 each.
2. Wordswag
- Want to add a quote or other text to your images? Wordswag lets you create gorgeous text layouts within seconds – no design experience required.
3. Rhonna Designs
- App that lets you create beautiful photos using designer-quality fonts, frames, and masks. App is just $1.99 and is available for iPhone, iPad, and Android.
4. Pic Monkey
- Free photo editing software that allows you to create images from scratch, edit or improve existing photos or create collages using their flexible layouts.
5. Color Splash
– An incredible tool for customizing the colors of your images. Create an eye-catching image just by adding a pop of color. App is $.99 and is available for iPhone and iPad.
6. MoreBeaute2 – Free photo editing app that lets you perfect your social media profile picture in seconds! Lighten skin tone and smooth skin with the touch of a button.
For more of my favorite tools, see my post 6 FREE Tools to Create Amazing Eye-Catching Graphics.
31 Places to Find FREE Stock Photos
Here are some excellent resources for finding free stock photos for use on your blog or social media. When using these sites, be sure to check the licensing requirements – some require attribution (a link back to the site) while others are completely free to use without any attribution at all!
1. Creative Commons Search – Helps you find free creative commons photos on Flickr, Fotopedia, Pixabay and more.
2. Pixabay – Over 333,000 attribution-free images and illustrations to choose from.
3. Picjumbo – Free stock photos for personal or commercial use.
4. Superfamous – High-quality images from designer Folkert Gorter, free to edit and use with attribution.
5. Free Stock Photos – Free photos for personal or commercial use.
6. Picography – Stunning, high-resolution photos. Not a ton to choose from, but the quality makes up for the lack of selection!
7. Free Images – Over 400,000 free photos to choose from.
8. Unsplash – 10 new high-quality free photos every 10 days.
9. FreeImages.co.uk – Free repository of images. Link back to the site is required.
10. Gratisography – Free high-res images for personal or commercial use. No copyright restrictions.
11. Life of Pix – High-res public domain photos, videos and vector images.
12. IM Creator – A curated collection of images for commercial use.
13. New Old Stock – Free vintage photos with no known copyright restrictions.
14. Lock and Stock Photos – Professional-quality photos from photographer AJ Montpetit. Link back to the site is required.
15. Splitshire – Selection of beautiful, high-quality images with no copyright restrictions.
16. StockSnap.io – Hundreds of high-res photos added each week.
17. Jay Mantri – 7 new high-quality images added every Thursday. Edit and use without attribution.
18. Magdeleine – One free high-res image every day.
19. Picography – Free high-res photos to use however you like.
20. Pexels – 5 new photos added each day.
21. Free For Commercial Use – Free images to use in any way you like. Pulls photos from a number of other free image repositories.
22. Dreamstime Free Images – Dreamstime's collection of free images.
23. Raumrot – 566 curated and handpicked high-quality photos.
24. Morguefile – Over 340,000 images to use and edit as you like.
25. FreeFoto – 132,000 images for non-commercial use.
26. Kaboompics – Free image repository for personal or commercial use.
27. DesignersPics – Free for personal or commercial use, no attribution required.
28. FreePhotosBank – Searchable database of images for non-commercial use.
29. Freerange Stock – Large (minimum 2400 x 1600), high-quality photos. Free membership required.
30. Free Nature Stock – Royalty-free nature photos by photographer Adrian Pelletier.
31. Finda.photo – Free image search engine, searchable by color.
There you have it: My top artsy tools and 31 places to find free stock photos. This list should keep you going for a while 😉
What resources would you add to this list? Share below!
About Author