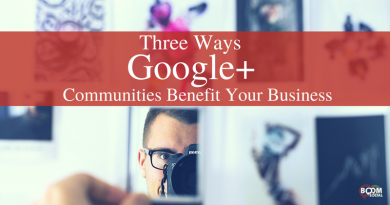 In December 2012, while we were all enjoying the holidays and scrambling to "get it all done" before the New Year, Google+ launched its newest feature, Google Plus Communities!
What Are Google + Communities and how do they benefit your business?
A Google+ Community is like a forum or Facebook group.  It is a place where people of a like-minded interest can meet, talk and support each other.
Google+ Communities have three levels: Owners, Moderators and Members.  The owners and moderators are in charge of the content.  They can delete spam and decide upon the nature of all of the member's posts.
The members can post acceptable content.
How are Google+ Communities Different From Google+ Circles?
As an Entrepreneur, Google+ Communities are more valuable than Google+ Circles. Why? Because people in any given community are there because they truly WANT to be apart of that community. 
When we circle someone we put him or her into a circle that we deem appropriate.  Then, that person sees only the content we share with that circle. However, just because we put him or her in the circle, doesn't mean that he or she likes it.  If fact, there's no guarantee that the person's even interested in the topic.
What makes communities on Google+ great is that the individuals themselves decided to join.
Is it Better To Start a Community or Join One?
This depends on how comfortable you are with the Google+ platform and how much time you have to devote to setting up and monitoring a Google+ community.
In the beginning, it may be best to start by joining a few communities.  Set time aside to jump into these established communities and play.  See what others are writing about, answer questions, ask your own questions, etc. 
This will give you a better idea of what it takes to run a community and it will put you in front of your niche right away, instead of months down the road.
However, whether you start a community today or join a few and put creating one into your business plan, Google+ Communities has many amazing benefits.
Three Ways Google+ Communities Benefit Your Business
1.  Build Relationships
In the past, Google+ was definitely a place for the technologically elite and the top social media influencers. It may have been hard for you to find great people in your niche, if your topic was on anything else.
However, with the creation of communities, it is now easier than ever to find a following in your area of expertise! The G+ Communities are fast becoming a great place to increase your network and develop relationships.
2. Discover what is REALLY worrying your target market these days
Watch the conversations and questions people ask each other in the communities you join.  This is a great way to better understand your target market. Here you can be a fly on the wall and gather ideas for blog posts, articles, products, teleseminars, courses and more.
Of course, if you know the answer to a question, jump in and share your thoughts. The more you are seen as a helpful expert, the more followers will connect with you outside of the community.
3.  You can start a hangout with members of your Google+ Community
Usually, when you start a hangout, you can invite people from a certain circle, or you can hand pick people by clicking on their name or typing it in.
However, with Google+ Community, you can start a hangout inside the community. Right now, on the right hand side of the community page, you will see a button that says, "Start a New Hangout".  This allows you to start a hangout with other members of the community, whomever is online at the time.
This can be a great way to further build your know, like and trust.  It is also a wonderful way to better understand the problems the people in your niche face.

How do you join Google+ Communities?
Let's use Boom! Social as an example.
1.  If you want to join Boom! Social Media with Kim Garst, the first thing you will want to do is click on the "communities" tab on the left hand side of Google+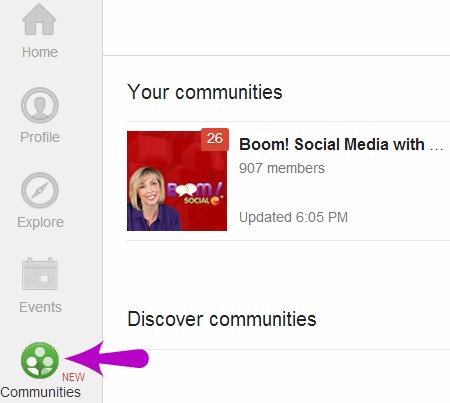 2.  Under, "Discover Communities" click on Boom! Social Media with Kim Garst or any other Google+ Community you want to join.
3.  Some communities will let you join immediately and automatically. Other communities will have you "Ask To Join". (See pictures below)
OR

Want to try one out? Come join Social Boom at: https://plus.google.com/communities/104473674568333068014
Are you involved in any Google+ Communities?
How do you find them beneficial?
How will you best utilize them going forward?
Please comment and share below…