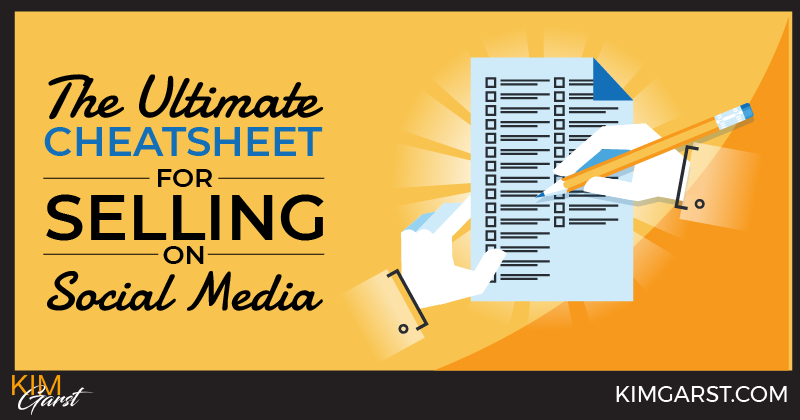 Are you ready to sell on social media? This cheatsheet cuts through the clutter by giving you actionable tips and strategies for using social media to make sales.
This post will show you how to find and attract leads, build relationships, move your social media followers into your marketing funnel, and finally, how to make the sale!
The Ultimate Cheatsheet for Selling on Social Media
1. Be present on social media, and use keywords in your profiles.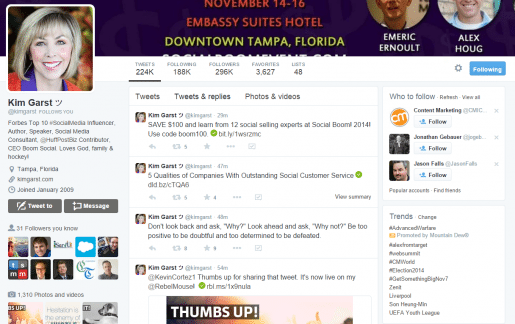 The very first step is to make sure your social media profiles are completely filled out, and that you use appropriate keywords so that your prospects will be able to find you when they search for you. Make sure to include a link back to your website; even better, provide a link to a dedicated landing page just for your social media leads.
2. Use relevant hashtags so your prospects can find you.
Use relevant hashtags and keywords in your posts and tweets so that anyone searching for your business or products can find you. 
Make sure you are using hashtags related to your products, business, industry, or topics your target market is likely to be looking for. For tips on finding relevant hashtags you can use, see my post How to Find Great Hashtags to Market Your Business.
3. Find leads using social media monitoring tools.
Tracking and monitoring conversations happening around your brand and products is a big job, but one that is made manageable using social media monitoring tools.
Monitor mentions of your name, your business name, your products and any other keywords related to your business. Search for relevant hashtags to find conversations already happening in your industry. Jump into those conversations and provide answers, guidance or helpful information where needed. Being useful is one way to start to build relationships with your target market.
4. Use Twitter to generate leads.
Twitter is one of the best tools for generating high-quality business leads…period!
One of the ways you can do this is to search for tweets looking for recommendations around your product or service. Using Twitter's advanced search function, look for tweets containing industry keywords and 'recommendation', 'referral' or 'looking for'. Then respond to these tweets offering helpful advice or information. For more tips, see my post 9 Easy Ways to Generate Twitter Leads.
5. Use LinkedIn to leverage shared connections.
LinkedIn is a great tool for researching new or potential clients or customers. Rather than having to make cold calls to potential clients, leverage shared connections to get referrals or personal introductions. For more LinkedIn tips, see my post 7 Ways to Use LinkedIn to Create Sales.
6. Create Pinterest boards to attract targeted leads.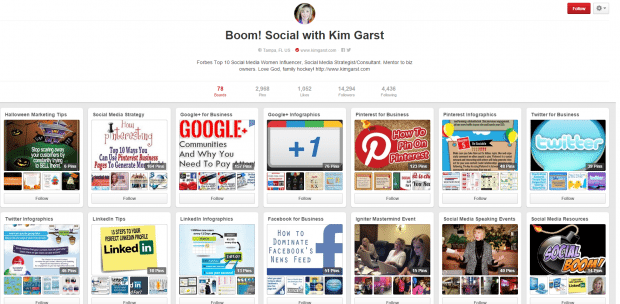 Create boards centered around topics of interest to your customers to draw in targeted prospects. Ask yourself what problems your target market is struggling with, and then create boards that help solve these problems. For more on this, see my post How to Finally Monetize Pinterest.
7. Participate in other people's communities (OPC's).
It is important to remember that your prospects are not exclusively participating in your community! Become a valuable member of other people's communities: LinkedIn groups, Facebook Pages and private groups, industry forums, commenting on other people's blogs, etc. As you become a trusted member of these communities, people are likely to want to know more about the products and services you offer.
8. Find out what your prospects want to buy.
Social media is one of the best ways to know which products or services your prospects actually WANT to buy.
Encourage your followers to ask questions, share new product ideas or give feedback, and then use this information to offer products or services they will actually buy! For guidance on this, see my post 9 Ways to Find Out What Your Prospects Want to Buy.
9. Provide valuable content on social media and your blog.
There is a reason content marketing is all the rage right now. In order to become a trusted source of industry information, you must be regularly providing valuable content via your social media accounts and blog. Focus your content on meeting the needs and desires of your target market and you can't go wrong!
10. Create a free product for building your email list.
As you build your social media community, you also want to be focusing on growing your email list. Offer an amazing free product (eBook, webinar, resource guide, etc.) in exchange for an email address. This is a critical step in building out your online marketing funnel.
11. Send regular emails with valuable content, deals and promotions.
Once you have moved your social media connections into your email list, you can continue to provide valuable information, and to notify them of upcoming deals and promotions. At this point, you have likely already become a trusted source of information, and your subscribers are warmed up to buying from you.
Use segmentation whenever possible to be sure your content and offers are targeted to specific groups of subscribers.
Use the 80/20 rule (provide valuable content 80% of the time, promote your products 20% of the time) to ensure you don't annoy your prospects and customers. 
Use a strong call to action in your emails to make sure your subscribers know what you want them to do, and what to expect when they click on your offer.
Social media is all about building connections with your target market, and then being first of mind when they're ready to buy. By following the strategies above, you're well on your way to attracting leads and building connections that will result in long-term, profitable relationships!
What is your best tip for selling on social media? Share below!