How to Choose and Create a Freebie that People Will Be Willing to Trade Their Email For
About this Training
Create a freebie that your ideal customer craves and that builds a list of buyers!
If you're ready to grow an email list, build your authority as an expert, and lead interested people to your paid offers without feeling smarmy…then read on! This mini course is for you!
Have you been postponing list building because you're unsure what to create as a free offer that gets tons of people to opt-in to your list?
I hear 'ya! Trying to figure it all out when it comes to freebies can be downright overwhelming. You gotta have…
That's why I created
How To Choose And Create A Freebie That People Will Be Willing To Trade Their Email For.
This mini course helps you create an irresistible freebie that builds your own community of fans and buyers.
This valuable training shows you: 
What every small business owner needs to know about creating an opt-in to grow an email list of targeted leads and potential buyers.
The real secret to creating an irresistible freebie that your ideal customers desire so you can stop wasting time appealing to the wrong people.
How to choose a freebie topic that positions you as an expert and attracts potential customers like kids to candy.
How to create a freebie that attracts potential buyers on autopilot and primes them for your paid offers.
Ways to design your freebie quickly, easily, and affordably (and one tip that will reduce your blood, sweat, and tears dramatically!).
The EXACT process I use to create my own irresistible, wildly popular freebies!
With this training, you'll avoid:
Paying someone else to create your freebie;

Putting off list building (and missing out on more sales); and, 

Creating a freebie that your ideal customer doesn't want or care about.
Here's What You Get With This Workshop
I know how hard it is to juggle life and business, which is why I've made this training something you can do in less than two hours. The workshop is a 6-part video series that you can complete on your own schedule.
Lesson 1 Introduction
Lesson 2 How to Choose an Irresistible Topic for Your Freebie
Lesson 3 How to Research Your Idea to Make Sure People Really Want It
Lesson 4 How to Choose the Format and Title for Your Freebie
Lesson 5 How to Give Your Freebie a WOW Factor
Lesson 6 What's Next
You'll also get this AH-MAY-ZING bonus to accelerate your success
 The Ultimate Freebie Planning Guide ($97 Value) – INCLUDED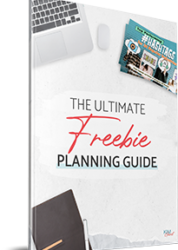 The Ultimate Freebie Planning Guide