Google+ Launches "Pages" for Brands and Business
Google+ has already positioned itself as a major player in the social media world, despite a recent drop in actual sharing on the network, and now the site has moved to counter another Facebook benefit and long-asked-for feature—Google+ Pages for brands and business.
Why Google+ Pages
For anyone unsure about the benefit to utilizing this social media site, I urge you to consider the SEO benefit to your brand and business by positioning yourself on this platform. In their Google Blog post announcing the new feature, Google+ showed at least a couple ways Pages will specifically factor into SEO for brands and businesses:
· Pages will officially be factored into Google Search results (have you seen the number of folks using Google search over other search platforms? Staggering!)
· Still to Come: Direct Connect – by typing a "+" ahead of a search query for a page, you can go directly to the page and even add them to your circles. This is only in effect for a few select brands right now, but will be rolled out for more Pages in the future.
What's interesting about Google+ Pages is that it is being positioned as a way to connect directly with businesses. From Google's Blog post:
Google+ has always been a place for real-life sharing, and Google+ Pages is no exception. After all: behind every page (or storefront, or four-door sedan) is a passionate group of individuals, and we think you should able to connect with them too.
I'm in! How do I create my own Google+ Page?
Creating a new Page is easy as can be, all you have to do is go to the Google Page start page and 'create' it. You need to already have your own Google+ Profile in place, but at this time it looks like you can create multiple Pages if you are affiliated with, say, a company, but also have your own brand.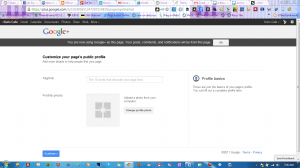 With Google+ Pages, you can position your brand or business with SEO-optimized information on your Profile page, include pictures, video, updates, and more. You can hold hangouts with fans or potential clients, and you can circle other Google+ users … and they can circle you!
Also don't forget that you can register for a free "Nick Name" at http://gplus.to/.
Will you be registering a new Google+ Page for your brand or business? Share the link below and let's connect!