New to using Instagram for business? Or just looking for tips and tricks to make your Instagram marketing more effective? This post will walk you through 10 Instagram marketing hacks you may not have thought of.
And please leave YOUR best Instagram marketing hacks in the comments at the end of the post!
1. Add hashtags after you've already posted your image to Instagram.
You already know how integral hashtags are on Instagram. But what if you've already posted an image and forgot to add them? No problem. Simply add your hashtags in the comments, and your image will appear when someone searches for those keywords!
2. Post Instagram videos between 9 pm and 8 am for maximum impact.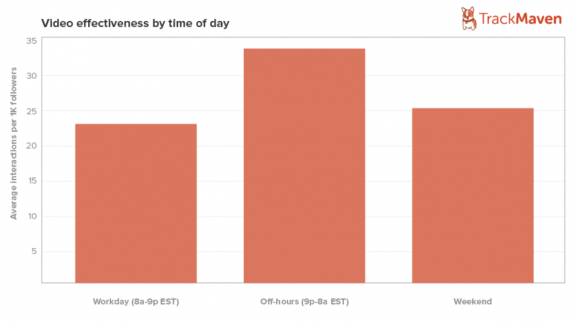 According to research by Track Maven, off-hours are the most effective time to post videos on Instagram. This is likely because many users prefer to wait until they're out of the office.
3. Share your Instagram photos on other platforms.
Let's face it: your Instagram photos are probably some of the more eye-catching and flattering images you have (LOVE those filters!). When you upload your photos to Instagram, you can immediately choose to share them on Facebook or Twitter. But if you want to share them on these platforms LATER, you can do this too: simply click on the 3 dots at the bottom of your image and select 'Share'. Simple as that!
4. Remove yourself from a tagged photo on Instagram.
If you or your business have been tagged in a less-than-flattering photo, you can always remove the tag. Simply navigate to the photo, tap on your name, click 'More Options', and select 'Remove Me from Photo.'
5. Use Instagram filters without actually posting to Instagram.
If you love a particular filter and want to use it on an image, but DON'T want to actually post your image to Instagram, here's how to do it: Put your phone in airplane mode, and upload your image to Instagram as usual. Instead of posting your photo, it will save it to your phone!
6. When in doubt, use the Mayfair filter.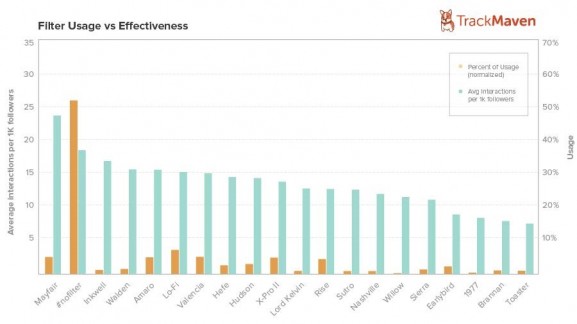 According to Track Maven, Mayfair is the most effective filter for marketers. By comparing the % of usage to the average number of interactions per 1,000 followers, they found that Mayfair produced the highest engagement, with an average of 23.044 interactions.
7. Get tons of followers and likes using Neil Patel's trick
Neil found that for every 100 photos he randomly liked, he received an average of 21.7 likes and 6.1 new followers. Keep in mind that while this strategy may increase interactions, the quality of your new followers may not be the greatest!
8. Delete an inappropriate comment on Instagram
Inappropriate comments can say a lot about your brand. If you've left a comment and later felt a pang of regret, it's not too late. Simply go to the offending comment, and click 'Comment' to access to the comment screen again. Swipe your comment to the left, and you should see a garbage can appear. Tap on the can, and select 'Delete'. DONE!
9. Use popular hashtags to get more followers and engagement
Did you know there are certain hashtags that can increase your Instagram engagement and follower count? Here are the top 10:
#l4l (Like 4 Like)
#followback
#instafollow
#followher
#followhim
#followall
#follows
#teamfollowback
#FF (Follow Friday)
#tagforlikes
For more on this, see my post Top Instagram Hashtags for Gaining New Followers.
10. Add geotagging after you've posted a picture.
Geotagging (adding your location to your image) is a great feature for locally-based business. But what if you forget to turn on geo-tagging when you upload an image? No problem. To add your location after the fact, go to your image and click on the 3 dot icon underneath. Click 'Edit', and then 'Add Location'. Done!
Why Instagram Marketing Hacks are Helpful
I hope you've enjoyed these 10 Instagram marketing hacks, and that you'll try them on your own account! These are terrific, effective ways to grow your account, increase engagement, and expand your brand's awareness.
What are your top Instagram hacks? Share below!