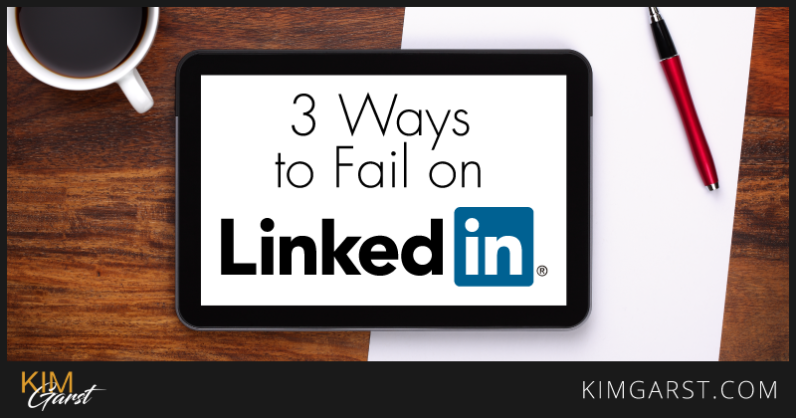 When was the last time you logged into LinkedIn?
LinkedIn is the largest professional network but THE most underutilized business resource. Most people still think its only purpose is to post your resume so you can find a new job. Despite it's rapid growth (2 new members every second) and being the largest database of highest quality business professionals, the average user logs in for only 18 minutes a month. Crazy, isn't it?
Did you know it's become a standard business practice to view someone's LinkedIn profile before attending a meeting or doing business with them
People are looking at your profile whether you know it or not. If you don't believe me, take a look at Who's Viewed Your Profile under Profile on the LinkedIn menu.
LinkedIn has grown up and is now a gold mine of information for savvy business professionals. You are just a few clicks away from over 400 million business professionals on LinkedIn. It's a very powerful tool when used properly. Use this power wisely and you will have an unlimited stream of satisfied customers for your business.
Every day, I help business professionals use this platform more effectively and I see people making a lot of mistakes because LinkedIn doesn't teach us how to use their powerful tool.
Here are 3 ways to fail on LinkedIn:
1. Your Profile Picture
"You never get a second chance to make a great first impression" – Will Rogers
First impressions are everything in business and in life.
If you signed up for LinkedIn a few years ago and haven't updated your profile in a while, you may want to take a look at the first impression you're giving people (wait until you finish reading this article before you click away!)
Your profile picture is the first thing people see when they view your profile. Do you have a professional headshot or do you have a cropped, blurry picture?
Who would you rather do business with? The polished professional or the guy who cropped his ex-girlfriend out of the picture?
A professional headshot will cost you between $100 and $250 so don't be a cheapskate.
Here are a few profile picture tips:
Your profile picture should be a professional picture with your face taking up at least 60% of the frame. Crop the picture from the top of your shoulders so your face fills the frame and shows your pretty smile.
Choose an appropriate expression. Look friendly and approachable.
Wear what you would wear to work. If you are a home inspector, wear your uniform not a suit and tie. If you're an attorney, wear a suit and tie, not your casual weekend clothes.
Choose a background that isn't distracting. You should be the focus of the picture.
Make sure to use a current photo not a photo from ten years ago when you were 20 pounds lighter.
Never use your company logo or a symbol as your profile picture. People are connecting with you the person not your company. Save your logo for your LinkedIn company page.
Here are some great profile pictures:

Here are some profile pictures from my Hall of Shame:

2. Your Professional Headline
At least 90% of LinkedIn members use their job title and company name as their professional headline which is the default setting.
Let's say you're a coach. When I search LinkedIn for "coach" over 1.3 million people have the word coach in their LinkedIn profile.
How do you grab someone's attention if they're searching for a coach?
To stand out from your competition, use your unique selling proposition (USP) or a benefit-driven statement so viewers know immediately how you can help them.
For example, by default LinkedIn would use my current job title and company name as my professional headline.
Founder and CEO of Search Marketing Simplified
Does that grab your attention?
That's pretty boring to me!
To stand out from the crowd, I use a benefit-related statement:
Accelerating Sales Using LinkedIn and Social Selling
Since I have 120 characters available in my professional headline, I added:
Best-selling Author of Ultimate Guide to LinkedIn for Business
This way I'm letting sales professionals and professional service providers (my target market) know how I can help them, which is teaching them how to use LinkedIn and social selling to accelerate the sales process. Adding the fact that I'm the best-selling author of Ultimate Guide to LinkedIn for Business adds instant credibility.
When people see my profile, they see my smiling face, my name, and my professional headline, Accelerating Sales Using LinkedIn and Social Selling | Best-selling Author of Ultimate Guide to LinkedIn for Business

3. Sell, Sell, Sell
We've all met that person at a conference or networking event. You know who I'm talking about.
That person who never stops talking about how much money they make, their fancy car, their million dollar home and their product or service which of course is the best thing since sliced bread.
As they continue their monologue, we slowly back away, trying to escape because there's no way we'll get a word in.
They don't give a hoot about us. Their only motivation is to tell us how wonderful they are and sell us something.
Unfortunately, these people are on LinkedIn and they send us endless self-promotional messages to tell us how wonderful they are.
Please don't use LinkedIn to sell!!
Focus on helping others and use this platform to build relationships. The more relationships you build, the more sales you will close and the more referrals you will receive.
"You can have everything in life you want, if you will just help enough other people get what they want" – Zig Ziglar
How I Use LinkedIn
My goal when using LinkedIn is to meet as many people as I can and start casual conversations so we get to know each other.
I used to send a customized message when I invited people to connect, but LinkedIn doesn't let you customize the invitations on mobile devices and has limited the ability on the desktop version. I still receive a great response using the default message.
I always send a welcome message after connecting with people. I thank them for connecting and offer to introduce them to anyone in my network whom they want to meet. I have a link to my LinkedIn Friends page on my website where they can learn more about me and I offer a free LinkedIn course, which many sign up for. At least 30% of my new connections reply to my welcome message and thank me for the great information I give them.
Succeeding on LinkedIn is easy when you focus on starting casual conversations and building relationships. Sales, repeat sales and referrals will come over time as your relationships develop.
Are there any other common mistakes you see people making on LinkedIn? Share them below!