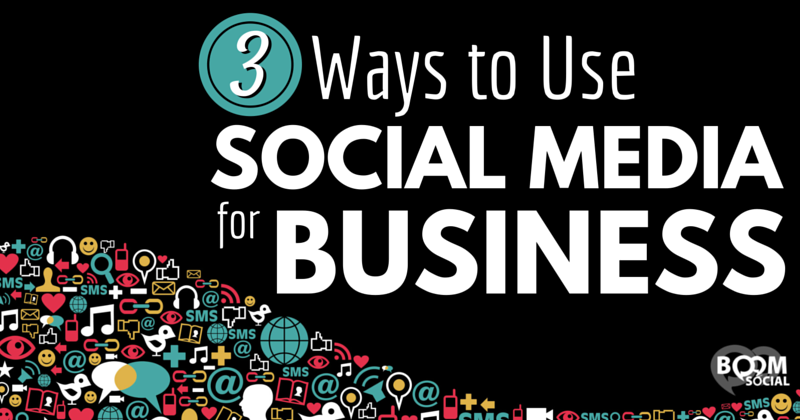 How do you use social media for business? Do you use it to push your message to your fans and followers? After all, they're a captivate audience…right?
Wrong. Using social media effectively for business is all about building trust and a sense of community. As your audience gets to know you, you become a known entity; and ultimately, this leads to sales. Remember: People buy from people they know and trust.
This post will outline 3 ways to use social media for business – to build trust, loyalty and sales.
1. Be an Industry Resource
Business owners often ask me what types of content they should share on social media. They know they should keep the promotional content to a minimum, but beyond that they're stumped.
Your goal should be to share content that meets the needs, interests and pain points of your audience. Share relevant statistics, research and blog posts that are of interest to your fans and followers. Keep them up to date on breaking news and events. Provide information that they will want to share with their friends and colleagues. These are all ways to establish yourself as a trusted source of industry information.
2. Sell Products/Services
While many businesses attempt to sell on social media, most do so in ways that annoy or alienate their followers. Constantly pushing products or promotions gets old fast, and is more likely to lead to 'unfollows' than to sales.
This doesn't mean, however, that you can't sell on social media. Some strategies that are highly effective include:
Offering exclusive deals and discounts
Offering advice and teaching your followers how to do something (tutorials, DIY's, etc.)
Monitoring relevant hashtags and initiating conversations with prospects
When you do post something promotional, including a 'hook' or interesting backstory to provide context to your pitch. This is particularly important since Facebook's ban on promotional posts.
Using images to sell without being pushy: some examples are infographics, product feature sheets and rich pins on Pinterest.
3. Customer Service
Whether you like it or not, your customers expect you to respond to questions and complaints on social media. According to J.D. Power, 67% of consumers have used a company's social media site for customer service, compared to 33% for social marketing.
And not only do they expect brands to be available on social media, they expect them to respond with lightning speed: on Twitter, 53% of users expect a brand to respond within 1 hour.
If you're not familiar with using social media for customer service, here are some strategies you can implement to meet the needs of your audience:
Respond promptly to questions and concerns raised by your fans and followers.
Be transparent and respectful in your responses, and move potentially 'hot' issues offline if possible.
Create Facebook groups for fans to ask questions, give feedback or get more personalized support.
Be consistent in the tone and content of your responses. A social customer care handbook can help to maintain consistency.
Provide personalized responses to questions and concerns. "Canned" responses can further alienate your followers.
Engage in social listening to monitor brand and product mentions. Respond when appropriate.
Over To You…
Social media isn't about pushing your products or broadcasting your message to a captive audience. If you expect your fans and followers to trust you, you need to be willing to build a rapport and keep open lines of communication. When you do this, social media really shines.
As you become a trusted industry resource, sales will naturally follow. And as you provide excellent social customer care, brand loyalty grows, and long-term, mutually-beneficial relationships are formed.
How do you use social media for your business? Share in the comments below!
*I'm compensated by University of Phoenix for this blog and, as always, all thoughts and opinions are my own.

About Author