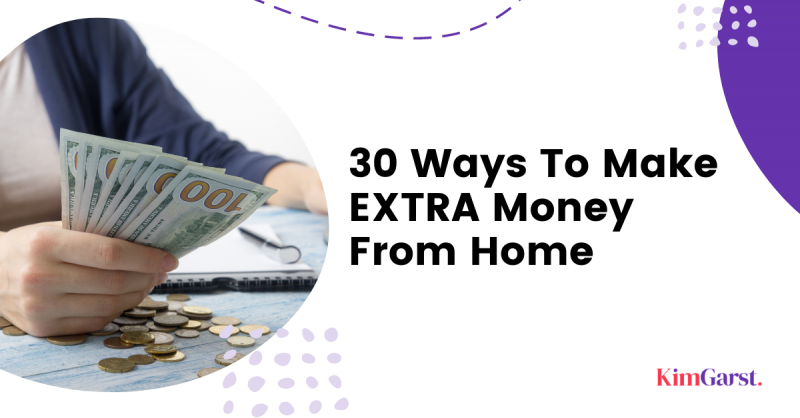 Many internet marketing gurus will tell you how you can quit your day job, start a business from home, and run it while laying in the beach.
While this definitely isn't outside the realm of the possible, what if you just want to make some extra cash on the side?
Maybe you love your job, or have small kids at home, or just need a quick side hustle so you can make some money for an upcoming holiday or renovation (or for paying down those credit cards!).
Or, maybe you'd LOVE to start a home-based business, but just aren't sure where to start. Side hustles can be the PERFECT way to get your feet wet without all the risk involved in quitting your job.
In this article, I share 30 ways you can start making money from home, TODAY. You can use these ideas whether you want to make some quick extra cash or move into being a full-time business owner!
30 Ways You Can Make Money From Home
1. Baking
Do your friends and family constantly tell you what a great cook or baker you are? Sell your goods at local farmers' markets, or approach neighborhood coffee shops with free samples and an offer to bake for them. Many communities also have local "kitchen wars" type Facebook groups where you can sell your desserts or meals online.
2. Consulting or coaching
Do you have expertise in a particular area? Are people always asking you for help/advice with getting started in your field? Start charging them and turn your knowledge into a cash cow!
3. Writing
If you have natural writing, editing or proofreading abilities, there's a HUGE market out there for your skills. Some good sources for jobs are Upwork, the Freelance Writing job board and ProBlogger.
4. Start a niche blog
This is one of my personal favorites on the list. If you have a passion for blogging, starting a niche blog can be a fantastic and fulfilling way to start a side hustle OR a full-time business. Not sure where to start or how to make money with a blog? These blog posts will help!
How To Start A Blog In 30 Minutes Or Less
How To Make Money With Your Website, Part I
How To Make Money With Your Website, Part II
5. Get into the resale business
Love garage saling and shopping at thrift stores? Look for deals and then resell your wares for a profit on Craigslist, eBay or on local Facebook buy and sell groups.
6. Rent out a room on Airbnb
If you have a spare room or suite, why not put it to good use? Airbnb even offers a free tool that will tell you the going rate for rooms in your city.
7. Become a personal organizer
Do you love to create order out of chaos? Do you have a natural gift for keeping things neat, tidy and organized? Offer your services as a personal organizer to busy working professionals.
8. Start an Etsy shop
If you love crafting, creating or designing, you can create a solid side hustle – or even full-time business – on Etsy. Etsy isn't just baby clothes and party invitations! You can sell everything from hand-made jewellery, home décor, printables and much more.
9. Dropshipping
If the idea of an eCommerce store appeals to you but you don't want the hassle of manufacturing or storing inventory, you might want to look into dropshipping. Here's how it works: You showcase a variety of products on your site. When someone puts in an order, a third party (the dropshipping company) ships the product. Huge businesses have been built on this business model…including furniture and home décor store Wayfair!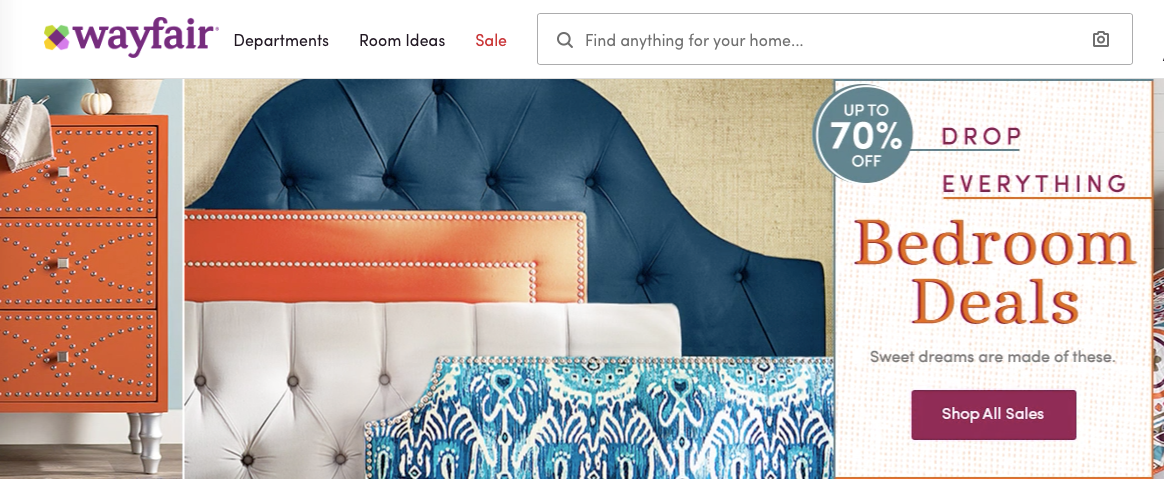 Wayfair.com is built on the dropshipping model
10. Web or graphic design
Do you have a knack for building websites or creating eye-catching graphics? There is a huge demand for these skills!
11. Offer to provide childcare
Are your options limited because you have young kids at home? An at-home daycare could be a great option for you. You could start out with just one or two kids, and over time, even grow into a full-time business with multiple locations!
12. Fix up and sell old furniture
If you love looking for old, tired furniture and then turning it into something new again, this could be the gig for you. Look for solid pieces of furniture at garage sales or thrift stores, slap on some new handles and a fresh coat of paint, and sell them for a profit on Facebook, Craigslist or through an online furniture sales site like the Apartment Therapy Marketplace.

13. Housecleaning
OK, maybe not the most glamorous gig on the list, but cleaning can be a great way to make some extra cash, fast! House cleaners can make a great starting wage   (anywhere from $25-$45/hour!), and with good references you can grow your business quickly
14. Handyman
There's a huge market for general handyman services: everything from fixing leaky faucets, to replacing light bulbs, to moving heavy furniture. Tip: Advertise at local senior centers. With so many seniors now wanting to stay at home as long as possible, you'll never run out of work!
15. Become a virtual assistant
If you have great people skills, are highly organized and are  good with computers, this may be the perfect side hustle for you. Reliable VAs are in high demand, and the potential for growth in your business is huge. Get started by joining a VA  service like Fancy Hands, or go out on your own by finding gigs at a site like Hire My Mom.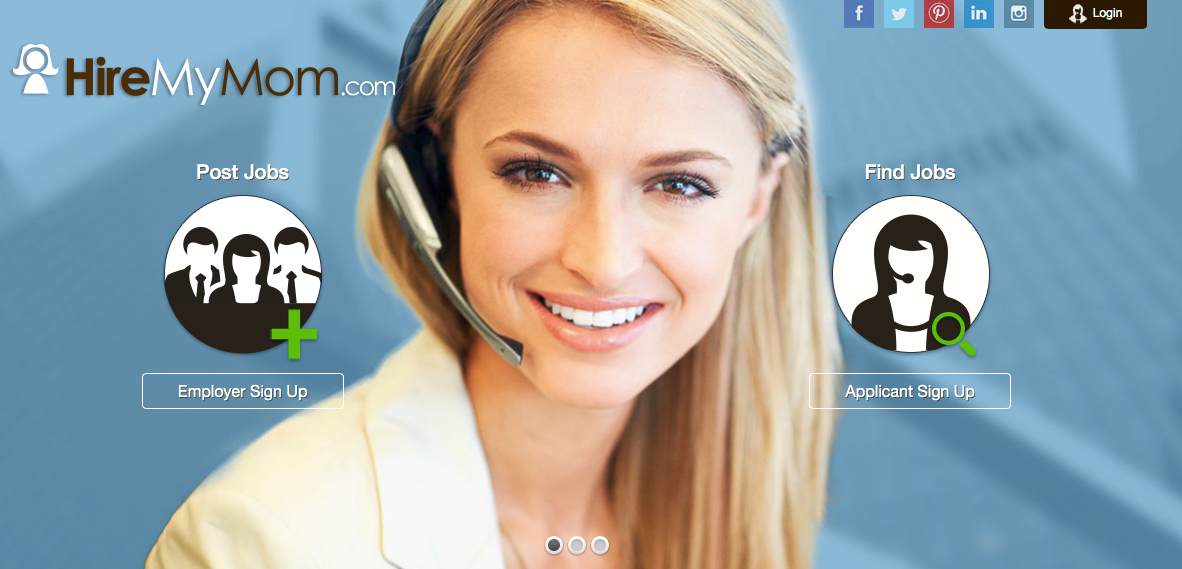 16. General lawn/house maintenance
This could be a good add-on service for the handyman gig, or it could be a standalone service. Sweeping doorsteps, raking leaves, mowing lawns, shoveling snow….again, seniors will be your best customers!
17. Pet sitting or pet walking
If you love animals, this can be a rewarding way to make some extra cash. This type of business can also easily be scaled if you can find additional sitters or walkers who want to work for you.
18. Selling t-shirts
Don't worry – I'm not talking about selling t-shirts out of the back of your  van! <grin> With so many amazing t-shirt fulfillment companies out there now, anyone can run a side hustle selling t-shirts, with little to no investment. Sites like Spreadshirt, Printful and CafePress let you quickly design t-shirts, and then the company prints and ships them on  demand. This means NO inventory and NO risk to you!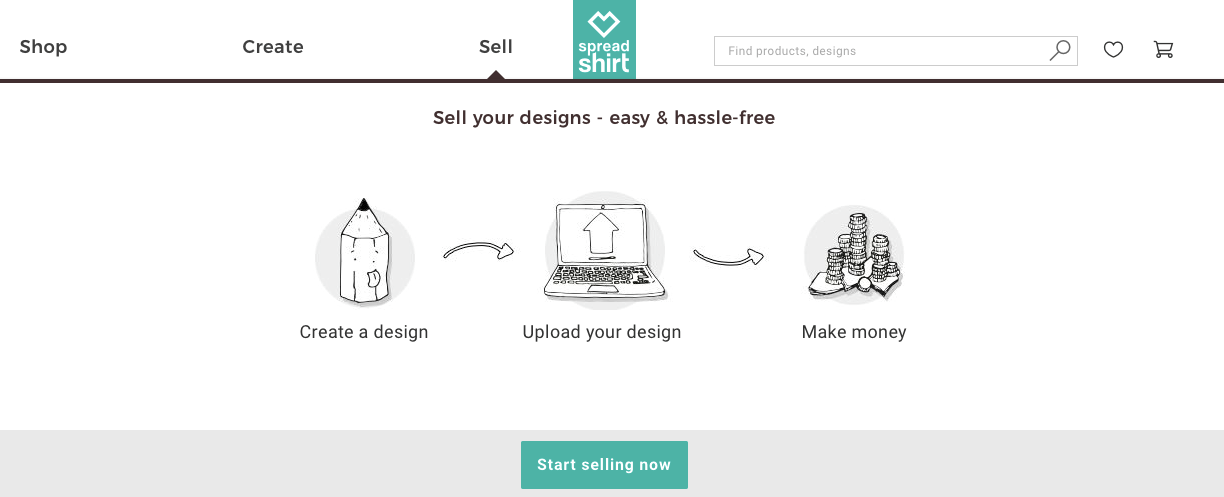 19. Offer your services on Fivver
While it can be difficult to make a lot of money on Fivver, it can be a decent tool for generating leads for your business. Just don't sell yourself short by doing tons of work for just $5!
20. Become a rideshare driver
While this won't be everyone's cup of tea, signing up to be a driver can help you turn your car into a money-making machine! If you love driving and meeting new people, consider signing up with Lyft or Uber.
21. Become a tutor
Reliable, knowledgeable tutors are always in demand. Post an ad on local school and university bulletin boards, as well as on Craigslist and social media. If you'd rather           jump in and start tutoring immediately, established tutoring companies like TutorMe or  Tutor.com are always looking for new tutors to add to their roster.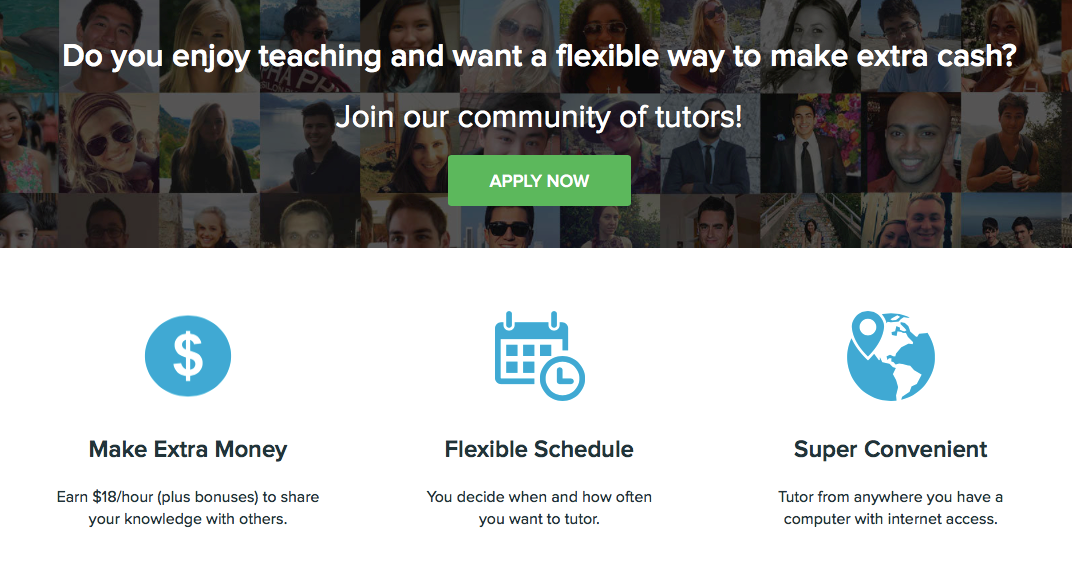 Sign up as a tutor on Tutor Me to start making money as an online tutor today!
22. Social media manager
Do you have a passion for social media? Are you experienced with using it for business purposes? If so, hire yourself out to manage the social media accounts of local businesses.
23. Write an eBook
Do you already have an engaged audience of people who rely on you for expert advice? Package up your best tips or advice and create an ebook out of it. Brand new to internet marketing, and don't have an audience? No problem! Write an ebook and sell it on Amazon and Kobo!
24. Become an online teacher
You don't need a teaching degree to teach online! Sites like Udemy and Skill Success allow you to create and promote courses on pretty much anything you're an expert in: makeup, fashion, bookkeeping, conversational French, chakra healing…you name it!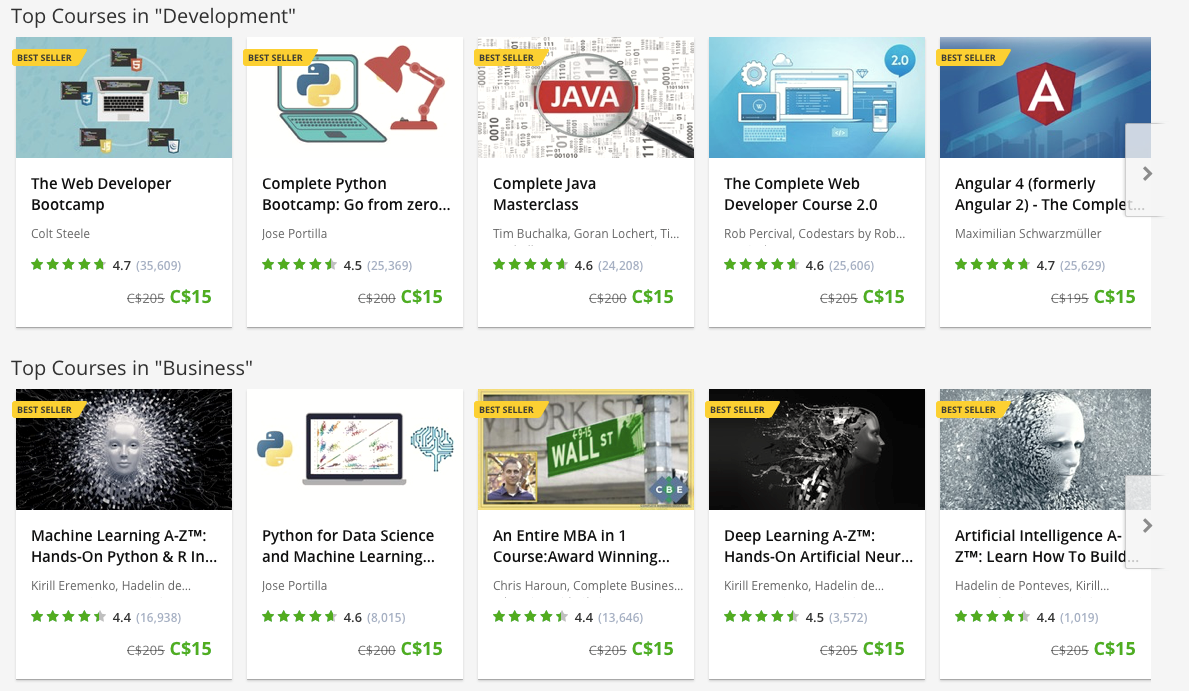 Just some of the courses currently being offered on Udemy
25. Offer music lessons
If you're a music pro, consider offering private music lessons at your home. This is a super flexible gig, and generally lets you keep your work contained to evening hours.
26. Sell your pictures
If you have a knack for photography, stock photo sites like iStockphoto or Shutterstock are always looking for images. Of course, if you want to cut out the middleman, starting your own website or blog is always a great option!
27. Join TaskRabbit.com
Are you a natural at fixing stuff, assembling furniture or doing home improvements? TaskRabbit is an app that lets you offer your services for one-off jobs like home repairs, housecleaning, or yard work. Here's how it works: Sign up here, and then you'll be notified when relevant jobs open up in your area. Using the app, choose which jobs you'd like to do, and arrange with the client. You can even send an invoice right from within the app!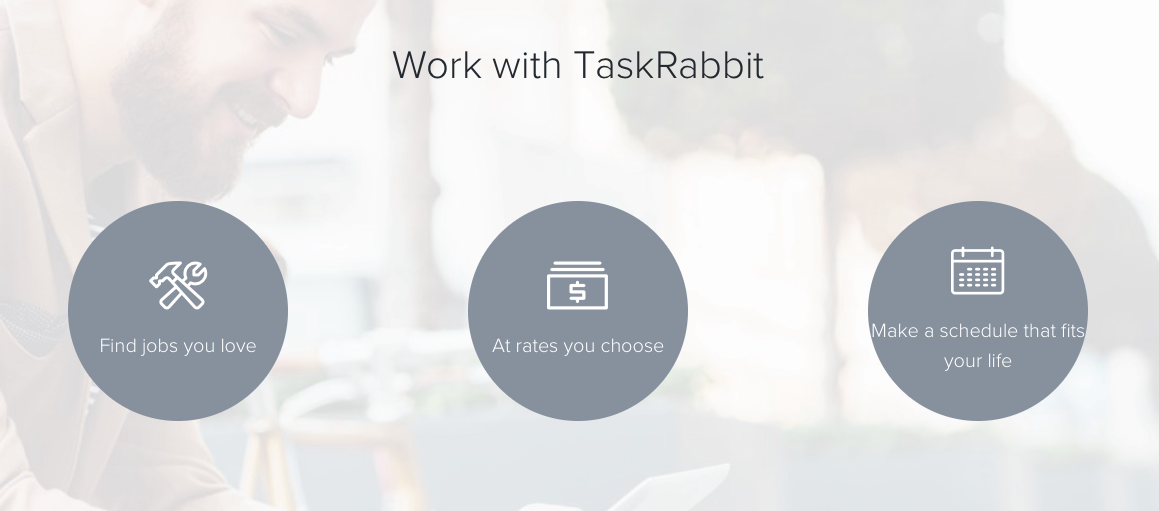 TaskRabbit lets you easily find tasks you can perform in your local area
28. Write resumes
Many job seekers rely on professional resume writers to help them prepare attractive and up-to-date resumes or CVs. If this is something you're experienced with, advertise your services on Craigslist and local employment centers and job boards.
29. Teach local classes
I've already given you a few ideas for becoming an online teacher or tutor, but your local community needs your expertise too! Community colleges are often open to hiring sessional instructors who have advanced training and expertise in a particular field. You may also be able to offer more hands-on classes through local businesses or community services. (e.g., "Furniture Repair 101" at a local used furniture store).
30. Join PostMates.com
Do you love driving, cycling, scooting or even just walking? PostMates is a service that lets you sign up to do deliveries for local businesses. Pay can be as high as $25/hour plus tips, and you can do deliveries any time that suits you! Sign up to become a Postmates fleet member here.
5 Ways to turn your side hustle into a thriving full-time business
 While some of you may be looking for a side gig you can run while continuing to work for someone else, I know others of you would love to turn your "side hustle" into a full-time business.
This final section will show you exactly how you can grow your part-time passion into a thriving, full-time business!
1. Give yourself a deadline
If you're not working towards a clear goal, your side hustle is likely to remain your side hustle for a very long time!
Give yourself a date when you plan to quit your day job and move full-time into running your business. Then work backwards to figure out what you need to do to get there. Be sure to factor in things like:
Setting up your business as a legal entity (not usually necessary for a side hustle, but imperative for a full-time business)
Hiring staff or contractors to help once business picks up
Advertising or marketing your business in order to generate more orders/bookings
Budgeting to ensure you have the funds necessary to survive once you quite your 9-5. This may include applying for a loan or line of credit or arranging for other forms of funding.
2. Just keeping it real…prepare for a lot of work on the front side
When you're preparing to launch your full-time business, you'll likely need to put in more than full-time hours.
Plan to put in your 8 hours at the office, then come home and put in another 4-6 hours working at your side hustle. In other words, plan to do double duty for a while!
It's just not realistic to think you'll be able to quit your job, THEN start working your butt off on your business!
3. Get support
Starting a full-time business is no joke! You'll need the support not only of friends and family, but of other business owners. Find a group like my Ignite Your Inner Circle where there are other entrepreneurs going in the same direction. You will never be alone on your journey again!
Tell those close to you what you're planning to do – you never know who could be a valuable source of knowledge, expertise or advice.
Just be sure word doesn't get back to your boss before you're ready to hand in your notice!
4. Consider diversifying
Depending on what type of side hustle you've been running, you may need to consider diversifying if you want to move into a full-time business.
For instance, if you've been teaching online classes to this point, you may find you need to branch out into other areas: like teaching local classes or starting a niche blog and selling an eBook on the site.
Diversifying can not only help you attract more work, but it can reduce your risk – if one branch of your business is slow to get off the ground, another one may help keep you afloat.
5. Build your presence on social media
I think it goes without saying that a solid social media presence will make your transition to full-time business SO much easier!
It will give you a channel for promoting your new business, help you connect with potential customers, and allow you to establish your reputation in your field.
It will also provide a way for your to build your email list….which is critical to the growth of your business!
Need some tips to get your social media on the right track? These resources will help:
3 Ways To Use Social Media For Business
6 Mind-Blowing Tips To Optimize Your Social Media Marketing
30 Tips To Improve Your Social Media Marketing
Final thoughts
I hope this post has sparked some ideas for starting your own side hustle. Whether you're looking to make some extra cash, or have BIG dreams for a BIG business, this post should get you started on the right track!
Are you going to start a side hustle? Tell us about it!
About Author