I know SEO isn't everyone's favorite topic, but if you want your content to rank in the search engines, it's an absolute must. To make the process of optimizing your content a little easier, I've put together this list of:
5 SEO tactics you must start doing immediately!
1. Use header tags to show what your content is about
This may sound complicated, but trust me – it's not. Header tags are simply headings used to indicate to Google and to your readers what your content is about. In the HTML of your page, header tags will look something like this:
<h1>This is my title</h1>
If you want your content to rank in the search engines, I would highly recommend using unique header tags. Here is a quick overview of how to use them to get your content ranking.
H1: Each page should have one (and only one) H1 tag. It will usually be the title of your page or post, and is important both for rankings and for user experience.
H2: These are sub-headings that are used to break your content into more manageable chunks. They help your readers understand the progression of your content, and let the search engines know the main topics of your page.
H3, H4, etc.: These are sub-sub-headings! Generally speaking, your H1 and H2 tags are where you should be putting your focus. However, longer articles may benefit from the use of these sub-headings to break up long chunks of text.
2. Focus on writing longer content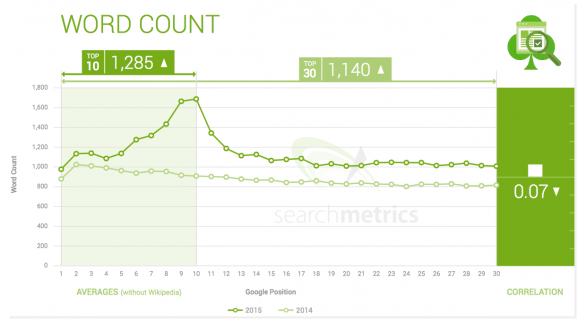 It used to be that you could write short (<400 word) content, target it towards a certain keyword, and get it ranking in the search engines. Google is now showing a clear preference for longer, more 'meaty' content that does a thorough job of covering a topic.
According to recent research by Searchmetrics, the average word count of the highest-ranking pages is 1,285. If you want your content to rank in the search engines, make sure it does a great job of covering the topic at hand. You don't need to get hung up on achieving a precise word count, but you do need to make sure you're sufficiently digging into the topic and offering unique insights.
3. Make sure you use a variety of relevant words in your content
Over the past few years, we have seen a HUGE shift away from using keywords. While keywords in your title tag, headers and content are still important, Google now wants to see that you're using a wide variety of other relevant words and terms in your content.
Searchmetrics found that 'proof terms' and 'relevant terms' have become increasingly important for achieving high rankings. These are words that will be naturally included if you're doing a great job of covering a topic. For instance, if you're writing about web design, you'll naturally include words like internet, website and design.
Again, if you're focused on providing a great user experience and covering your topic in detail, you'll naturally include these types of words in your content. If you need a bit of extra help to make sure you're including lots of related words and terms, I recommend using a keyword tool like Ubersuggest.
4. Make sure your site is mobile-friendly

You've probably heard about Google's recent move towards making mobile-friendliness a ranking factor. This was referred to by some as 'Mobilegeddon'. To put it simply, since April, sites that aren't mobile-friendly will have a very, very difficult ranking in mobile search!
Not sure if your site is mobile-friendly? Use Google's Mobile-Friendly Test. If it turns out your site isn't optimized for mobile devices, consider switching to a responsive website design. If you have a WordPress site, you can even use a free plugin like Jetpack to instantly convert your theme to a responsive design!
5. Use lists and interactive elements to structure your content
We have known for a long time that making pages easy to use is great for improving user experience. However, in recent years, we're also finding that elements like buttons, menus and lists (both bullets and numbered) can have a significant impact on rankings.
In fact, Searchmetrics even found a correlation between the number of bullets in a list and higher rankings; so, when in doubt, add more items to your lists!
Structure your content so it's scannable and as easy to ready as possible. Keep in mind that many of your visitors will be visiting your site on their mobile device while 'on the go'; so using images, links, buttons and lists will make your content so much easier for them to access!
I hope this post has taken a bit of the mystery out of optimizing your site for the search engines. Above all else, focus on writing in-depth content that does a great job of covering your topic, and structure your content in a way that makes sense to your readers. These are the keys to getting your content ranking highly in the search engines!
What do you think? Are you going to be implementing the 5 SEO 'tactics' above?