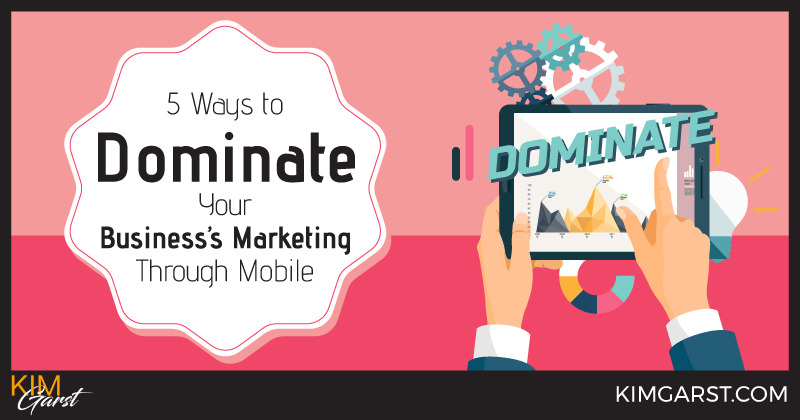 Thanks to evolving technology over the past decade or so, we're now able to carry the entire Internet in our pocket. Because of that, many people are constantly finding a reason to use their smartphone. With so many people on the Internet at any given moment, it's crucial to advertise to that mobile audience, but how would you go about doing that?
It's been said that mobile Internet users have an extremely short attention span, so you have to somehow capture that person's attention in an incredibly short amount of time. Here are several ways that you can dominate the marketing of your business through mobile devices.
Use a Simple Design for Your Website
You have to assume that mobile users will tend to have a spotty connection. Because of that, you want to have a simple layout. Keep the design simple and clean. Avoid Flash animations at all costs — they don't work well with mobile platforms, and they don't offer you any SEO value anyway.
In keeping with the theme of making themes simple, avoid drop-down menus. They're almost impossible to work with on a small screen. Instead, offer clickable links or large tiled menus at the bottom or top of the page. Just make sure that they don't overshadow your content. If your site is created with Responsive Web Design (RWD), it will probably already be optimised along these lines.
Branch Out on Social Media
Shifting gears away from your website, you should focus your advertising efforts through social media. Since you can't place native ads on the mobile app version of Facebook (yet), you'll have to make a page for your business. On that page, load it with valuable content. Facebook has changed the way things are laid out and now feature content with a lot of positive feedback toward the top. Also, you should post at the right time of the day. If you post late at night or early in the morning, your post will quickly get buried under the content from the next morning. Post your content during the day, usually right around lunchtime, and people will see it and comment and share your content.
Twitter's a completely different beast. You'll want to ask questions and use other tactics to engage your followers and give them room to retweet, as well as respond. You should also use hashtags appropriately. Hashtags allow people to join in on the conversation about a certain topic, so try to use hashtags that are relevant to your brand.
Have Your Employees Engage in "30 Minutes of Marketing"
Speaking of social media — it might be helpful to implement a "30 minutes of marketing" strategy to get your employees to do much of your company's social media marketing for you. It works like this: For the first ten minutes, your employees will use a Twitter search to find and follow new people in your company's industry.
During the next ten minutes, they'll post and schedule new updates (preferably ones that further your company's interests, like sharing blog posts or information about products, etc.) for the next three days for Facebook and Twitter. In the five minutes following that, instruct them to reply to every tweet and comment they receive.
In the last five minutes, they should initiate a new discussion with someone new. On the second day, have them switch it up and dedicate ten minutes to search, ten minutes to replying, five minute to tweeting and five for new discussion. On the third day, they should be creating content (however brief), then sharing it. On the fourth day, start over.
The "30 minutes of marketing" strategy tends to work best if your company implements a BYOD plan using solutions like the ones offered by BlackBerry. Using their own mobile devices, ones that they're fully comfortable with using, your employees could easily dedicate half an hour of their work day to marketing your company. And the buzz they create for your company will be worth its weight in gold.
Place Advertisements Within Other Apps
No matter what you do, people are going to spend time either disconnected or with other apps. Given this, you may decide it's time to advertise within those apps. There are several in-app advertising services that will help your business pop up on ads everywhere.
If you don't want to go that route, you can create a mobile app for your business that will directly relate to the products that you offer. It could be a free app or a premium app.
Advertise Locally
Advertising on a mobile platform tends to do better when it's targeted to people based on where they are and the things they're searching for. Allow your ads to be targeted to those in a certain location or those that search for a certain keyword. When people click on your ad, they can be guided right to your business. Since you're targeting users on a mobile platform, there's a good chance that they're already out and about and will make a stop at your business.
There's no method of advertising on a mobile platform that always works better than the other, but by integrating a few of these, you'll be able to reach a large number of people. Have you advertised your business on a mobile platform? If so, what method did you use, and what was the result?
About Author