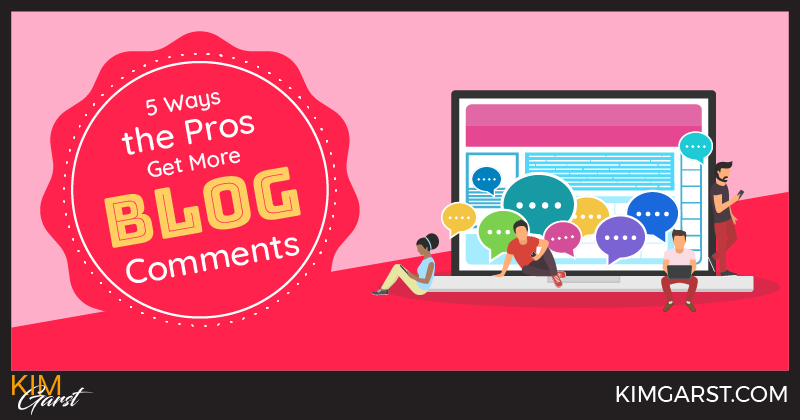 Do you ever wonder why you don't get more blog comments?
It is not uncommon to receive a decent amount of traffic to your site, only to find that your visitors just aren't interacting with your content.
That is why I have pulled together 5 strategies that the pros use when it comes to eliciting more comments on their blog posts.
Be sure to leave YOUR best tip in the comments at the end of the post! 
1. They ask targeted questions.
Take a look at this recent post on the ProBlogger site that has received 54 comments just in the past few days. The post is surprisingly short; in fact, I would guess this post took him no more than a few minutes to write.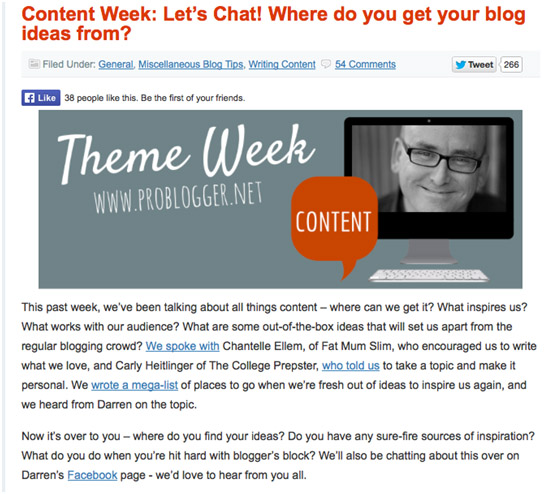 So, how can such a short post elicit such great engagement? The key was asking a very relevant and targeted question to his readers: "Where do you get your blog ideas from?".
Not only do people hate to leave questions unanswered, but they love 'crowdsourcing': getting ideas by soliciting ideas and opinions from a group.
Not only will asking targeted questions likely lead to more engagement, but your readers will also be more likely to read through all the previous comments, keeping them engaged with your content even longer.
2. They have content worth commenting on.
I know this one sounds obvious, but it is too important to leave off this list. If you are not offering anything unique or original to your audience, why would they feel the need to leave a comment?
Take this blog post from the CopyBlogger site that quickly racked up 44 comments.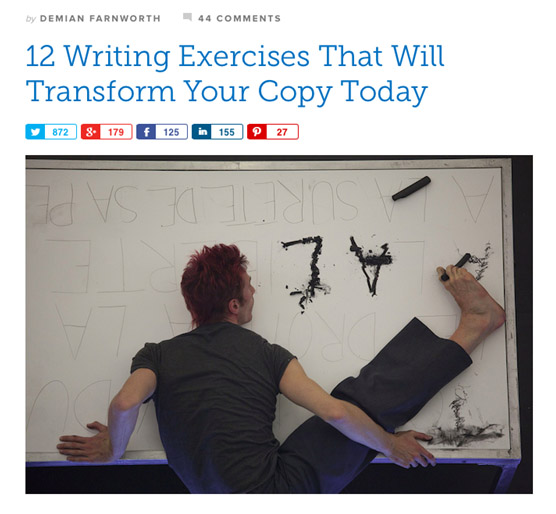 The content of the article is original, witty and chocked-full of practical examples and tips of ways you can become a better writer.
You will be hard pressed to find many of these tips anywhere else online. In fact, most of the reader comments are simply along the lines of, "Wow, I had never thought of most of these ideas before!".
Plus, how can you resist that image? 🙂
3. They keep the conversation going.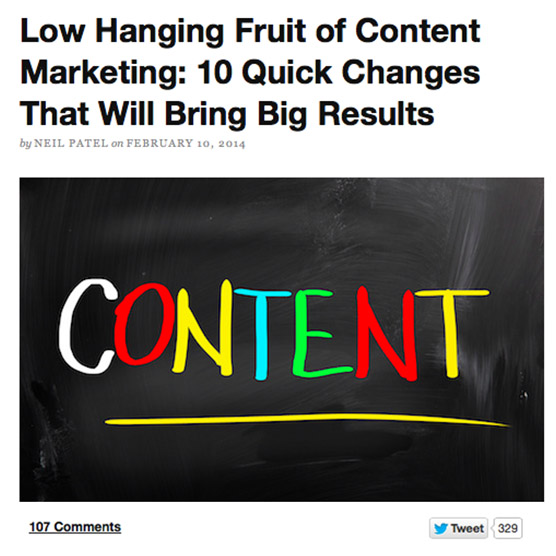 Even the biggest blogs can benefit from keeping the conversation going by giving thoughtful responses to blog comments. Responding to comments can be a great way to extend the life of the conversation, and keep people coming back to your site.
Take a look at this blog post from Neil Patel on the QuickSprout site that has already received 107 comments (and counting). Now, if you are already familiar with Neil Patel, you probably know he is a 'pretty big deal' and yet he takes the time to respond to nearly every single comment posted on his site!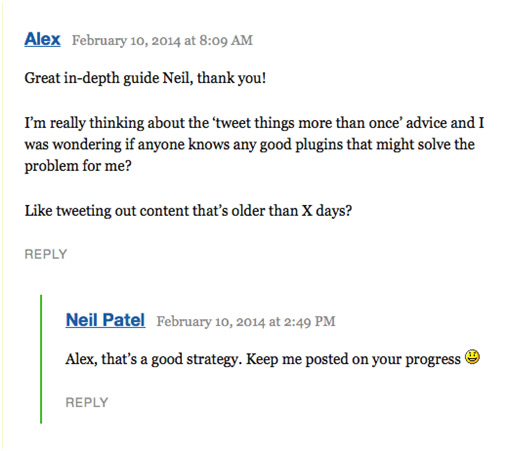 4. They end with a call to action.
This is another simple technique that can have huge results. Sometimes all it takes to elicit engagement from your readers is ending your post with a simple question that acts as a call to action.
For instance, in this post by SEO experts Moz, the author explicitly asks readers to add their own thoughts in the comments.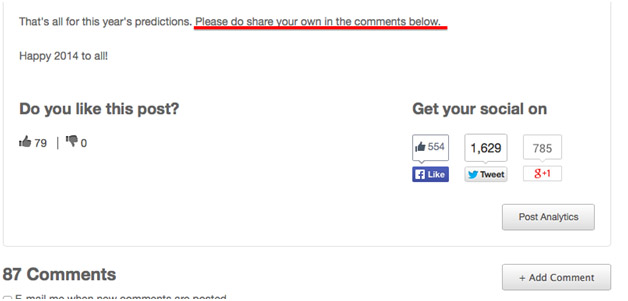 Letting your readers know that you value and appreciate their ideas and opinions can be just the encouragement they need to interact with your content; just be sure that you do actually read, appreciate and respond to any comments they do leave!
5. Recycle your old content.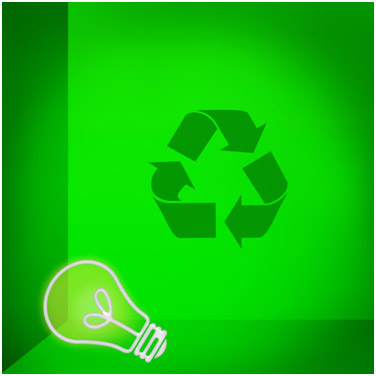 Let's face it: Don't you find you're more likely to comment on a blog post that already has a ton of interaction?
When you see that a post has gotten some traction, you are more likely to feel it's an important conversation, and to want to leave your own comment. I bet your readers feel the same way!
A great way to build up a conversation on your blog is to recycle and re-promote old content. For instance, if you promote a popular blog post a few times a year through social media and to your email subscribers, the posts will, over time, build up a healthy number of comments and increased interaction.
These comments will serve as 'social proof' that your content is valuable and interesting, and your readers will be more likely (over time) to want to leave their own comments. Once the ball is rolling, your content will really begin to take off and gain the traction it deserves!
Keep in mind that this is a long-term strategy for steadily building increased engagement, so be prepared that you may not see results right away!
What is YOUR best tip for getting comments on your blog? Please share with us below!


About Author