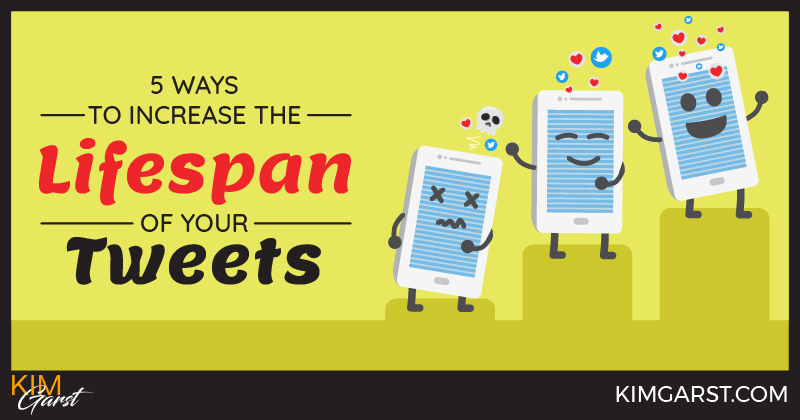 We often talk about extending the reach of your tweets, but did you know it's possible to increase their actual lifespan as well? While we don't know the exact lifespan of the average tweet, we do know that most die out within 48 hours. And in many cases, the lifespan will be much, much shorter.
Following are 5 ways you can make sure your tweets stick around for as long as possible, and get the attention they deserve.
1. Set yourself up to get retweeted.
Perhaps one of the best ways to extend both the reach and the lifespan of your tweets is to set yourself up for getting retweeted. Not only do retweets help expose your content to new audiences, but they can increase the lifespan of your tweet by days or even longer. Some ways to increase your chances of getting retweeted include:
Using mentions to attract the attention of influencers
Including links in your tweets
Keeping your tweets short enough that they won't need to edited to be retweeted
Using pictures
Using numbers in your tweets
For more tips see my post 20 Quick and Easy Ways to Get More Twitter Retweets.
2. Incorporate tweets into blog posts.
Engaging your audience cross-platform is always a good idea, and using your tweets as the foundation of a blog post can significantly increase the tweet's lifespan.

Here's how you can do it: The next time you tweet something that gets a great response (i.e. lots of retweets and interaction), take a screenshot of the tweets and of some of the best responses. Since you have already essentially tested and confirmed the popularity of the topic, you know it will likely also do well on your blog. Write a blog post and incorporate the screenshot into your post, also giving a summary of the responses to your tweet. This works especially well for controversial or viral tweets. Perhaps an even better way to use the tweet in a blog post is to directly embed it so your readers can continue to interact with the tweet by hitting Retweet or Follow. Here's how to embed a tweet onto your website your blog.
3. Use specific hashtags.
When you use relevant hashtags in your tweets, you increase the chances of your tweets being found by people who aren't following you. Hashtags can also extend the life of your tweets as those searching may do so at any point in the future. This is particularly true if you're using a very specific hashtag that isn't super-popular; those searching for that hashtag may be able to find your tweets for many days or even weeks to come. For more info on hashtags see my post How to Use Hashtags to Grow Your Business.
4. Use tweets in your email campaigns.
Even those who are following you on Twitter are unlikely to see all your tweets. Extend the life of your more significant tweets by incorporating them into your email campaigns. Much like you would do in #2, grab a screenshot of your tweet, along with some of the best responses, and base one of your emails around it (or use it to supplement an email). Using an HTML email template? You can actually embed your tweet right into your email! To grab the embed code, simply click on the 'Details' link under your tweet, 'Embed this Tweet', and then cut and paste the code found on the HTML tab. Simple!
5. Repost your tweets.

If you sent out a tweet that got significantly less interaction than you expected, it may have simply been that you sent it out at a less-than-optimal time. To remedy this situation, there's nothing wrong with re-sending your more valuable tweets. Announcing a sale or promotion? Promoting a great piece of content you know people would love? Go ahead and send out the occasional ICYMI tweet – In Case You Missed It. This can be particularly effective if you have recently added a number of new followers, as they would not have had a chance to see your original tweet. Using these 5 strategies will give you the best chance at getting your tweets seen, noticed and shared for days or even weeks to come.
What other tips do you have for increasing the lifespan of your tweets? Share with us below!
About Author