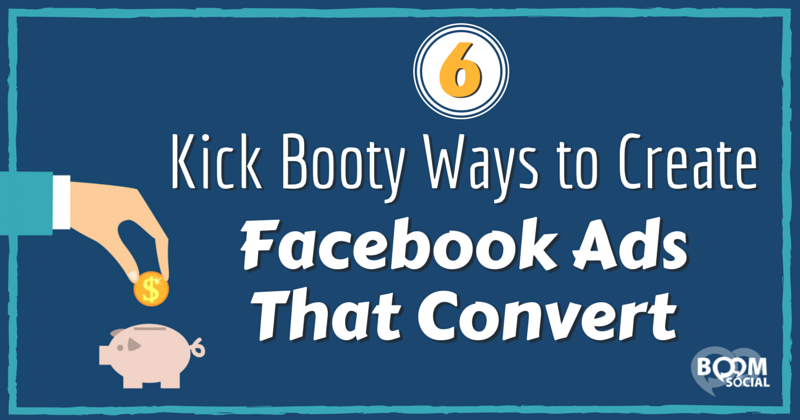 Are you making the most of your Facebook ads? The ultimate aim of your ads should be conversions – whether that's email signups, form submissions or sales.
This post will walk you through 6 kick booty ways to create Facebook ads that get noticed, clicked on and ultimately, that result in conversions!
1. Your Facebook ads image can make or break you: test, test, test!
Your image is, hands down, the most important element of your Facebook ad. Users are scrolling through their feed to see what their friends and family are posting, and your image needs to grab their attention…otherwise your ad doesn't have a hope of converting.
Some of the most effective types of images for you to test include:
Smiling women: Trust me on this: this has been proven again and again to result in the most click-throughs!
Cute pictures: Kids and pets are always a safe bet!
Surprising or unexpected images
Close-up images: Don't make users squint to try to make out the subject of your images
Bright colors: If your image blends in to Facebook's blue and white theme, users will never even notice your ad!
Text overlays: Go ahead and add some text to your image. Just be sure not to let your text take up more than 20% of your image as it's against Facebook's ad guidelines.
2. Use conversion pixels to optimize your Facebook ads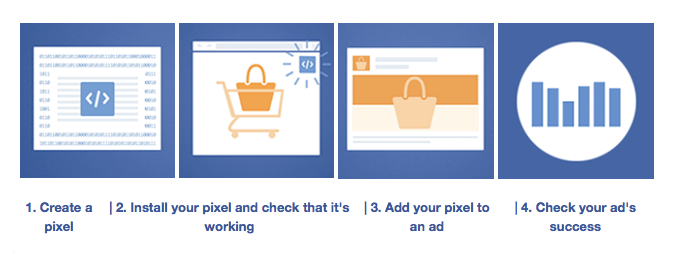 Image courtesy of Facebook
Do you know which of your ads are actually resulting in conversions? If not, you could be throwing your money out the window. Fortunately, Facebook has provided a way to track which ads are working and which aren't.
By installing conversion pixels, you can see exactly what users do on your site after clicking on your Facebook ad. This will allow you to see which ads are resulting in conversions, and which ones you need to tweak (or abandon).
Here is a step-by-step guide to installing conversion pixels on your site.
3. Take advantage of targeting to hand-pick your audience
One of the best features of Facebook ads is the ability to have them shown to a very specific segment of users. If you want your ads to convert, you absolutely MUST be taking advantage of audience targeting.
Some of the targeting options you can use include:
Age
Gender
Marital status
Location
Language
Interests: This lets you target users based on apps and pages they have liked on Facebook
Target your own fans: Given the falling reach of organic Facebook posts, targeting ads to your own fans can help you expand your reach and achieve higher conversions.
Custom audiences: This is an extremely powerful option that lets you target users who have already visited your website or who are on your email list. These will typically result in higher conversions due to the pre-existing relationship that's been built.
4. Use a strong call to action
A powerful call to action (CTA) is an important part of any type of ad or landing page. For your Facebook ads, you have two opportunities to utilize a CTA: within your ad copy and on a CTA button.
Within your ad copy: Be sure to let viewers know exactly what they can expect if they click on your ad. Why should they click? What's in it for them? Some examples could be: "Increase your rankings", "Lose weight fast" or "Make friends in your area". You don't necessarily need to use specific action words like 'click the link' or 'buy now'; users will automatically make the connection between clicking your ad and receiving the benefit mentioned in your CTA.
Call to action button: Facebook gives you the option of including a CTA button in your newsfeed ads. You can choose from: Shop Now, Book Now, Learn More, Sign Up or Download. Keep in mind these buttons are only available if you've selected 'Clicks to Website' or 'Website Conversions' as your ad objective.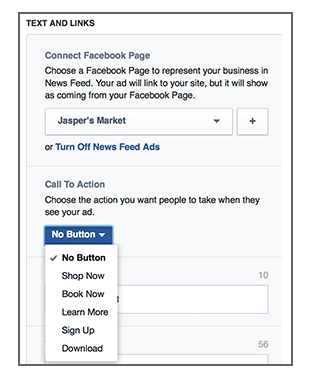 Image courtesy of Facebook
5. Use Facebook Offers to promote a free product (and build your list!)
I love using Facebook Offers to promote free products to my Facebook fans. Promoted offers let you reach a much larger segment of your audience, and give you the flexibility to include expiration dates, terms and conditions and claims limits.
While you can create offers for free simply by clicking 'Offer, Event +' when creating a new post on your page, promoted offers are what allow you to get your offer shown to a larger chunk of your audience. And more exposure for your offers means higher conversions!
For more on this, see the Facebook Offers Help Page.
6. Send traffic to a dedicated landing page
If you're sending traffic to your homepage or to a generic landing page, your ads are unlikely to result in conversions. Instead, make sure every ad has a specific, dedicated landing page that matches the look, feel and tone of your ad as closely as possible.
And remember that your landing page should have a very specific task to accomplish: to capture an email address, to get visitors to fill out a form, or to get them to make a purchase. Make sure this task is clear and that all your landing page copy works to get your visitors to take that one specific action.
What strategies would you add to this list? How do YOU create Facebook ads that convert? Share below!
About Author