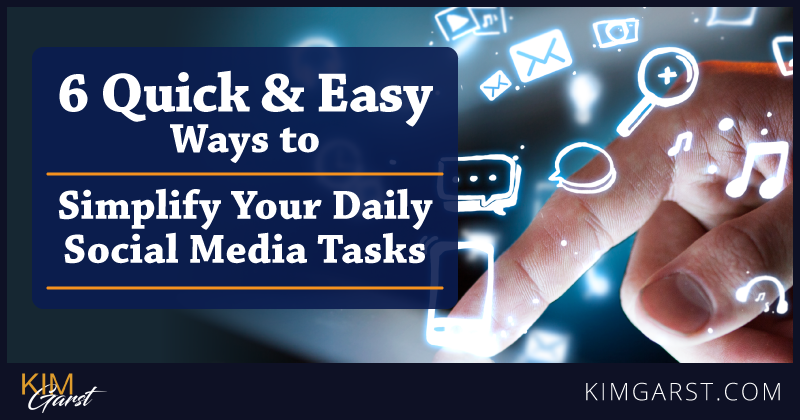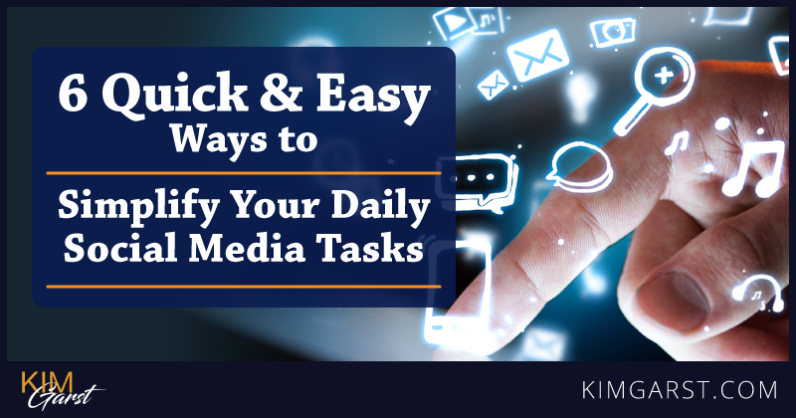 There are only so many hours in a day and making the most of our time is crucial to growing our businesses, right? Social media is a resource that can make a huge impact and yet so many struggle with the overwhelm of it all. Wouldn't it be nice if you could organize yourself and KNOW what you should focus on and when? This article shares 6 quick and easy ways to simplify your daily social media tasks so that you don't have to be totally overwhelmed with the social side of your business!
1. Figure out where to spend your time
The first thing you need to do is figure out which of the social platforms is most worth your time and energy. There are a number of different factors you can use to figure out which is most important to you but here are some of the biggies:
Which of your social profiles have the most fans/followers
Which social platform drives the most traffic to your website
Which social platform results in or helps drive the most sales
THE BIGGEE…which social platform is your ideal client spending their time on
Once you figure out these stats then you can create your own spreadsheet and decide which platforms are most important by whatever factors you want to rank them by.
For example, let's say you have 2100 Twitter followers and 500 Facebook Fans. It might seem like Twitter would be where you should focus but if you bring up your Google Analytics and realize that a quarter of your website traffic comes from Facebook and only a small portion comes from Twitter then I would say Facebook is the clear winner. Obviously, it could be exactly the opposite but you get the point.
2. Stick to a schedule or time block
One of the biggest things that has helped me is to set aside time blocks for managing my social media tasks. I schedule these time blocks into my day and know that during those times I will only be focused on getting my social media tasks done.
I would suggest taking this one step further and coming up with particular times for each platform based on what you decided on #1 above.
For example, if you want to spend an hour on social media and we use the same example from above then it makes sense to spend more time on Facebook than Twitter. So maybe you would dedicate 40 minutes to Facebook and 20 to Twitter. Make sense?
3. Create a daily to-do list of social media tasks
A great way to make sure you stay on task and get things done is to make a daily game plan for each platform. By this I mean write out what you want to do on each platform every day. This could be a Word or Excel document:
Facebook:
Respond to comments
Respond to posts to page
Like all comments
Go to other fan pages and engage with community
And you could do this each and every day on Facebook. Then, make a similar social media tasks to-do- list for Twitter, Instagram and other social platforms that you are active on.
This breaks down exactly what you need to do every day as opposed to jumping around and forgetting something. Trust me, this will really, really help!
4. Make your time count and ENGAGE!
Going through these steps to help make the most of your time isn't going to help you a lot if you're not allocating time to building relationships. This means that you actually have to talk to people! It's called "SOCIAL" media for a reason <smile>.
As you are going through your daily to-do list, look for chances to have conversations with your fans and followers. They want to know that there is an actual person on the other side of that computer screen!
I try my hardest to respond to each and every question or comment that I get on Twitter even though I get thousands of mentions a day! This has been the biggest difference maker to my social media success.
5. Use tools!
Like I said before, there is only so much time in the day and there isn't enough time on God's green earth to do it all without the right tools! Tools can help to make scheduling, posting, and engaging oh so much easier!
Some of my favorites are:
Hootsuite – at just about $10 a month for a Pro plan, you still can't beat the functionality and features for the price! Plus, if you haven't checked out Hootsuite in a while then you should know they now have a Facebook Ads feature where Hootsuite will pull your most engaging content and let you run ads right from inside the platform. They also have some new campaign features like Instagram contests, photo contests and sweepstakes.
AgoraPulse – this is another management platform that I have used and love! It's a little bit pricier than Hootsuite, but has some great features like the ability to see past conversations on Twitter.
Schedugram – If you are posting to Instagram daily or even multiple times a day then I would highly recommend looking into Schedugram. It is such a time saver! I can schedule Instagram posts from my desktop and connect multiple Instagram accounts.
ManageFlitter – Let's face it, following and unfollowing people on Twitter can be a pain and time consuming. ManageFlitter actually does pretty much all the work for you after you set up your filters and then run them as often as needed. This tool has been a consistent part of my Twitter strategy.
SocialOomph – I cannot imagine doing what I do on social media without SocialOomph. I create different buckets (categories of content) that contain specific types of tweets that are automatically posted based on a frequency I set. I can also schedule recurring posts to my Facebook groups, LinkedIn, and other platforms.
I encourage you to give some of these a try. The key is to save you time, frustration and ultimately to allow you to have success with your social media marketing!
6. Shuffle as needed
Finally, you may need to shift your strategy from time to time, based on what happens in the social world.
For example, live streaming is super hot right now but it wasn't on most marketers' radars even a year ago! Be prepared to shuffle around your resources and time as needed if you see an opportunity come up.
I did this exact thing once I started seeing the possibilities that Periscope offered up. I had to move around some of my resources and re-align my time to scope, but it has paid off tenfold!
Hopefully these 6 tips will help you better manage and streamline your daily social media tasks in order to get the most for the time and effort you put in.
Do you have any tips you would like to add? I would love to hear them below!
About Author