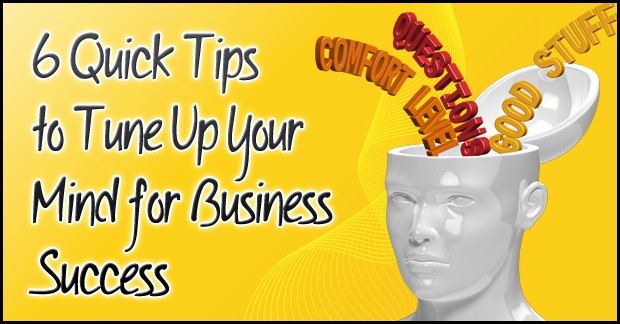 Machines are wonderful things. Cars get us where we want to go, sewing machines stitch up a seam, and computers connect us to the world. The trouble is, machines don't last forever. Without regular maintenance and an occasional tuneup, machines bog down and work less efficiently. If we don't take time to make adjustments, they eventually stop working altogether. In the same way, our minds benefit from an occasional tuneup. Habits of thinking and responding can get off track, and a checkup can get us back on the right path. Here are some quick tips to tune up your mind for business success.
Tune Up Your Mind for Business Success
1. Check your comfort level.
If you're feeling comfortable with everything you're doing in your business, that should be a flashing red light on the dashboard. There should always be some level of discomfort in your work because that means you're stretching yourself. Successful people have learned to embrace the resistance, not avoid it. Completely comfortable people are not growing to their next level.
2. Fill up with the good stuff.
Good input is fuel for your mind and your success. Pouring healthy thought patterns and principles of success into your mind help create new pathways in your brain, especially with repetition. Great books, inspiring audios and practical training help you grow in knowledge and confidence.
3. Ask yourself useful questions.
Not all questions are created equal. Whiny questions like "WHY do I feel this way?" tend to lead to an endless loop of analyzing thoughts and emotions. Questions such as "HOW can I get this done?" and "WHAT is the next thing to do?" are practical and action-based. The answer gives you a solution, and that leads to a feeling of hope.
4. Write (or draw) your thoughts.
Writing is a good tuneup for your mind. Your brain begins to categorize and process thoughts as you write. Getting your thoughts out of your mind and onto paper lessens feelings of stress. Experiment with different methods of writing: journaling, brainstorming, drawing mind maps, using color or sticky notes or graph paper. You may be surprised by what you learn about yourself.
5. Have important conversations.
Strike up conversations with strangers or casual acquaintances. Ask questions and listen carefully. You will gather tidbits of information and even inspiration. You'll also help a fellow human being feel important and valued. It's a win-win situation. Make a point of starting thoughtful conversations. You never know where they might lead.
6. Invest in yourself.
This will mean different things at different times. Sometimes it means buying a new plant for your desk, or getting a pedicure. Sometimes it means investing time and money in yourself, with a class or a doctor's appointment. Of course buying stuff isn't the answer to your problems, but sometimes a little treat can be just the thing to cheer you up and inspire you to carry on.
Practical Action Steps for a Quick Tuneup
Do something uncomfortable today. Get personal on your Facebook page, write a blog post from the heart, give someone a great compliment.
Fill your mind with good stuff: read a few pages, listen to an audio or watch training.
As you receive good input, ask yourself how you can apply it to your life—today. Don't wait because you'll forget. Dig out one action step related to what you've learned.
Write or draw your thoughts for a few minutes. Start simple—doodle or make a list.
Strike up a conversation with someone you don't know well—and listen. Go into it with the mission of encouraging someone else and the chances are good that you'll be inspired, too.
Spend some time or money on yourself. Think of it as a little pat on the back. You don't have to get crazy, but sometimes we all need a reward to boost our spirit.
Whenever we tune up our car or clean up our computer's files, they run faster and work better. Most of us could use a little tuneup on our minds so we can think clearly and move in the right direction. Do a little maintenance to tweak your mind for success!
About Author