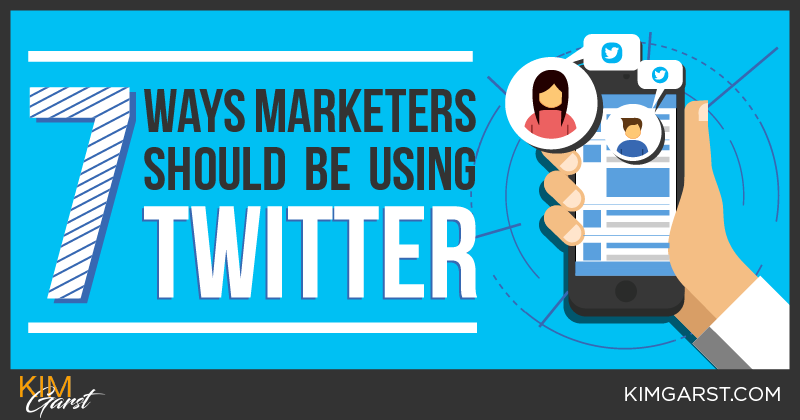 Most of you are probably on Twitter, and already know many of the benefits to using it for your business. As a conduit for making new connections, both personally and professionally, Twitter is perhaps still the leader among social networks.
I find however, that even professional marketers often forget about all the potential ways they could potentially be using Twitter to help them grow their businesses. So following are 7 ways you should be using Twitter, if you aren't already!
1. To Monitor Conversations About Your Brand
Do you know what people are saying about you on Twitter? If you haven't monitored conversations related to your business or brand, you're likely missing out on a wealth of valuable information.
By knowing what people think of you, your products and your brand, you can quickly respond to questions, criticisms and kudos; or even when it's not appropriate to actually respond, simply understanding how your customers and potential customers view you can be priceless.
There are a number of ways you can track what's being said about you on Twitter. Some free tools that will ensure you never miss a mention include Twittstorm, Tweet Binder and of course, Hootsuite.
2. To Generate Leads
If you only monitor conversations related to your brand, you're missing out on a huge opportunity to generate new leads for your business.
Right now, there are very likely people on Twitter who are looking for your exact products or services. And it's possible for you to find them!
By searching for keywords and hashtags related to your industry, you can find out who is looking for your services. For instance, if you run a photography studio in Miami, trying running a Twitter search for  'Miami photographer'.
Just be careful you don't come across as too 'salesy', or you could actually scare people away!
3. To Drive Traffic to Your Site
While Facebook and Pinterest are more effective for driving traffic to your site, Twitter remains an important traffic source for many businesses.
As you become a trusted source of help and information on Twitter, sharing links to your content can be a great way to generate visits to your site. To increase the chances of your followers clicking through to your site, make sure you use short, catchy headlines to pique interest, use @ mentions if your blog post refers to someone on Twitter, and be very clear about what people can expect when they click on your link.
4. Use Hashtags to Reach New People
I've written quite a bit about hashtags on the blog, as they are an excellent tool for reaching outside the bubble of your current sphere of influence.
Hashtags are important on two levels: First, when you use relevant hashtags in your tweets, others who may not be following you can find your content and potentially follow you. Second, you can search for and monitor your industry and brand hashtags to find and follow others with whom you can potentially build relationships.
For more information on using hashtags, see my posts 7 Reasons Why Hashtags are a MUST in Your Marketing and 5 Rocking Hashtag Tools.
5. To Build a Community With Your Current Customers
When Twitter becomes a true conversation rather than just a monologue, amazing things start to happen. Instead of thinking of Twitter as a way to promote your products and content, think of it as a way to build a real sense of community among your current customers.
Some ways to do this include:
@ mentioning others in your tweets
Responding to @ mentions
Asking your followers questions to get to know their needs and wants
Listening to conversations among current customers to find out how you can better meet their needs (see #1 above)
Retweeting content created by your followers
Responding promptly to questions and complaints
6. To Keep an Eye on the Competition
I've already talked about using hashtags and monitoring tools to track conversations and mentions of your business and brand. But it's also important to understand and monitor what people are saying about your competitors.
Monitoring hashtags related to other businesses in your niche can give you insights into how well they're meeting the needs of their target market; and of course, this enables you to strategize about how you can fill this gap.
I wouldn't necessarily recommend responding to tweets that mention your competitors, however just knowing what's being said can be enough to give you a competitive edge.

7. For Professional Networking
Many people report that one of the most important benefits of using Twitter for their business is to connect with other professionals in their industry. Due to geographic limitations, it may be difficult or impossible to connect with certain people in real life. However, Twitter levels the playing field by letting you connect with almost anyone in your industry with the click of a button.
Some ways you can use Twitter for professional networking include:
Retweeting the valuable content of those with whom you want to connect
@ mentioning someone who you find helpful by sending out a simple 'thanks!'
Finding influencers in your niche and following and connecting with them
Taking part in industry Twitter chats
Providing helpful and thoughtful responses to questions posed by others
It's easy to get used to doing the same old things on Twitter, but I'd encourage you to bookmark this list and run through it from time to time to ensure you're making the most of your efforts on Twitter.
What do you think? Are you using Twitter for each of the uses above? Let me know below!

About Author