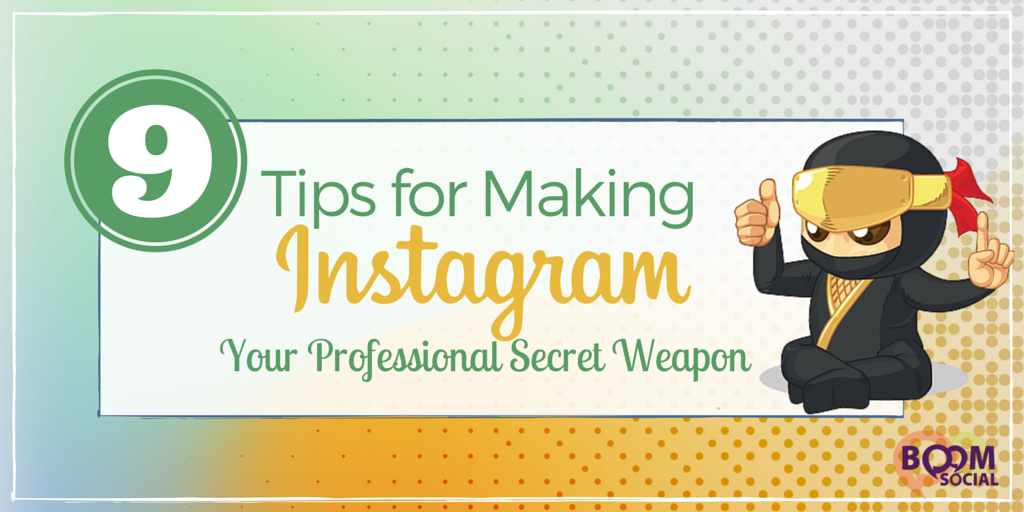 With over 300 million active monthly users sharing 70 million photos per day and liking 2.5 billion photos daily, Instagram is a platform that serious marketers DEFINITELY need to pay attention to.
You may have thought Instagram was for individual photographers or those just having some fun sharing photos, but the reality is that it is a marketing heaven for marketers. When you are marketing a product or service, one of the basic core principles of marketing is to go where your customers are!
Chances are, out of those 90 million users, your customers and prospects are on Instagram.  So how can you take this social media image platform and turn it into your very own secret weapon for amazing business success?
The ease at which you can share photos and images with others via social media is a huge bonus for today's brands. It gives you an opportunity to share your company visually with your audience. Things like company events, new products, industry conferences, etc. Both prospects and customers LOVE visual content. Today you have to have to include a visual marketing plan in your overall marketing mix.
Why are photos so important?
• Appeals to Emotions: Good visual content appeals to the viewer's emotions in a way that text is simply unable to. Thanks to the ease of photo and image sharing apps, text is an addition and many times, if included, totally ignored by the viewer.
• Creates Intimacy: Photos are a great way to help bridge the gap of what I can the "human voice" or personal side of your brand. They allow prospects and customers a way to relate to your brand message quickly and easily.
• Engages: Photo and image sharing applications provide the perfect opportunity for your business to engage customers in a fun way! Remember, most people are on social media for FUN first and foremost. This does not mean that you won't do business via social media; exactly the opposite in fact, BUT you have to meet people where they are.
9 Tips for Making Instagram Your Professional Secret Weapon
1. Use your Twitter Profile name for your Instagram account name
This is smart to extend your reach in 2 different ways.  For starters, it makes sure that you are recognizable across all of your social media platforms. So no matter whether someone finds you on Twitter or Instagram, they know right away it's the real you (just saying!)
It's also useful in case your photos are shared or tagged from Instagram back to Twitter.  If this happens, then your handle on Instagram will link to your Twitter profile and it will expand your reach on both platforms.
2. Be Your Brand on Instagram
Let's get to the point – do not use Instagram to repeatedly post pictures of your products.  Unless your products are extremely artistic and beautiful, and people just want to look at them. What you can do is tell the story of your brand. Show your office, your employees, your office cat, if you have one.  Be creative in the ways that you use images to show people what your brand stands for. Be creative in the ways that you use images to show people what your brand stands for.
3. Focus on Building Community on Instagram
It's easy to forget – Instagram isn't just about the photos – it's a social network. Make sure you're regularly taking time to search for words related to your business so you can connect with others in your niche, as well as others who might be interested in the products or services you offer.  Be cognizant of users' feeds and don't publish content that can be seen as too self-serving, but rather content that is in the spirit of the community.
4. Choose engaging hashtags
Using appropriate hashtags connected to the event, the location, or the subject is a great way to allow your profile to be found by people outside your existing circle of followers.  But don't use too many hashtags at once. Just because you can use them doesn't mean you should. It just looks spammy!  <grin>  2 or 3, tops, is a good rule of thumb.
5. Go Behind the Scenes
I can't stress this enough – people love to get behind the scenes with their favorite companies!  Show your employees at work or your latest company picnic – something that lets your customers see the human face of your company. They'll love you even more for it!
6. Promote special events on Instagram
Create event specific hashtags and post stunning pictures marked with that hashtag. Chances are, people will be signing up early not to miss your next event!  And with Instagram photos being featured more prominently in users Facebook feeds, this will be even more important for sharing your brand's story going forward.
7. Post regularly on Instagram – often, but not too often
Instagram doesn't move as fast as other platforms – but that's no excuse for skipping updating your feed.  Post quality images 2-3 times per day to stay connected with your followers without overwhelming them.
8. Make your Instagram followers feel special
Turn your followers into passionate brand advocates by encouraging them to share pictures of themselves using your product or service.  Everyone likes to feel special, and your sharing of their content will go a long way toward boosting their opinion of your brand.
9. ENGAGE with your Instagram followers!
One of the great features of Instagram is the ease of commenting and liking photos. Brands that are seeing increased fan interactions on their own images are interacting. Remember, Instagram is a social networking site!
For more on making Instagram your professional secret weapon head over to my post, 10 Instagram Marketing Hacks!
Are there any tips on my list that you're already using for your business? If so, I'd love to hear about them! 
About Author