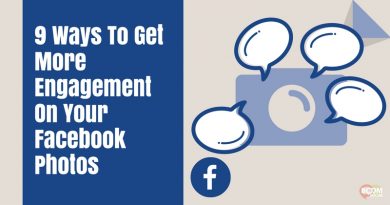 Facebook photos are more than photos. They are opportunities to engage your audience, build a better brand and connect with your customers. Images evoke strong emotions, because they stimulate more than just the visual cortex. That's why they are apart of every effective social media campaign. Getting a response from your audience about your Facebook photos is like getting a high five for all your hard work. Thankfully, you can get more virtual high fives by using one of nine simple techniques with your Facebook photos.
1.  Ask for Likes
Simply ask for likes. You have seen Facebook posts like these. They have an engaging photo and if you like photo, it's the equivalent of a thumbs-up. A share is like a hundred dollar bill. When you ask for likes or shares you will receive them. Your customers will let you know exactly how much they appreciate the photo and caption.
2.  Use Humor
Have a little fun with your Facebook photos. Add a funny caption. Green Mountain Coffee uses this successfully. For Valentine's Day 2013, they posted a picture of a heart-shaped candy box filled with k-cups and a humorous caption. It brought a smile to the face of coffee drinkers everywhere.
3.  Run a Caption Contest
Can't think of a caption for your photo? Ask your audience. Choose your favorite and reward the winner with a small token of your appreciation. These could be coupons, gift cards or product samples.
4.  Use Coupons
Coupons are great as incentives, but you could also offer coupons to the first ten people that comment on your photos. This will rapidly gain your business an audience and exposure on coupon blogs.
5.  Get Involved
When your customers comment on your photos, respond to them. You could simply write "Thanks for the comment" or "I hear you." Your response created a connection with the commenter and those who read it. It shows someone on the other side of the computers saw the comment and listened to them. Customers know their words mattered.
6.  Get Your Audience Involved
Use fun tactics like Fill In the Blanks, scavenger hunt with a clues to your next product lunch in a series of photos or other games. Bring back the childhood memories and competitive nature of your fans. Harness them and get your audience involved with your brand.
7.  Reference Current Events
Current events are a great way to connect your brand to your audience's world. The photos can be coy takes on the presidential elections, featuring your products. Frito-Lays did this during in 2012 with their potato chips. Oreo did this during the Blackout in the 2013 Super Bowl Game. The photos and captions can reference major events without your products, too. This brings your brand relevancy.
8.  Ask a Question
Questions are a surefire way to engage your audience with your Facebook photos. You can ask about how the audience likes your products, ask them to share their stories and even ask non-relevant questions. As long as they relate to your photos, any tasteful question is fair game. Just be ready to respond to all the answers.
9.  Be More Than A Photo
Your Facebook page is a place somewhere in cyberspace and the Internet is a connection of machines. Your audience wants your business to be more than a photo. Your photographs are just a part of image the audience wants to see.
As long as you engage your audience in some way, your audience will hear and connect with your business. Ultimately, that's what you want them to do, but your business has to be the party that puts out the hand of friendship. Encourage them to connect with the brand, business and the people behind the scene. When they do, the engagement on your Facebook photos will soar.
About Author