The age of artificial intelligence is here, and it's time to level up your biz with the latest game-changing tech. I'm talking AI, my friend. AI is transforming every industry, and your small biz can't afford to get left behind.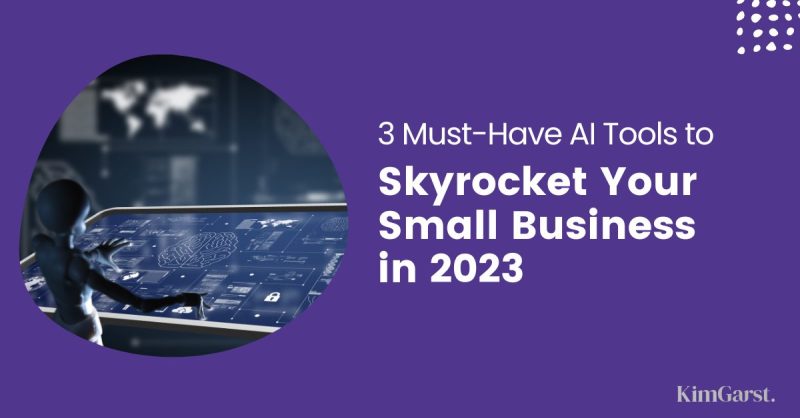 In this post, I'm breaking down the top 3 AI tools you need to take your small business to the next level. These bad boys will help you work smarter, better, faster so you can focus on changing lives and dominating your niche.
If you wanna see real momentum and growth, AI is an absolute must. Let it automate the boring stuff so you can put your gifts and talents to higher use. Unlock your full potential with these 3 powerhouse AI tools for your business!

The future is here, the competition is fierce, and it's time to embrace AI so your biz can thrive. I've got you covered with my recommendations to get any small biz started with leveraging artificial intelligence. Now let's dive in!
1. ChatGPT – Your Very Own "Pocket CMO" AI Tool
I've been testing every hot new AI tool out there so you don't have to, and I'm telling you ChatGPT is the gold standard (at least for now). This bad boy takes copywriting to the next freakin' level thanks to its uncanny ability to sound human. I just chat with it about my biz, and bam – it spits out marketing copy that truly sounds like me. Super impressive.
But here's the deal: you gotta put in the work to train it upfront. I'm talking giving ChatGPT the full download on your brand voice, your vision, your peeps, the whole enchilada. Treat it like your protégé and teach it to speak your language. That's how you get content that represents you like no AI has been able to before.
So carve out the time to school ChatGPT on what makes your biz one-of-a-kind. Once you do, it'll pump out killer promotions, emails, social captions, web content – you name it. This AI blows my mind daily with how quickly it can create quality, custom copy in my own super sassy voice, lol. It's my new virtual copywriter, and the time and freedom it gives me are priceless.
So what are you waiting for? Go train the pants off ChatGPT to create marketing copy that sounds distinctly YOU. Let it give your biz the AI advantage!
ChatGPT offers a free account.
Paid plans start at just $20/month and are worth every penny for the time savings and high-quality output.
Here's how you get a paid plan…
Create or sign in to your OpenAI account. Visit ChatGPT's login page. …
Click on the 'Upgrade to Plus' button.
Click "Upgrade Plan" on pop-up.
Complete purchase.
There is a new enterprise plan as well for businesses. Learn more about that here.
While ChatGPT's free plan is an amazing way to dip your toe in, I highly recommend investing in a paid plan which is just $20/month. The premium plan provides priority access so you don't get locked out when traffic is high. It also delivers faster response times from the AI, saving you even more time. This turbocharges your productivity and ensures reliable access to this game-changing AI. The time and frustration the premium plan saves easily justifies the minimal monthly cost.
2. AgoraPulse – AI-Powered Social Media Management Tool For Your Business
Managing social media marketing is a mammoth task. From crafting engaging posts to monitoring conversations to running ads, it's a lot for a small business owner to handle alone.
Y'all, I gotta tell ya about the straight-up sorcery that is AgoraPulse's Writing Assistant. This AI tool for your business makes writing killer social media copy stupid simple.
Just tap that Writing Assistant button and let the digital magic happen. It gives you tone options like "fun" or "urgent" so you can match your brand vibe.
How to use Writing Assistant
Open up your composer and start creating your first draft, then simply click on the Writing Assistant button to get started.
This will then open up the Writing Assistant feature. From here you can choose from a variety of AI-powered tones:
You can also go into Format and either shorten or expand your text:
Once you are happy with the AI generated text, click Send to Composer and it will pop into the your post box.
You can now schedule/publish your post as is or add any final touches to it.
Essentially, the AI takes your basic draft and transforms it into engaging posts people just gotta click on and share. It's like having an expert social media manager generate optimized content for you 24/7!
Wanna get more poetic on LinkedIn? Need some quirky captions for the gram? Writing Assistant has you covered faster than you can spell "algorithm".
It's straight up witchcraft how easily this AI creates share-worthy social content that sounds like YOU. Let it cast a spell on your followers and get your posts performing like never before!
With AgoraPulse's AI technology, I can manage social media efficiently without getting overwhelmed. Their AI learns what works to make my marketing increasingly effective.
Best part…AgoraPulse gives my peeps two months for FREE! Check 'em out!

3. Ideogram Review – AI-Powered Image Creation
Creating eye-catching visuals for my biz used to be a giant pain. Hiring designers to whip up blog pics and social graphics ain't cheap or quick. And DIY designing? A time suck of epic proportions.
But then my new friend Ideogram came along. This crazy-brilliant AI creates stunning images tailored to my biz with just a few text prompts. We're talking social posts, blog headers, social media graphics – you name it.
And get this – Ideogram actually nails text within images! Other AI pic generators screw that part up big time, but not Ideogram. This genius AI renders any text I give it flawlessly every single time. Mind blown! 🤯
I have been using Ideogram daily to pump out all my visual assets, from blog images to social posts. It's effortless to create exactly what I need in any style – minimalist, retro, you pick.
The AI keeps getting smarter too, so my graphics keep getting sharper. Pretty soon I won't even need pro designers anymore and guess what, neither will you!
The best part? Ideogram is 100% free with no limits. Unlimited AI-generated visuals at my fingertips? Heck yes! Every smart biz owner needs Ideogram in their toolbox. Let the AI take your visuals from bland to bold and captivating!
Join the AI Revolution
Here's the deal. The age of AI is officially here, and it's about to change the game for all online marketers (heck, it already has!).
Tools like ChatGPT, AgoraPulse and Ideogram equip you with crazy powerful AI that can automate the boring stuff, freeing you up for greatness.
These genius AI assistants create optimized copy, assets and insights in the snap of a finger. They're like your own virtual creative team, hype squad and marketing manager all-in-one!
Adopting AI is mandatory if you wanna crush it in biz today. The competition is gonna be intense, so you need every advantage you can get.
And that means fully embracing AI to drive efficiency and growth. The most successful entrepreneurs will be the ones who harness AI now to unlock serious opportunities.
The future has arrived, my friend! I'm urging all you world-changing entrepreneurs – add AI into your toolbox ASAP. Work smarter, dream bigger. Let AI take your biz to the next level this year.
Let's do this!

About Author