Heyo Social is a Facebook marketing application that keeps gaining popularity. This product started out as Lujure, an app designed to help people create highly engaging Facebook Fan Pages simply and easily – without knowing how to code. Most of us don't know how to code, right? Have I got your attention with just that one little tidbit :-)?
It has been a game changer for many business owners, and it continues to be an AMAZING tool in the marketplace of Facebook marketing apps and tools. They have also expanded to providing a web page builder and mobile app creator.
Since I know being able to easily create your amazing fan page (without having to spend $300-$700 or more!)  is a need for many of my readers, I wanted to share my review and recommendation of this product with you.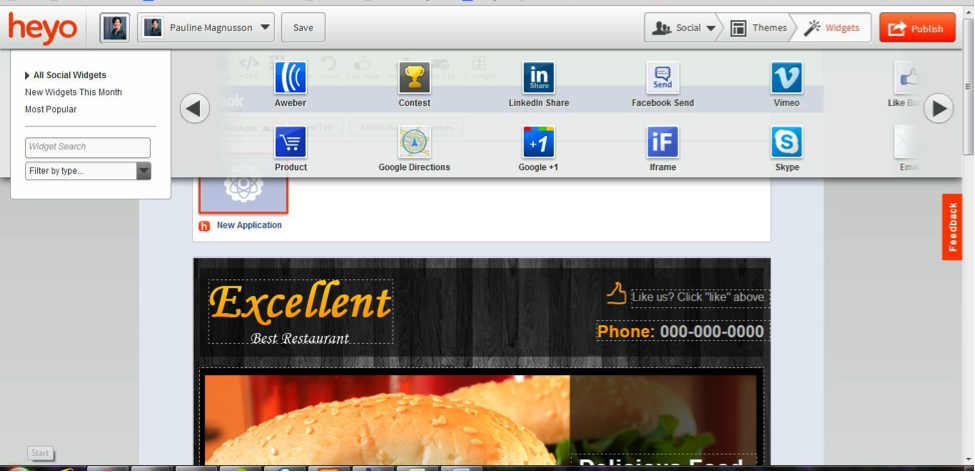 Product Description
The site at Heyo.com is a subscription based service that runs on a web interface – you can create and update your customized Facebook Fan pages, mobile apps, and websites from ANYWHERE you have an internet connection.
On the upper right corner of the screen, there are 3 buttons. The left button is for selecting the kind of application you are creating – social fan page, mobile app or website.
The middle button reveals the professional templates and themes available to get you started. The templates are styled for different kinds of businesses, and the developers have gone to great lengths to match each theme with appropriate widgets. Retail templates feature shopping carts and catalogs; restaurants feature menu links and map widgets, templates for community organizations feature video clips and social widgets, and so forth.
The right hand button is marked "Widgets," and clicking it reveals the genius of Heyo – a simple drag and drop system of widgets that allow you to add functionality to the project you're creating. Widgets exist for:
• AWeber and many other email management clients
• Shopping cart
• Contests
• Google directions
• Sharing and like buttons for the most popular social media platforms
• iFrames
• Video (Vimeo and YouTube),
• Rich text fields
• Slideshows
• Images
• Raw HTML
• Hotspot
• Google Maps
• Countdown
• Comment stream
• Contact
• Paypal
• RSS
• Fan reviews
• Skype
• Email
Once your Fan Page is built, much of its content can easily be included in both the mobile app and the web page builder.
Creating your mobile app is also a simple process on Heyo social. Up to 6 widgets can be included including a one-touch button to call you, follow you on Twitter, view your photos, check out your Fan page tabs, or redeem a deal. Sharing your mobile app is simplified too, courtesy of the mobile website link you can include on your business stationery, in your signature, etc.
Similarly, the web page function is also easy to use once a Fan Page has been created, and content can be imported and used within the site.
Who Is Heyo For?
If you are a business owner who wants the functionality of a professionally designed Facebook fan page, mobile app, or website without a lot of coding, Heyo is for you.
It is especially useful for a business who has branding element graphics such as a logo and a website header already created. These can be incorporated easily into your Heyo page using the drag and drop system, giving your Fan Page a custom, branded feel at a fraction of the price.
If you do not have a design background and are willing to use or tweak their templates, it is possible to create a fabulous and professional looking Fan Page.
If you are anxious to get a professional looking Fan Page, mobile app, and website up without spending a huge chunk of change, the templates and widgets included in Heyo are just the thing to get you up and running quickly!
I can't tell you how helpful it is to be able to just drag and drop the elements I need and quickly put together the kinds of Fan Page tabs that have given me AMAZING results in terms of quantity of followers and high engagement. Here's one of the tabs I've created using Heyo: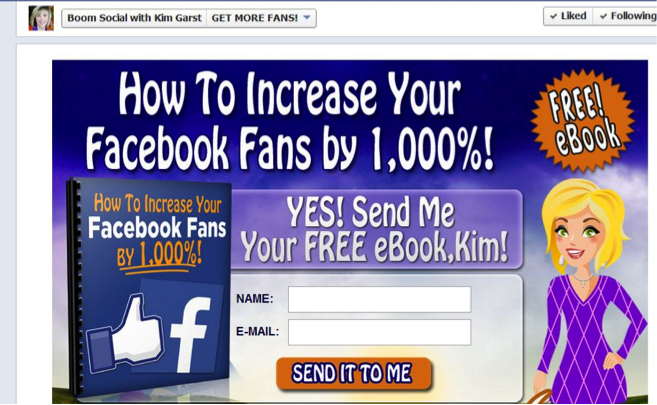 Customer Service
Heyo has incredibly amazing customer service. Did I say that Heyo has incredible customer service? Well it is because they do! They are extremely passionate about helping you get up and running using their platform. They will get on the phone with you in a heartbeat if you need them to! It is hard to find many companies out there today that take their customer service as seriously as Heyo.
Drawbacks of Heyo
The only real down sides I have found so far to Heyo is that while there is a brief tutorial that displays on your first visit, it doesn't include some obvious introductory step by step instructions to read later for those who might be afraid to just get in there and play with it. (And for those who are afraid – let me assure you, you're not going to break it! <GRIN!>)
There is an orange tab on the right side of the design screen marked "Feedback." Clicking this gives you access to a search box, as well as a list of frequently asked questions. The size of the search box makes it look like a "comment" box, and the button marked "Continue" seems like it might be a little vague, especially for less experienced users. Relabeling it with something like, "Search" might make it more obvious to new users.
Heyo Pricing
Heyo plans start very reasonably at $10 a month, giving you 1 Fan Page, 1 tab, 1 mobile app, and 1 website). If you have additional needs for more tabs, more pages, more mobile apps, etc., you can upgrade your plan.
All in all, Heyo is a great product with AMAZING capabilities for small business owners to really boost their ability to market using Facebook and mobile apps. After being a user for several years, I am always excited to see what the Heyo team brings out next!
Check them out! I don't think you will be sorry!
About Author