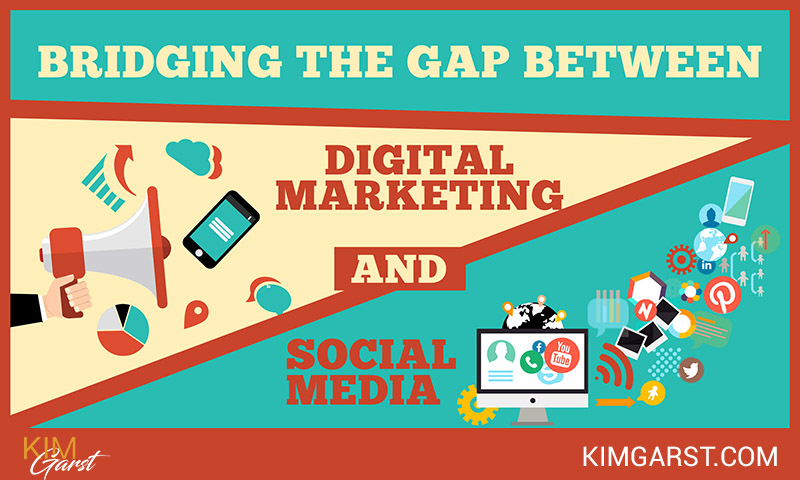 Most businesses now use some form of digital marketing to drive traffic, increase visibility and promote their products or services. Digital marketing can encompass a wide range of strategies on many different platforms. These strategies can include:
Email marketing
Search engine optimization or paid search marketing
Mobile or SMS marketing
Video marketing
Banner or text-based ads on other sites
Content marketing
Of course, it can (and usually does) include social media marketing as well. Unfortunately, many business owners see social as an "add on" strategy, or one that can be used in isolation.
But here's the thing about social media marketing: while it can be an amazing tool, it works best when used alongside other marketing strategies. On its own, it can results in many benefits. However, when you're able to bridge the gap between social media and your other marketing strategies, the benefits increase exponentially.
This post will look at 7 ways you can use integrate social media into your greater digital marketing strategy for optimal benefits.
Distribute and promote your content on social media
Do you ever get frustrated by how little traction your content gets? You invest so much time and effort into creating content, and then it can feel like no one even reads it.
One reason this may be the case is a lack of distribution. According to research from the Altimeter Group, while 53% of business owners understand the importance of promoting their content, only 26% actually invest in content distribution. This is a serious disconnect.
One way to avoid this is to have a solid plan in place for how you're going to promote each piece of content you publish. For most business owners, social media is one of the most effective ways to do this.
Ask yourself: Which platforms will I share this on? How many times will I share it? How will I promote it in a way that entices click-throughs? Will I share it via organic posts, paid posts, or a combination of both?
Use social media to assist your SEO efforts
Many business owners are under the assumption that social media engagement (e.g. likes, shares, etc.) directly impacts their SEO. In other words, they believe that Google takes these social clicks and actions into account when ranking sites.
Unfortunately, this isn't the case. Google has explicitly told us that they do not use social signals as part of their algorithm.
So, does that mean that social media interactions don't help at all when it comes to search engine rankings? Not at all. The indirect benefits are undeniable.
As you interact and share on social media, more and more people see your content. As more people see your content, you start to accumulate more traffic and more links. And as we all know, links are still key to achieving top rankings.
While you shouldn't rely exclusively on social media to boost your rankings in Search, don't be surprised if you see a strong correlation between increased social sharing and your Google rankings.
Use social media to inform your marketing and business decisions
According to Social Media Examiner, 88% of all marketers found social media helps get them increased exposure.  Additionally, 72% of those surveyed saw increased traffic and subscriptions as a result of social media.
In other words, through using social media, they learned important information about their business and its place in the competitive landscape.
In order to gain these insights, however, business owners must be intentional. Some ways you can do this include:
Monitoring social media conversations to see what people are saying about your brand or products
Paying attention to common questions or concerns being raised directly on social media, either through mentions, tags or through private/direct messages
Being active in industry LinkedIn and Facebook groups to hear what problems or issues your target market faces
Keeping an eye on how your competitors use social media so you can learn how to differentiate yourself
Publish content directly to social media
Most business owners use social media as a way to promote their blog content. Each time they publish a new post, they share a link on social media as a way to boost traffic and exposure.
And while this is an extremely effective strategy, here's something to consider:  more and more social media users are becoming hesitant to leave the platform they're on. In other words, if they're on Facebook, Twitter, LinkedIn etc. they prefer to stay and consume content right on that platform.
Omni-channel publishing means you promote your own content while also publishing natively to other platforms. Image courtesy of Contently
This is why these same sites have introduced ways for publishers to host content natively. Facebook Instant Articles and LinkedIn Pulse are two examples of this.
Publishing content on your own website will always be important. However, publishing natively on social media should also be part of your marketing mix in 2016 and beyond.
Publishing natively on social media should also be part of your marketing mix in 2016 and beyond.
Click To Tweet
Use social media to build your email list
It's critical that all the hard work you do on social media helps to build your email list. If your favorite social media platform were to disappear overnight, this would ensure you still have access to the audience you've established.
A key way you can do this is to offer your social media fans and followers valuable, free info for opting in to your list. This could be a free ebook, access to a webinar or video series, exclusive secrets or tips to help them solve a common problem, etc.
Once you've gotten their email, you can continue to engage with them – both through social media and email – as you continue to build those important relationships.
Integrate social media into your website design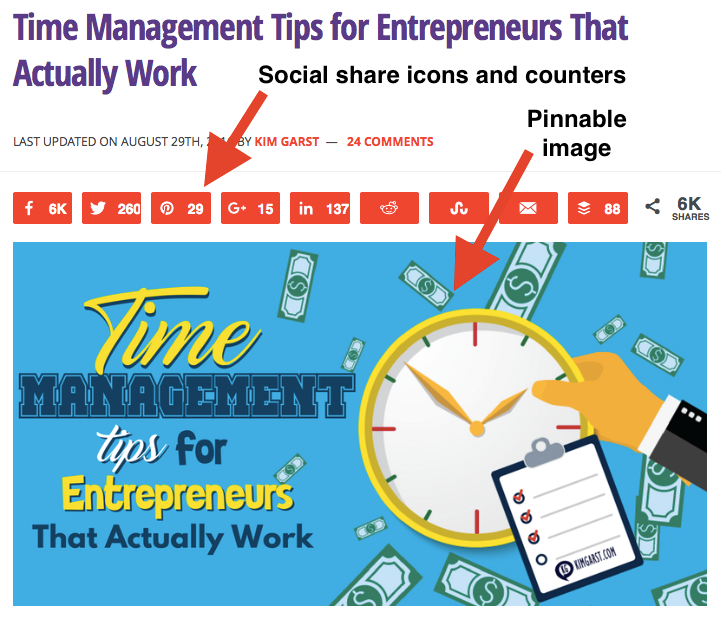 I'm surprised at how many business owners haven't yet fully integrated social media into their website or blog design. At its most basic, you must have a way for your website visitors to like, share or tweet your content, as well as to connect with you directly on social media
You must have a way for your website visitors to like, share or tweet your content.
Click To Tweet
Some best practices I'd like to recommend here include:
Having obvious social media share buttons next to each piece of content on your site
Using "pinnable" images on your blog posts so people have something enticing to share
Try social media counters to improve credibility (the more fans or followers you have, the more people trust that you know what you're talking about)
Using a plugin like Click To Tweet which encourages visitors to share your content on Twitter
Having prominent social icons on your site so visitors know where to find you on social media
Use pay-per-click alongside social ads to boost performance
Pay-per-click advertising can be a great way to gain some additional exposure in the search engines. And if you're looking for increased visibility on social media, social ads can fit the bill perfectly.
However, according to some research from Marin Software, social and PPC ads actually work best – by far – when used together. They found that users who click on both search and social ads convert at 2x the rate of those who only click on a search ad, and at a 4.5x higher rate than those who only click on a social ad.
In addition, revenue runs around 2x higher when users click on both ads rather than on just a search ad.
If you're considering using Google ads as part of your digital marketing strategy, I'd strongly suggest combining those efforts with social ads. You may be surprised at the results!
Final thoughts
Social media works best when it's integrated with your other digital marketing efforts. I hope this post gave you some ideas for how you can bridge the gap between your digital marketing and social media strategies, allowing you to achieve optimal results.
Have you integrated social media marketing into your overall digital marketing place? If so, how? Share below!
About Author