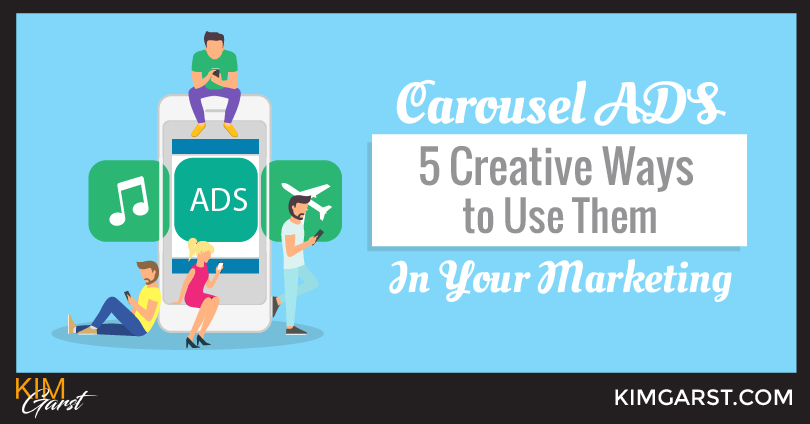 Want to do something very cool that will make your Facebook Ad stand-out head and shoulders above the dozens of others your prospects see everyday when they are on Facebook? You might want to give Facebook carousel ads a go!
What oh what is a carousel ad anyway? Carousel ads allows us as marketers to show 2-5 images and/or videos, headlines, links or calls to action in a single ad.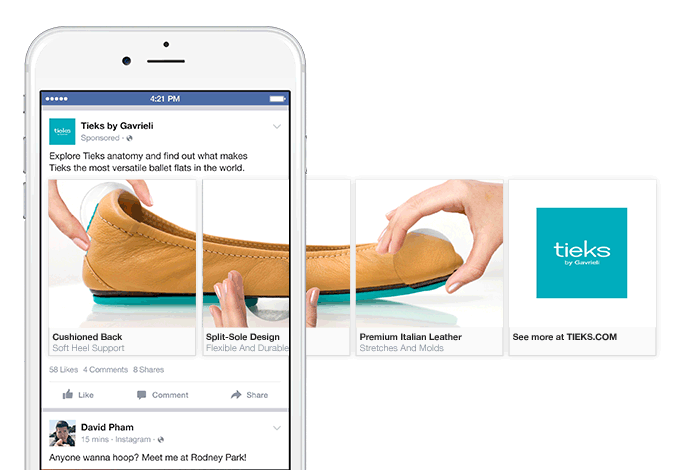 You can use these ads to showcase specific products or to share more details about those products/services. The best way to use them, in my opinion, is to use the carousel look as a way to tell the story in a creative way. The biggest advantage of carousel photos is that Facebook provides us with multiple photos that link back to our website or blog. If your goal is to get users to click, these photos can give a user multiple opportunities to do so.
Facebook carousel ads can make your organization or product stand out from others if you use them well. However, it is important that you first understand how to best use carousel photos in ways that your potential audience will find engaging.
The beautiful thing is that your ability to create and promote content with Facebook carousel photos is limited only by your own imagination.
5  Ways You Can Use Carousel Ads as a Marketer
1. Show the Benefits of a Service Using Carousel Ads
If you aren't promoting a physical product (think of a credit card or lawn care service) use the photos to show the advantages of your services instead. Show Facebook users that you can provide value, and they will be more likely to click.
2. Tell the Story with Carousel Ads
Give Facebook users a reason to swipe through your carousel photos by telling a story with the photos that you use. Think sequentially. The ability to tell stories is always valuable—regardless of the ad type but Facebook, using this strategy, gives us a visual way to do so!
3. Use a How-to Strategy with Carousel Ads
If you are linking to a how-to article on your blog or website, take the opportunity to tease the article in a helpful format with your carousel photos. This could include how-to tips for anything from applying for a loan to instructing how to make a cake.
4. Show Detail of Your Product Using Carousel Ads
This is one of my favorite types of Carousel ads! Highlight certain aspects of a single image by breaking it into multiple images and uploading them as cards in the carousel. Change each card headline to clearly communicate the feature you are trying to emphasize with each image.
5. Think Creatively!  
There are times when a single image simply can't show everything you want to show. Panorama photos can be broken up into a few smaller images and then uploaded into the carousel to allow for a unique look at the image.
If you need some additional creative ideas, check out some of the examples here.
You can find out exactly how to do it in the Facebook Advertising Help Center. Also, if you need a little more help, it is one of the many types of ads we walk through, step-by-step, in our industry-leading Facebook Ads Success Blueprint Course.
Have I sold you on the fact that you might want to try carousel ads? I would love to hear your opinion below. I would also love to hear from anybody who has tried Facebook Carousel Ads. Did you like them? Did they work for you?
About Author