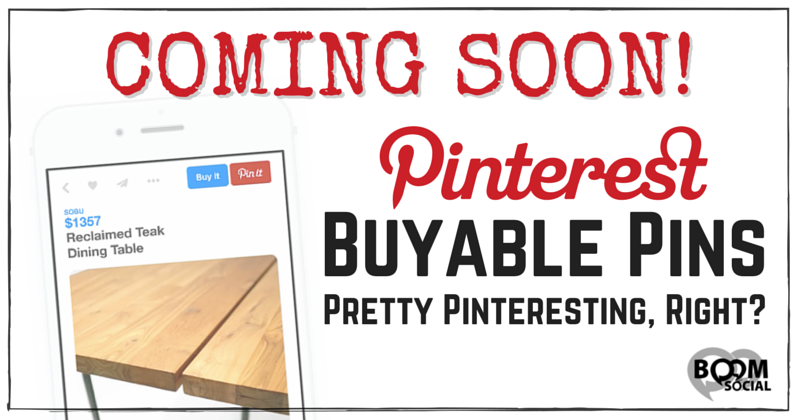 Exciting news: Starting soon, you will be able to buy and sell right from WITHIN Pinterest! Products will have a blue 'Buy it' button right next to the 'Pin it' button. These buyable pins will look something like this: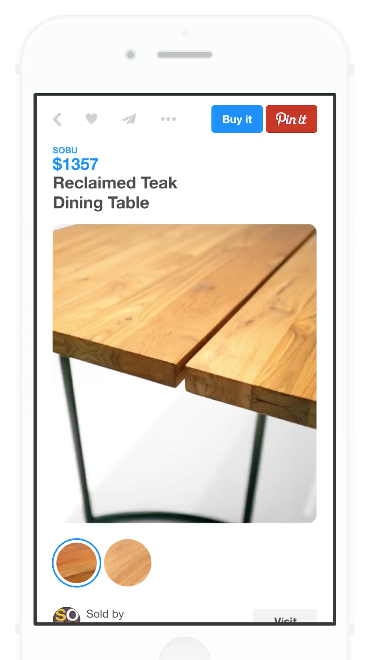 Here's how it will work: Users simply click on the Buy it button, and are then presented with two simple payment options – Apple Pay or credit card. After making their selection, they are brought to the checkout page where they complete their transaction. After hitting 'Pay', payment is processed and the buyer receives an email receipt. Done!
The buyer is now free to continue shopping or browsing on Pinterest…and they've never even left the platform!
Is this COOL or what?!
Behind The Scenes at Pinterest
Pinterest announced Buyable Pins earlier last month, saying that the feature would be rolled out to U.S. users first. They have said there will be around 2 million Buyable Pins available to shoppers at the outset.
As per usual, they are giving big brands first shot at trying out the new feature; brands like Macy's, Nordstroms and Michaels. However, if you use Shopify for your ecommerce store, you're in luck. Simply log in to your Shopify account and add the Pinterest channel to start enabling Buyable Pins immediately!
If you use Demandware for your store, this option will be available to you soon…so stay tuned. If you use a different platform for your ecommerce store, you can sign up for the Buyable Pins waitlist to receive a notification when they're available for your site.
How Small Business Owners Can Use Buyable Pins
If you are using Shopify, you can start using Buyable Pins immediately. As mentioned, to get started simply enable the Pinterest channel in your Shopify account. That's it! Now every product that's ever been pinned from your online store will have a Buy it button next to it. Doesn't get any easier than that!!!
Shopify will then track how much engagement your buyable pins get, including pins, repins and orders. This will ensure you know exactly which pins and products to focus on for optimal sales.
So, the question I KNOW you're asking right now is, "How much is it going to cost me?".  As of right now, Pinterest isn't charging anything for buyable pins. They won't take a cut of your sales, and they won't charge for setting up the pins. What they WILL be doing, is offering businesses the opportunity to promote their buyable pins, getting their products displayed for relevant search queries and in users' feeds.
For right now, this option isn't available to business owners. In an interview with TechCrunch, Tim Kendall, Pinterest's GM of Monetization, emphasized that buyable pins are first and foremost about improving the user experience: "This isn't an ad offering, it's an experience for pinners. Pinners tell us, 'I discover great things from Pinterest every day, I stumble across it, I wish I could buy it on Pinterest without leaving' — it's about addressing that pain point."
Until promoted Buyable Pins are available, optimizing your pins for sales will be your best bet. Here are 5 ways to do this.
5 Easy Ways To Optimize Your Pinterest Pins For Sales
Optimize your pins for SEO: Some ways you should do this include using your keywords in your Pinterest image captions, in the anchor text of your images and in your board titles. For the step-by-step strategy I use to get my boards ranking in the search engines, check out my post, The Secret To Getting #1 Rankings on Google….Using Pinterest!
Use high-quality photos: I can't emphasize this enough. With the emergence of Buyable Pins, this is more important than ever. Images are the lifeblood of Pinterest, so don't cheap out: use big, high-resolution, professional-quality photos. Ideally, your product images should be 735 pixels wide to accommodate expanded pins.
Always include helpful, descriptive text: Avoid being salesy or overly promotional, and instead provide useful descriptions that contain appropriate keywords.
Make sure every product on your site has a Pin it button: Don't rely on your website visitors having a Pinterest button in their browser. Make it as easy as possible to get your products pinned by using Pin it buttons.
Use rich pins: Using rich pins allows you to include a price on your product images. Pinterest will even notify customers when you drop your price! Here's how to set up product rich pins.
Looking for more strategies for making the most of Pinterest? Check out my post, 10 Pinterest Tips and Tricks for Business Users.
Have you tried out buyable pins yet? What do you think? Let us know below!
About Author