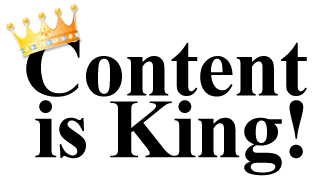 Everyone knows that the way to good rankings is paved with original content. Mention writing, however, and most business owners start shivering in their shoes. The fear of writing is widespread and many business owners would do anything to avoid writing even a single sentence. In fact, they don't have to if they choose to utilize "canned content".
There are numerous websites that claim to provide fresh, new content for websites of any kind. The problem is that the copy has often been recycled or simply had paragraphs repositioned or "spun". Meaning the content could have been generated by any number of programs that simply remove words and insert new ones throughout the copy. The result is content that is not fresh, does not contain your voice and will be recognized as canned content and will not be indexed by the major search engines.
Canned copy, as it's called, is comprised of articles, blog posts and other written material that's sold repeatedly to anyone with the funds to buy it. It's offered through various sites, sometimes with minor changes, sometimes not. Using this type of material won't get a website indexed by Google and will result in a severe lack of traffic to the website. Search engines spiders recognize it as duplicate copy. They can punish your site by bringing it down in the search rankings. The site that had the original version is indexed and other sites with the same content are viewed as untrustworthy sources.
Plagiarism is also an issue. A particular phrase or sequence of words may sound great, but if you didn't write it, you can't use it. The laws governing plagiarism are quite clear and websites using plagiarized material could find themselves embroiled in a lawsuit. The law allows for fair use, but that's extremely limited. Paraphrasing is allowed, but not copying directly.
There are some legitimate third party copy sources but there are so many that are not and discovering the good ones can be difficult and utilizing the bad ones could land you in some hot water if you are not careful. If you plan to use a third party content provider make sure that they authenticate the content through SEO and other means to protect against plagiarism. If there's any doubt about a particular piece of copy, it's easy to check with tools such as CopyScape.
While it doesn't happen too often, another problem exists, even with original copy. There are only so many ways to say the same thing. Sometimes copy will be flagged as duplicate or "borrowed" even if it wasn't. Unfortunately, a site that a search engine determines is a trusted site will receive credit for having the original content, even if the website owner was unaware that there was a site with similar copy.
In my opinion, the best solution to great content is to write your own content! Be authentic and share your passion with your readers. It works! You do not have to be an English major or a professional copywriter to connect with people where they are. This approach is much better than canned copy ANY DAY!
FOUR STEPS TO GREAT CONTENT
Grab Their Attention Quickly
When a visitor visits your site and is unable to find what they are looking for right away or your content does not grab their attention very quickly, then you have lost them. They will move on to in their quest for information. You have approximately 8 seconds to engage your visitor before they move on.
Fulfill Their Needs
Ok, you have their attention, now what? You have to quickly meet them where they are. You already know they are interested in your content if they stuck around but you have to show them that you understand their needs and that you can fulfill those needs with your product or service. Make sure that you go into great detail on why your product or service is the right one for them and explain the benefits of selecting your product or service.
Ask Questions
Asking questions will make people think. Asking a question and providing a great answer can be much more effective than simply asking an open ended question. Sometimes your visitors may not know the answer to their questions but if you provide a great answer, it shows you have a solid grasp on your area of expertise. Additionally, it can answer questions that your visitors may not even know that they had. It is a way of providing valuable content to them and it engages their thought processes.
What kind of questions could you ask? Focus on the basic type of questions. Who? What? When? Why? Where? How? Each will provide an option to share a lot of information that will be valuable to your visitor.
Informative
Last but not least, your content must be informative. The visitor has to leave your site feeling that they learned something valuable and if you can tie them into your content by making them feel that they learned something about themselves as well; then you have a created a customer or at the very least a REPEAT visitor.
Some great ways to inform your visitor and engage them in a purchase is to demonstrate how your product or service can make their lives better or easier in some way, save them time or money or offer ways that they use your product or service that will provide some incentive to make a purchase.
About Author