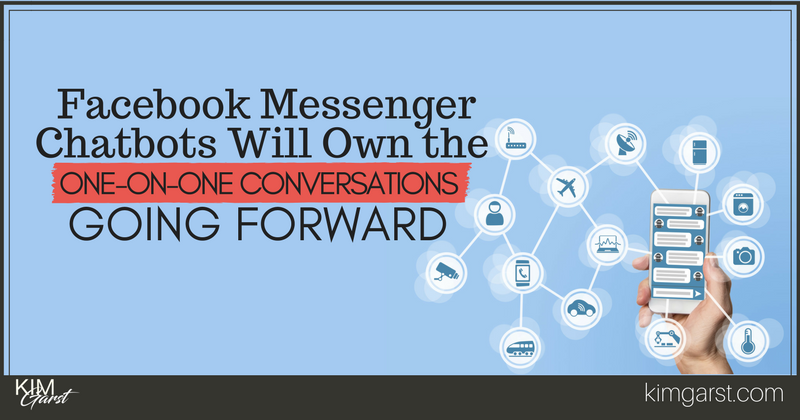 If you've been following me for a while here or on social media – or if you've read my book, – you've probably heard me talk about how social media completely changed the face of business and marketing.
Well, chatbots are now poised and ready to take things to the next level!
In particular, Facebook Messenger chatbots are well on their way to owning one-on-one conversations online. This means that businesses who aren't using chatbots on Facebook are going to fall behind – WAY behind.
Let me introduce you to my newest program, The Facebook Messenger Bot Academy. The complete A-Z system that will simplify the process of creating your bot marketing strategy and turning it into a list-building, revenue-generating machine.
The Shift From Broadcasting To One-On-One Conversations
Before we jump specifically into the power of Facebook Messenger chatbots, it's important to look at the shift that's been taking place over the past years when it comes to brand conversations.
Before the internet (and social media in particular), businesses could essentially broadcast whatever they wanted to say to consumers. They could make wild and outrageous claims, concoct stories that would make them look good, or push out a message or slogan that would keep their business top of mind. Those that had marketing dollars won the game, essentially.
It's quite astounding really, to think of some of the advertising claims that went virtually unchecked prior to the internet age. For instance:
Craven 'A' cigarettes: "Made specifically to prevent sore throats"
McDonald's Australia (regarding a Big Mac meal): "More than 55% of your daily protein needs, and a higher level of vitamins and minerals than the average Australian meal".
Rainier Beer: "Cultivate the Rainier Beer habit. It brings the glow of health and gives a new lease on life."
While these types of claims were commonplace in the mid to late 20th century, once social media came along, businesses could no longer get away with them.
Now, thanks to platforms like Facebook, Twitter, YouTube, etc. brands don't have the final say.
Thanks to social media, broadcasting is quickly becoming a thing of the past. Instead, the power of one-on-one conversations are rapidly becoming the norm. Consumers want to talk to those that they spend their money with.
Newsflash: Consumers want to talk to those that they spend their money with.
Click To Tweet
Think about who YOU would rather buy from: A big, faceless corporation, or a company that actually engages with you? One who you heard about through a TV ad, or one who was recommended by a friend? One who requires you to call a 1-800 number for customer service, or one who responds instantly via social media and/or, yep, a chatbot?
Much of this shift has taken place over the past 10 or so years. According to well-known entrepreneur and investor Murray Newlands, chatbots are the biggest shift we're seeing now: "Where 10 years ago every company needed a website and five years ago every company needed an app, now every company needs to embrace messaging with AI and chatbots."
I believe AI (artificial intelligence) and chatbots will be a defining factor of successful businesses in the coming years. Consumers are increasingly demanding that brands engage in one-on-one conversations; at the same time, companies are looking for ways to automate and scale these conversations. Chatbots are the key to achieving both of these goals.
Why Facebook Messenger Will Dominate The Chatbot Space
The rest of this article is all about why Facebook Messenger chatbots are now on trend to completely take over one-on-one conversations online. If you've been dragging your feet when it comes to creating your own chatbot, keep reading!
Facebook is THE elephant in the room 
If you want to be where your customers are, Facebook is (by far) your best bet. According to TechCrunch, Facebook has now reached 2 billion monthly users, and 66% of users log on every single day.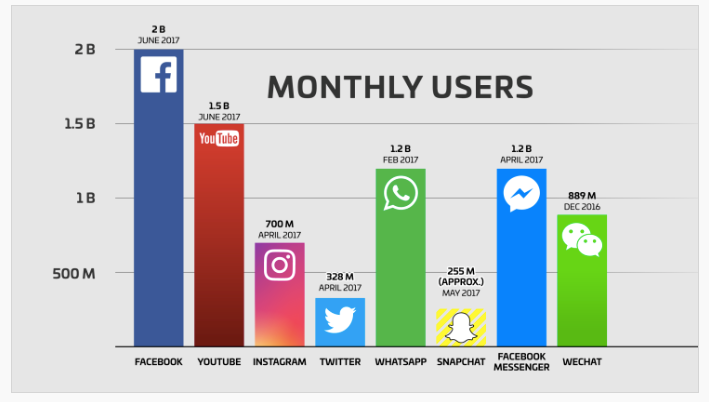 It only makes sense to focus your efforts on the platform where most of your customers hang out. While this doesn't mean you shouldn't have chatbots on other platforms, a Facebook Messenger bot is likely to see the most action and result in the most engagement and sales.
Facebook Messenger now has 1.2 billion users
As you can see on the chart above, over half of Facebook users also now use Facebook Messenger. This number is likely to grow as Facebook usage continues to rise, especially in non-western countries.
Did you know that over half of Facebook's 2 BILLION users are on Messenger?
Click To Tweet
And according to Digital Trends, it's not just individual users who are using Messenger: of the 1.2 billion total users, an estimated 60 million are businesses. This means it's even more important for business owners to make sure they're available to chat 24/7 on Messenger.
Younger Users ARE Using Facebook and Facebook Messenger
eMarketer recently reported that not only have younger users NOT left Facebook (which is a common belief), but they're using it even more than in the past. As of November 2016, 65% of all US teens were using the platform at least once daily.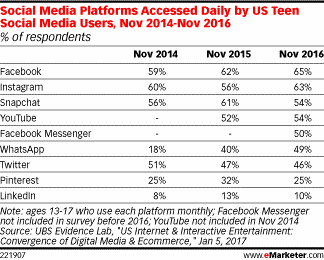 But what's even more surprising is that half of teens are using Messenger; this is even slightly more than are using WhatsApp.
If your business is looking to keep up with the next generation of consumers, being active on Facebook Messenger is a must.
Chatbots are HUGE right now on Messenger
People aren't just using Messenger to chat with friends. Users are interacting with businesses via chatbots at unprecedented rates. At last count, there were around 30,000 chatbots on Messenger, originating from 200 countries (source).
Part of the reason for this widespread use of chatbots is likely that barriers to creating a chatbot have been significantly reduced by the rise in free and low-cost tools like Chatfuel, ManyChat and ChattyPeople.
These tools let any business – big or small – create Messenger chatbots in minutes, for free, with zero coding. Sound good?
Facebook is the most popular social platform for direct selling
While online sales used to take place mainly via a website or app, they're increasingly happening right on social media. According to a study by Marketing Week, Facebook is the biggest social network in terms of direct sales, with 19% of users saying they like to buy directly from within Facebook.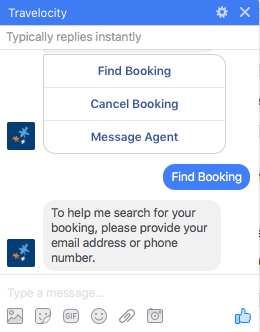 Chatbots are a key way to initiate the conversations that will result in sales on Facebook. Facebook Messenger chatbots can suggest products or services, make bookings (see screenshot above) and even accept payments without users ever having to leave Facebook.
If you're looking to increase sales while decreasing the amount of time and effort it takes to initiate those sales interactions, Facebook Messenger chatbots are the way to go.
If you're looking to increase sales, Facebook Messenger chatbots are the way to go.
Click To Tweet
Final thoughts
Chatbots are key to initiating one-on-one conversations that will ultimately lead to sales. And given the popularity of Facebook and Facebook Messenger, I have no doubt that Facebook Messenger chatbots are going to own these one-on-one conversations going forward.
Still not sure chatbots are right for your business? Check out my post 15 Reasons Social And Digital Marketers Need Chatbots
Do you already have a chatbot on Facebook Messenger? If not, are you going to create one? Let me know in the comments below!  
About Author