As you may or may not know, Facebook previously gave users the option to hide their names from public search. This meant that users who wanted complete privacy could opt to have their name hidden from Facebook's search field. Well, over the next few weeks, this option will no longer be available as facebook removes search privacy. Facebook will be removing the search privacy on your personal timeline. In fact, for the past year Facebook has been silently removing the 'who can look up your timeline by name' option for those who were not already using it. If you are one of the small percentage of Facebook users who opted to keep your name hidden from search, you should soon receive an alert at the top of your timeline letting you know about this change.

So, why is this option being nixed? According to Facebook, the change is necessary to avoid confusion and to help users get the most out of Graph Search. "The setting was created when Facebook was a simple directory of profiles and it was very limited. For example, it didn't prevent people from navigating to your Timeline by clicking your name in a story in News Feed, or from a mutual friend's Timeline. Today, people can also search Facebook using Graph Search (for example, "People who live in Seattle,") making it even more important to control the privacy of the things you share rather than how people get to your Timeline."
What if I want to stay hidden on Facebook?
Most of us won't even notice the removal of this setting. However for those of you who have, for whatever reason, been using Facebook semi-anonymously, don't be surprised when you start receiving more and more friend requests in the coming weeks! So what do you do if you want to continue to stay completely hidden on Facebook? Well, unfortunately there's really no way to do this within Facebook's terms of service. Since Facebook requires you to provide your real name and information when you register, using a pseudonym would be a violation of Facebook's policies. There are a couple of ways, however, you can keep a handle on your privacy, even though your name will now be searchable.
1.   Make sure only friends can see your future posts. The most important privacy setting you'll want to check is 'Who can see my stuff'. To make sure only friends can see what you post, go to the 'Privacy Shortcuts' tab at the top right of your page (click on the little padlock icon). From here you're able to select who will see your future posts.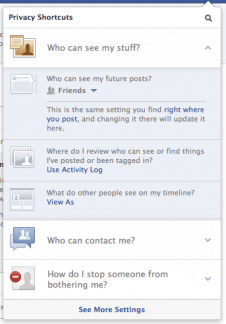 2. Make sure only friends can see your old posts. With the impending changes to Graph Search, it's more important than ever that you double-check the visibility of your past posts. To change the audience settings for your past posts, you'll need to access the regular privacy  settings tab (this option is not available through privacy shortcuts). To access privacy settings, simply click on the gear icon at the top right hand corner of your screen. If you'd like to review your past posts on a case-by-case basis, you will need to, unfortunately, scroll through all your past posts and change the audience on each post. However, if you would like to simply make sure all your posts are searchable only by friends, there's a way to do this with one click: click 'Limit Past Posts'. This will change all the content on your timeline that you've shared with friends of friends or public to friends.

For more information on the recent changes to Graph Search, see my recent post Facebook Graph Search Now Lets You Search Comments. What do you think? Do you like this change or simply not too happy about it?
About Author