Listen up, entrepreneurs! I've got a sneaky lil hack to share that brings the power of ChatGPT 4.0 into your Slack account for free. Yup, you heard that right! 😱 This bad boy app called Sidekick makes it super simple to chat with the latest GPT version without paying extra. I'm pumped to break it all down for ya in this post. Let's do this!
See, I live in Slack all day every day managing my business. And I'm always hustlin' to find new tools to make my life easier in there. Cue Sidekick – my new robot bestie!
Here's the sitch… Sidekick's like a personal AI assistant living in your Slack account. This clever little bot helps you with whatever you need to run your biz better!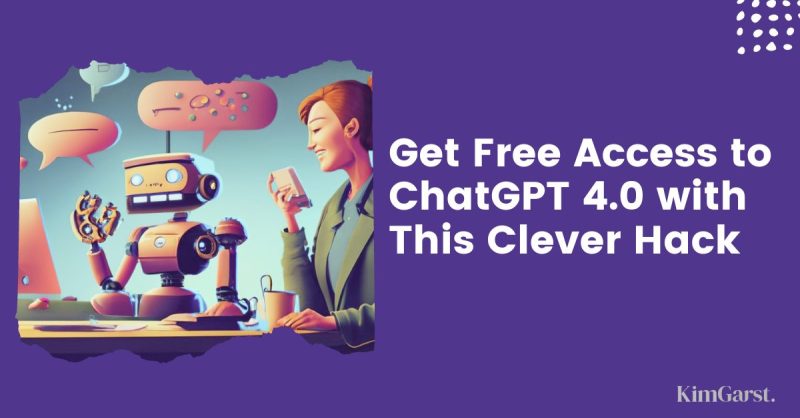 Here's what the Sidekick app can do:
– Set reminders so you never forget important stuff again
– Summarize convos and channels to save you time
– Track keywords and updates from other tools you use
– Answer questions about docs and spreadsheets
– And the best part – give you access to ChatGPT 4.0!
Get this – you can access the new ChatGPT tech directly in Slack with Sidekick, and it's totally free! No paying extra or opening new tabs. How stinkin' awesome is that?!
Let Me Show You Sidekick in Action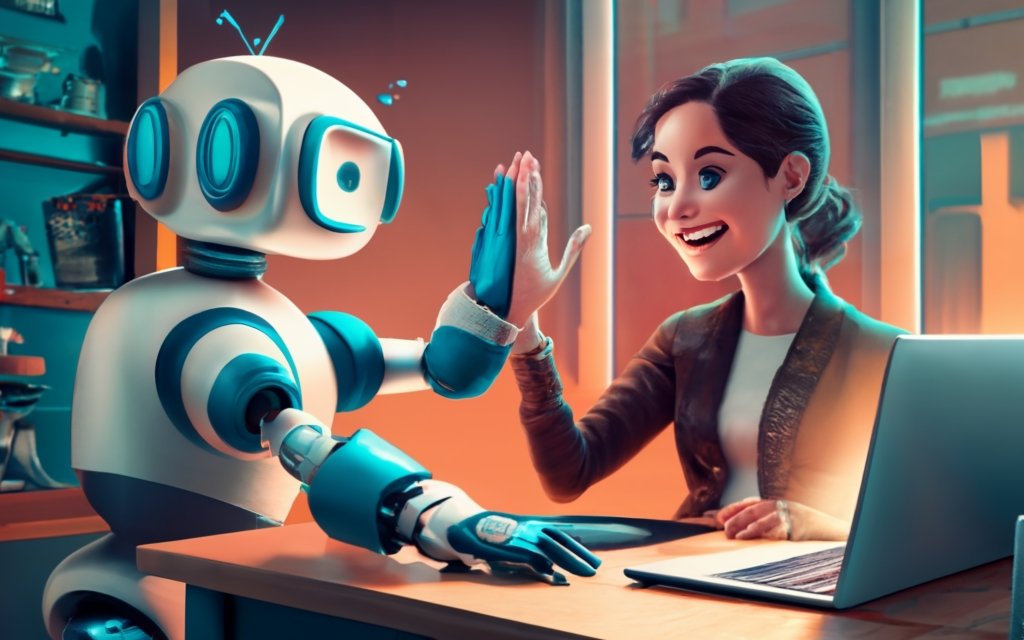 I'll walk you through some real examples of how I use ChatGPT in Slack thru Sidekick every day:
Reminders:
I can just say "Remind me to do [thing] at [time]" and Sidekick's got me covered. Like just yesterday, my scatterbrained self told Sidekick "Remind me to send my monthly client report at 9am tomorrow." And bam! Sidekick sent me a reminder right on the dot. No more forgetting important stuff thanks to my new AI memory!
Summarizes:
I ask Sidekick to summarize a recent convo or project channel. Saves me tons of time catching up. Let's say I missed a team meeting. Instead of reading 50 Slack messages, I ask Sidekick to "Summarize key decisions from today's standup." It gives me the highlights in a few sentences. My fave time-saver!
Keyword Tracking:
I say "Track [keyword]" and Sidekick watches for it across Slack, Salesforce, Zendesk, etc. So helpful for staying in the loop. I told Sidekick to "Authority Creator" because that's one of my brand's keyword phrases. Now whenever someone mentions Authority Creator in Slack or Salesforce, Sidekick lets me know! Never miss relevant convos again.
Spreadsheets:
I share a Google Sheet link and ask Sidekick questions about the data. It pulls answers instantly without me leaving Slack. Next level! For example, I shared my product sales sheet and asked Sidekick "What was my best selling product last month?" It scanned the stats and instantly answered "AI Authority Advantage sold 153 units!" Crunching numbers made easy peasy.
ChatGPT Access:
I get full use of ChatGPT 4.0 for free by dropping my prompt(s) into Sidekick. No paying extra or opening new tabs. Bam!
As you can see, this little app is game changing for busy entrepreneurs like us. And the best part is how stupid simple it is. Just chat in plain English – no fancy code needed. Sidekick handles the hard work behind the scenes, so you get answers and reminders fast.

Why Every Biz Needs Sidekick:
Let's recap why this AI assistant needs to be your new Slack BFF:
It saves you a crap ton of time. No more manually tracking things across tools or scrolling back through messages to catch up. Sidekick's got you covered.
It keeps you organized. Never miss a reminder or important convo again thanks to Sidekick's handy summaries and tracking.
It brings powerful AI into your workflow. Access ChatGPT features right in Slack without paying extra. Talk about a workaround!
It works in simple English. No complex code needed. Just chat with Sidekick in plain language to get answers pronto.
It integrates with  your tools. Sidekick works across Slack, Salesforce, Zendesk, Google Drive and more so you never have to switch tabs.
I'm so freakin' impressed by how much time and mental energy this little app saves me each day. Sidekick is like hiring a digital assistant personalized for your business needs.
Every smart entrepreneur needs this AI helper in their toolkit!
Get Your Free Sidekick Trial Today
Alrighty, who's ready to get your new AI bestie and take your Slack game to the next level?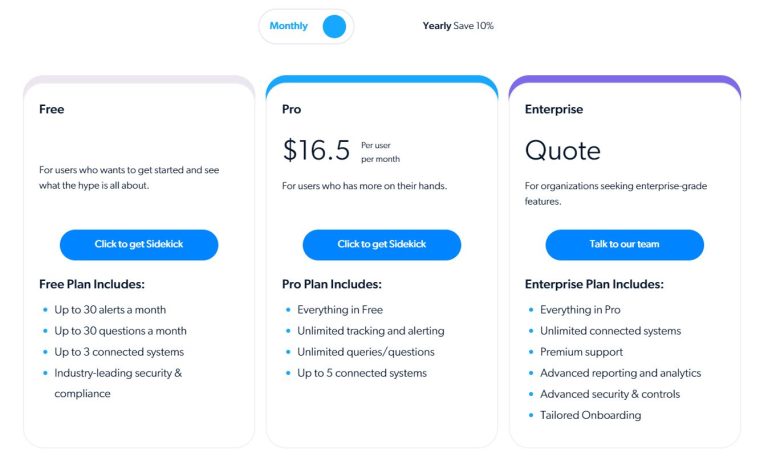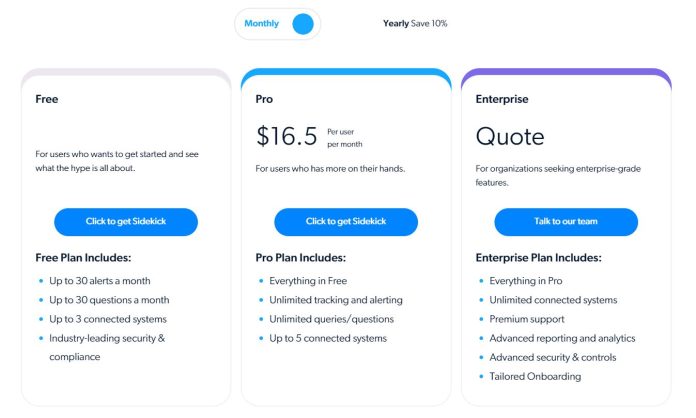 Sidekick offers free and paid plans to fit your needs:
Free
For users who wants to get started and see what the hype is all about.
Free Plan Includes:
Up to 30 alerts a month
Up to 30 questions a month
Up to 3 connected systems
Industry-leading security & compliance
Pro $16.5 per user per month
For users who have more on their hands. Click to get Sidekick
Pro Plan Includes:
Everything in Free
Unlimited tracking and alerting
Unlimited queries/questions
Up to 5 connected systems
Enterprise Have to get a Quote
For organizations seeking enterprise-grade features. Talk to Sidekick team
Enterprise Plan Includes:
Everything in Pro
Unlimited connected systems
Premium support
Advanced reporting and analytics
Advanced security & controls
Tailored Onboarding
Get Sidekick set up in just a few minutes, then watch it transform how you work. I've linked their plans above so you can choose the right one for your needs!
CONCLUSION
I promise you're gonna love having this personalized AI assistant in your corner helping make Slack more productive and organized. It's a total game changer!
So what are you waiting for? Go get your new Sidekick and experience the AI magic for yourself. Your business (and your brain) will thank you!
Let me know once you're hooked on your new robot BFF. I wanna hear how Sidekick is saving you time and sanity every day! Hit me up here in the comments. ☺️

About Author