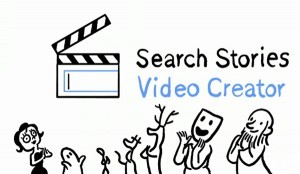 Every Google search quest is a story. What does Google say about YOU?
Google started a Google Search Story video maker about a year ago and I missed it! Not sure how that happened but now that I have discovered it, I want to share what a great personal branding tool it can be for your business.
It is a simple tool that you can use to create a branded video for your business. You can enter up to seven different search queries (images, maps and standard search words), choose your own music and the video maker will produce an awesome video quick as a bunny. You can then upload to your YouTube channel, share it on your social media accounts and send it to friends and family. It is FUN and EASY!
The only drawback is that Google does limit the search queries to six as the last one is not included for whatever the reason. However, the pluses are that the music options are varied and plentiful and the quality of the video is excellent. If you have some spare time, check out what others have put together to tell their "story". It may spark some ideas that will lead to a better personal branded YOU video!
Check it out my story below and make sure you share yours in the comment section below.
Create your own Google story by visiting http://www.youtube.com/searchstories.
About Author