Google Plus is Gone! Are you here looking for info on how to use Google+ for your business?
If so, I have some bad news for you: due to low usage – and possibly also due to a big data leak – Google Plus shut its doors in April 2019.
This means if you had a Google+ account, it is now GONE: all your photos, videos, communities, and other content were purged when the network was shut down.
So, what can be used in place of Google Plus?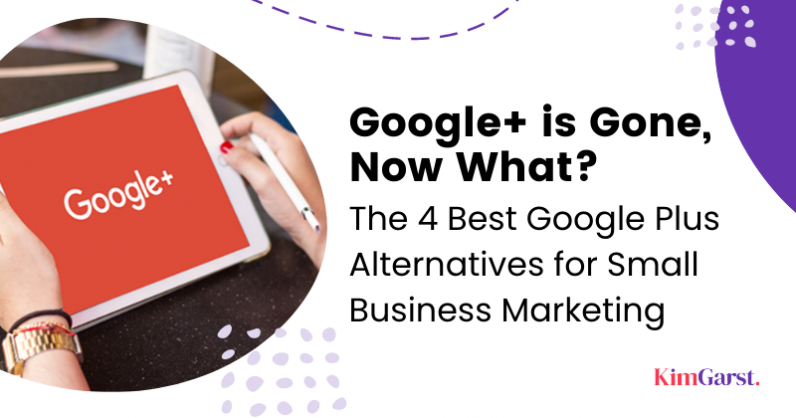 Fortunately, there are some alternatives to Google Plus that are even BETTER…and I'm going to share them with you in this post.
4 Google Plus Alternatives
Let me just say there is no one-size-fits-all Google Plus replacement out there!
That said, there are some pretty cool tools out there you can use to replace certain Google+ features.
Here are 4 of those tools!
1. Google My Business
You've likely heard of (and used) Google My Business.
It's probably best known for allowing businesses to create local business listings that people can find in Google, like this: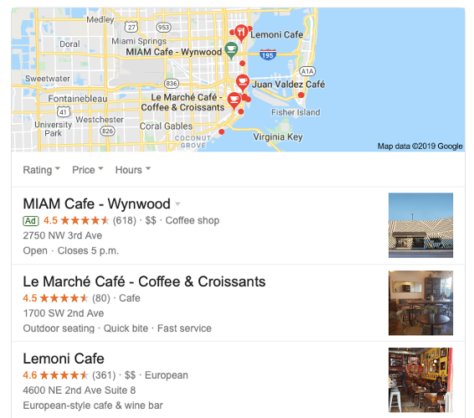 Having a Google business listing is important for a number of reasons:
It ensures your business shows up when people look for your type of business in Search
It allows you to get (and display) user reviews. The more reviews you have – and the better those reviews are – the higher your business appears in Search.
You can edit your business profile to include product photos, hours of operation and menus
People can book your services right from your profile
But what you may not know is that Google My Business is MORE than just a local business directory – they have added features that make it much more "social"!
For instance, people can now follow you from their Android device simply by clicking the +Follow button on your listing: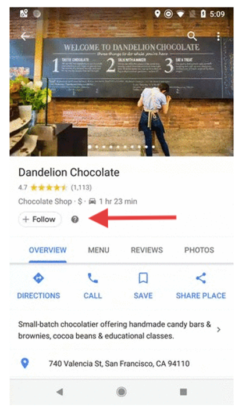 Once they're following you, they'll receive updates from your business – things like offers and events – in a "For You" tab.
Another super-cool feature is the option to add "Welcome Offers" to your account. When someone opts in to follow your business, they'll be able to download a special deal or discount they can use at your business.
This is a GREAT incentive for people to follow you!
Finally, businesses can also claim a short URL and name for their business, so they can directly send users to their Google My Business profile.
In this way, you can even use your GMB profile as a kind of "mini-website" – sharing the URL with your customers in person, via email, or on social media. They can then go directly to your GMB listing to follow you to get special deals and updates.
2. Facebook Groups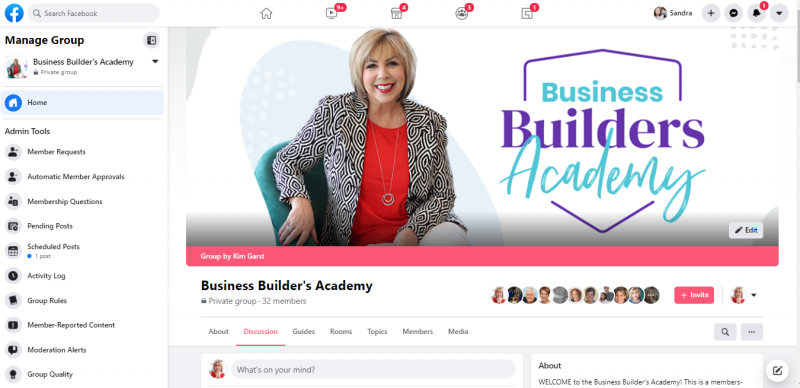 Building an online community from scratch can be a challenge, but with Google Plus, it was a breeze. If you ran a Google Plus community, you know what I mean!
Fortunately, Facebook groups are an even better option…and they're not going anywhere.
There are many ways you can use Facebook groups to grow your business and serve your customers and prospects:
Help your customers or clients connect with one another
Share information with your audience (especially in light of the low reach of Facebook page posts)
Share offers
Provide customer support
Direct traffic back to your website or blog
Build your email list
Get feedback from your audience
Establish trust and credibility
We also know that Facebook is investing a ton of energy and resources into groups going forward, and is giving more visibility to group posts in people's newsfeeds. So there's never been a better time to use Facebook groups for your business!
Facebook is investing a ton of energy and resources into groups going forward, and is giving more visibility to group posts in people's newsfeeds. So there's never been a better time to use Facebook groups for your business!
Click To Tweet
For more guidance on this, check out my post How to Start and Grow a Profitable Facebook Group.
3. LinkedIn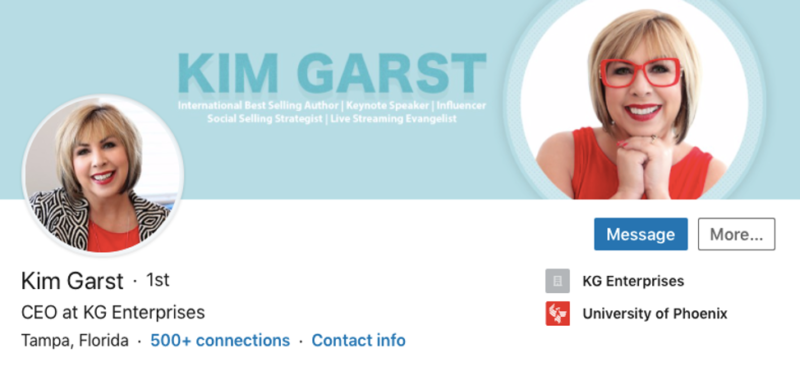 One of the coolest features of Google Plus (in my opinion) was circles. Users could create circles and then add people to them; even people who didn't follow them.
In this way, you could segment who you were going to share your content with – meaning you could choose to share your content with people in certain circles, but not in others.
This was GREAT for keeping your business and personal life separate.
If you're looking for a Google Plus alternative for business networking, LinkedIn is a great option.
LinkedIn lets you connect with co-workers, fellow business owners, and influencers in your field, so you can continue building your business network online.
You can also join and start groups on LinkedIn, so you can share ideas with like-minded people in your niche or industry.
For more on how you can use LinkedIn for your business, check out my post, LinkedIn: Unlock Your Potential on the World's Largest Business Network.
4. Whatsapp
While Hangouts were originally part of Google+, in 2013 Google made them a standalone tool (meaning people didn't have to be on Google+ in order to use them).
However, while Hangouts are still around, it appears they will be discontinued sometime in 2020…at least in their current form.
A great, free alternative to Google Hangouts is Whatsapp, which also happens to be the most popular messaging app out there.
Whatsapp lets you send a message, voice-call or video-call friends and family for free, anywhere in the world. You can also do group chats, so you can connect with multiple people at once.
As a small business owner, you'll also want to look into the WhatsApp Business app. It lets you create a business profile, communicate directly with customers, create automated messages, showcase your products and services, and much more.
Final Thoughts
If you're looking for a Google Plus replacement and none of the sites or tools above fit the bill, of course, there's always the other big social media platforms: Instagram, Twitter, Pinterest, and Snapchat.
While these platforms don't necessarily offer the exact same features as Google+ (e.g., circles), they are all GREAT for building community, for connecting with your audience, and for social media marketing.
I would love to hear from you: What Google Plus alternatives do YOU use? Or which one(s) from the list above are you going try out? Let me know in the comments below!
About Author