Got Klout? Klout Scores and Social Media Scoring…What's the Big Deal?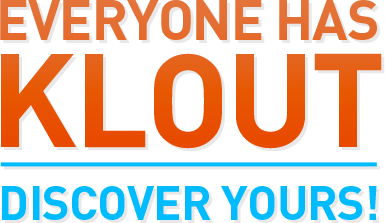 Have you heard of Klout? What is "KLOUT?" In it's simplest form, it is a measurement of your social media influence. Do you know your Klout score? Klout is fast becoming a force that cannot be ignored.
What's the big deal about Klout? Why should you care about your Klout score, or any kind of social scoring measurements for that matter? The deal is this … businesses and big brands are using it. Those seeking to do business with you care about it.
Big brands are using it. Giving Klout perks with it. Deciding who is worthy to follow, friend, or do business with based on it. Klout, as in many things when it comes to social media, you pay attention to what the leaders are doing and what they care about.
Klout is the standard for influence. Top brands such as Disney, Audi, and Turner use Klout Perks to reach and engage influencers. Over 3,000 applications and partners use Klout data to display Klout Scores, prioritize based on Score or topics, and segment users.–From Klout FAQ Page
Whether you love it or hate it, Klout and other social scoring sites are being taken seriously by big business. If you are using social media to promote your own brand or business or blog, then you need to understand the significance of paying attention to what the bigger brands are doing.
What does the Klout Score actually measure?
Klout says that their score is "based on your ability to drive action." So they don't score you based on your mere appearance on a given social network, but your interaction and reactions of others to you within those social networks.
They use hundreds of different measurements to put together the main three types of social influence to measure, and they use data from the social media accounts you are most engaged in before factoring in others.
Social Scoring with Klout measures:
True Reach – which is how many people you actually influence and not just the number of friends or followers you have.
Amplification – How much you actually influence your network, based on how often the share or RT your status updates and how many folks you engage with, among other factors.
Network Impact – is based on how often those with influence within your network engage with you and share your content.
How does Klout's social scoring work?
Klout, formed in 2008, has gained momentum among social scoring sites because of its popularity, and because of the number of social media sites you can actually connect to make your score more accurate. While they have jealously guarded their algorithms, essentially they look at your level of engagement across different social networks.
Until recently, these only included Twitter and Facebook, but more recently, Klout has worked to add other networks to their scoring algorithm, including:
Facebook fanpages

Google+

Linked In

Foursquare

YouTube

Instagram

Tumblr

Blogger

WordPress.com

Last.Fm

Flickr
According to their FAQs, while adding more networks allows your score to be more accurate, adding a network will "never decrease your score." So connecting any account that you are active on is a good idea if you want your score to more accurately reflect your level of influence.
Real world example…
You could be a CEO of a fairly large company but someone may see that you have a Klout score of 19 and think that your level of influence is not what they are looking for in a prospective joint venture. Even people who don't understand the value can be swayed when presented with the numbers. It is a measurement tool that is sticking and carrying more and more influence every day.
Alright, I'm in, what do I do?
If you have a Twitter account (and your tweets are public), you are already on Klout. Why? Because they use any of your publicly available information to score you, starting with your Twitter account. You will want to start by officially connecting your Twitter account, which will claim your Klout account and allow you to sign in and give +K to others. There is a current limit of 10 klouts a day that you can give to others within your circle of influence to help raise their Klout visability.
From there, decide what other accounts you will want to connect. If you have multiple accounts (perhaps one for your blog and one for your personal use) you can connect them both individually if you want, or merge them together.
You might also like https://kimgarst.com/klout-changes-how-it-measures-your-influence
About Author