1. Login and Comment as Your Fan Page –
When you log into Facebook, Facebook automatically logs you in under your personal profile. However, once on, you can choose to use your business fan page profile. This is a fantastic option because it can help your business build more likes and engagement quickly!
How does it work?
To log in to Facebook under your business fan page, simply click on the down-arrow next to the "home" button in the top, right corner of the Facebook window. The drop down menu will say: "Use Facebook as:". Then, you will need to pick your business fan page from the choices.
Next, click on "home". When the page refreshes, you should see your fan page image in the top left corner. If this is the first time you've logged in as your fan page, then you will need to take some time to search and "like" other fan pages in your niche. Once you've completed that step, then any status updates from those fan pages will show up on your home page newsfeed.
Now, you want to take a few minutes each day or week, to read, like and comment on those fan pages as your fan page.
Why?
This will increase your visibility, as other people in your niche will see your comments (as your fan page) on other fan pages. It will also increase your engagement because you are providing more ways for fans to connect with you. Likewise, it will increase the number of likes on YOUR page because you've tapped into your niche and made it easy for them to find and like you. It's a Win-Win-Win!
2. Join Relevant Groups & Participate
When you do a search on Facebook, the search will come back with all relevant pages, apps, groups, people and places.
Finding out what groups (both public and private) that exist in your niche is important because you want to join as many as possible.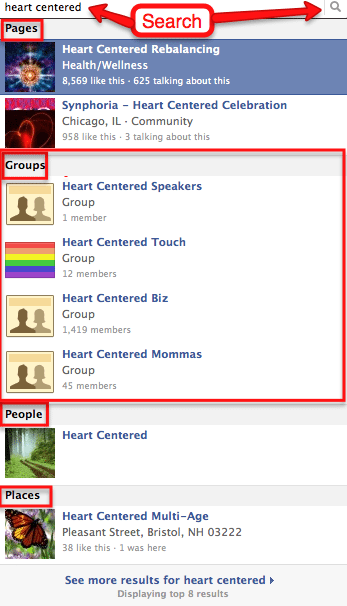 If the group is private, send a message to the administrator to nicely introduce yourself and ask about the possibility of joining the group.
Once you've joined one or more groups in your niche, be sure to take the time to participate. Now that you can directly connect with your audience, it is time to do it!
This does NOT mean that you jump into the conversation with a sales pitch. Nor, should you ask them to join your list. Instead, make your goal to be to be helpful and start relationships. Gain their trust, first. Remember, you must be a follower before you can be a leader.
3. Go Where your Niche is and Take Pics!
It has been proven in a study by Monmentus Media that Facebook fan page engagement increases by 21% when your status update includes a photo, so it is time to get snapping with this technique!
In the study, it seems that any photo will do. However, taking pictures with people in your niche, current fans, clients or customers and posting them on your fan page can have a huge impact.
There is a higher likelihood that they will like, comment and SHARE your photo. Whenever a fan shares a photo that was originally posted by you, your fan page link will be connected to the photo and will reach a wider audience. Friends who like the photo can also, easily, like your page. More visibility means more likes!
4. Promote Your Page Outside of Facebook
Make it easy for friends and followers outside of facebook to find you and like you on facebook. Here are a few examples. Have you put them all into place?
For example:
Add a like button and box to your website

Add an Email Signature Link to your fanpage

Add a link or QR code link to your business card
5. Click Like If…
Don't be afraid of clear direction!
Too often businesses only supply clear direction on their facebook post when they want a fan to LEAVE facebook and go read an article or buy a product. However, people on facebook like to STAY on Facebook.
Give them a fun reason to stay and interact.
For example, the phrase, "click like if…" asks for engagment that allows fans to stay on facebook. It also gives them a reason to click like. For example, I'm only going to click like if what comes next fits me. We like defining ourselves because it makes us feel like we belong. Provide that sense of belonging and your current fans will bring other, similar fans into your circle.
What do you do to increase your Facebook likes?
Which step are you going to implement this week? Why?
About Author