Since Google+ is a part of Google, there is no doubt that Google+ can help improve your Google search engine ranking. But, the question is HOW??
How can you best utilize Google+ to help you land on the first page of Google search for your top, high-traffic keywords?
Check out the tips below to begin using Google+ more efficiently and move up to the top spot on Google search.
#1. Optimize Your Google+ Profile –
Be sure to repeatedly use your top, high traffic keywords on your Google+ profile 'about page'. For example, you want to include your top, high traffic keywords in your introduction section, in the bragging rights section, in your occupation section, under your employment section and even under "other names"
BONUS TIP – In your Introduction and Bragging Rights sections, create clickable links out of your top, high traffic keyword phrases. When you turn your top, high traffic keyword phrases into clickable links, Google search algorithms pick them up and rate them more highly.
#2. Ask To Be Added To High Traffic Keyword Google+ Circles
Another way to improve your organic ranking for high traffic keywords via Google+ is to have followers add you to their circles with the keyword phrase you want to be known for. For example, "social media" or "relationship advice".
Of course, there is no way to know what circles your followers put you in. But, this doesn't mean you can't suggest it. For example, periodically put up the post, "Hey, do you have a _(insert high traffic keyword phrase here)_ circle? I'd love to join it. Please add me so we can all share ideas together."
Also, be sure to do the same for those you follow. If you want you can even let those you follow know. For example you can share, "I just put you in my relationship advice circle. If you have a circle for social media, I'd love to join it. Thanks!"
#3. When Posting, Use your Top, High Traffic Keyword Phrase Right Away!
The first sentence of any Google+ Post is considered by Google search to be apart of the post's title. Thus, whatever you say in the first sentence of you Google+ posts will be given more weight in Google search's algorithms.
You want to make sure that you include your top, high traffic keyword phrase in the first sentence of your post. This way, you can easily use Google+ posts to help improve your search ranking organically.
#4. Start Sharing Content –
To rank highly organically on Google search, you don't always have to have your own unique content. Instead, use Google+ and share other great content. For example, in searching for "aging veterans", two Google + posts came up in the first 4 search results.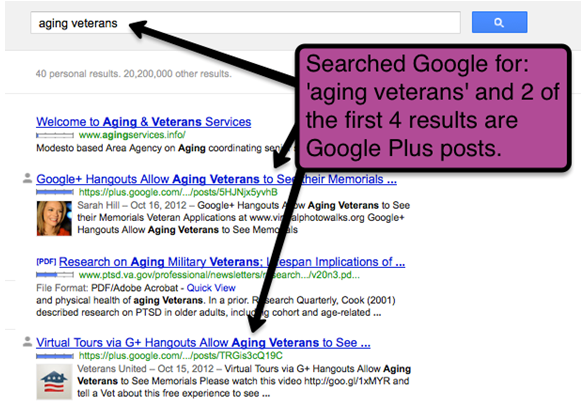 When I clicked on the link first link it took me to Sarah Hill's Google+ page and post on veterans.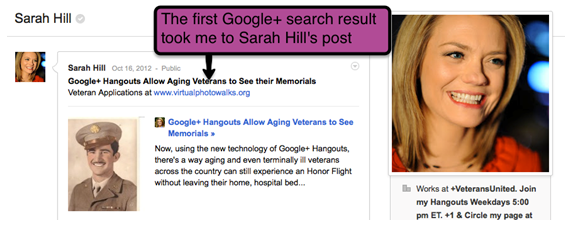 Because Sarah shared that post, she appeared on the first page of Google search for the high traffic phrase, aging veterans.
Disclaimer: This happened because I was logged into my Google account, which most people are these days, whether they realize it or not. Results may vary for you.
#5. Use your Unlimited Editing Power
The cool and very unique thing about Google+ posting is that you can edit a post any time you like! Unlike Facebook and Twitter where you basically have to delete and re-write the post in order to edit it, with Google+ you can edit anytime.
Just like a website, where updating your content helps catch Google search attention, so too does updating a Google+ post. This is especially helpful when one of your Google+ posts gets a lot of traction and goes viral. If the news changes or you want to add an update, you can!
#6. Get Indexed FAST!
It may take Google search a while to notice a new blog post or page on your website. However, if you share your new blog post on Google+, and +1 it, you can practically guarantee that it will get "indexed" by Google ASAP. Sharing your blog posts and pages on Google+ is a really speedy way to have it picked up and placed at the top of Google.
Which of these tips will you begin to utilize?
If you already do, how does this information help you be more efficient with your time on Google+?
Comment and share below.