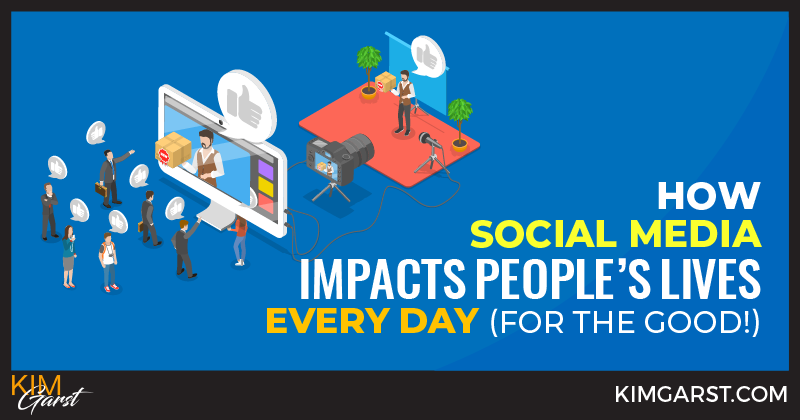 As I am sure you can tell, I LOVE social media.
Social media isn't just a job for me – it is a passion. I get to see every day how social media makes a difference in people's lives, both personally and professionally.
Through social media, we have the unprecedented opportunity to meet and connect with people we would have otherwise never met. We are able to support, mentor and help others, and to communicate in ways we never thought possible. The world is suddenly a whole lot smaller – and in my opinion, in many cases, better – because of social media.
Today I would like to share some personal stories with you, in the hopes that they will inspire and motivate you to make the most of social media. Too often we hear all of the negative effects of social media – cyber-bullying, affairs started on Facebook, and lost productivity at work due to social media usage. However that's only part of the story.
Recently I posted this message to my Facebook community:

Here are some of your responses.
It Can Help You Reconnect With Family

I joined a FB group. One of the admins for the group liked my activity. Her surname was familiar… We exchanged some messages, spoke to our parents… and it turns out our grandmothers are sisters! We haven't met, yet we hope to one day soon."   -Michelle M.

My COUSIN!!! He is the only family I am really close to and we've never met in person…yet. He lives in Alaska and I in NC. We share pictures of our kids, videos and more. We text each other everyday now. He means so much to me…like the brother I never had! Thank you Facebook."   -Amanda B.

It Can Rally People Together to Support a Cause

There are some dear wonderful people that I've met on Facebook yet never in person, and it became incredible in October when I hit a road block in my annual cancer fundraiser. I'm a cancer survivor and a group of incredible people around the world (from England and Cypress to Texas and Michigan) put together a Facebook Tab (that was a link to a raffle) to raise money for the American Cancer Society. Not only did they set up the Tab but they also solicited donations of products and services to raffle off. It was a huge success and thanks to their efforts we raised several thousand dollars for Cancer Research! If you'd like I can send you a link to the tab for #HeidisHeroes! It's a heartwarming story of people coming together for the greater good! I haven't met any of them in person but I hope to someday!"   -Heidi G.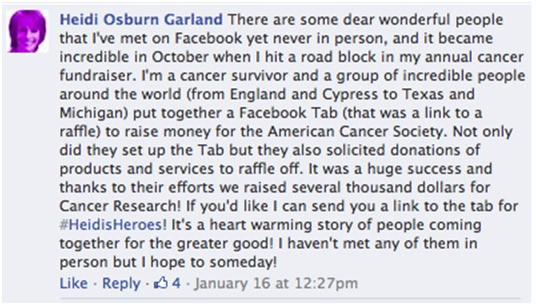 It Can Help Build Mentor/Men-tee Relationships

Jodi Ocken is such a role model for me in my personal business with Origami Owl. She is a spectacular leader that provides so many helpful hints on how to be successful at what we do!! She provides TONS of ideas to help our business!! AND….we live across the country from each other! I'm in Indiana and she's in Arizona! <3 her to pieces!"   -Cher E.

It Can Build the Bridge Between Friend and Customer

Too many to name – I have had many friends convert to clients even though I make no attempt to advertise my services from my personal page and also have made many friendships where we connect in ways that is not superficial but generally philosophical and spiritual. We check in with each other quite a bit."   -Pamela O.

Yes, I work with clients all the time whom I've never met "in person" due to geographic location, and many of us become "friends" on social media. I also have a support group of mothers who all had babies in the same month and year, and many of us have also maintained that friendship on Facebook, though none of us have ever met in person."  -Everything's Rosy Digital Marketing

It Can Facilitate Love Connections

Hi Kim, not sure if this is what you are looking for, but…I met a lady from England on Facebook in 2008. In 2013 I went to meet her got a job in her town and stayed there for 11 months. We are now planning for her to come to Australia in the next couple of months so that we might continue our life together…there's lots more to the story but, for the sake of brevity, that's the gist of it. I have learned to follow my heart wherever it might lead…" -Grant G.

It Can Help Build Mutually Beneficial Business Relationships

I have found being in the blogging community, that there are many who are more than willing to lend a hand and offer advice. I could list dozens whom I've never met but have chatted with on Facebook, Instagram, and Twitter. Most of us have the common ground of being wahm's who are striving to take care of family, home and business all at once. It is refreshing to know that so many others are going through similar struggles. But we also celebrate each other's success! Many bloggers I know are invited to amazing events or have reviewed fabulous products of major brands. We encourage and uplift each other. It's a beautiful thing!" -Tonia C.
I have a ton of friends who I've never actually met! I have a wonderful support group of other indie authors; we help each other out with shares and promotions, which boosts my own sales because we're always helping one another. I'm so lucky to know them and can't wait to meet them in person at future book conferences!"

-Liz L.

It Can Help Build Long-Term Friendships

I have a really good and close friend on #Socialmedia. We have been friends since 2007. We've raised our kids together, went shopping together, talked about our hubbies together, we've been through a death, a miscarriage, a birth, and a move together. We tell each other secrets, laugh and cry together but guess what, we have never met in person. I can't wait to continue our journey together as friends in real life. Happening this year by the way." -Valerie H.

I met Dee Jones Dotson on an Oprah thread in which they were taking down mothering. Dee and I connected on a comment she made that I agreed to. She has 5, and I have 4. I consider her a dear friend, as do the rest of my family. She lives in the Chicago area, and me in So Cal. We have never met, but if she needed me, I would be there in a heart beat!"  -Theresa S.

Sometimes social media gets a bad rap, but I truly believe that when used properly, it can be a conduit for building long-term, meaningful relationships – both personal and professional.

How has social media impacted your life? Do you have friends on social media who you've never met? Tell me your story below!

About Author