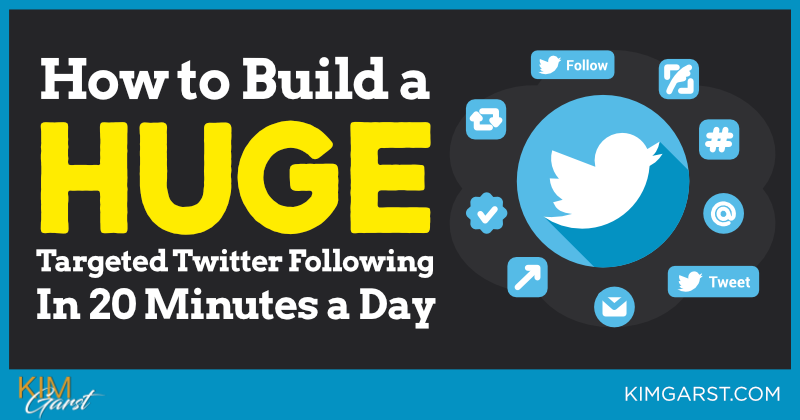 Is your Twitter following pretty much the same as it was last month? Getting tired of investing all this time and energy into Twitter and never seeing any real results?
Well I am here to tell you that you DON'T need to keep struggling! There are some amazing tweeple over on Twitter just waiting to connect with you!
What you DO need to do is make a commitment to spending a SOLID 20 minutes, each and every day (and I mean EVERY day), creating great content, finding new people to follow, and engaging in conversations…have some HUMAN interaction :-).
Following are 20 quick and easy steps to help you build a huge, targeted Twitter following in just 20 minutes a day.

How to Build a HUGE, Targeted Twitter Following In 20 Minutes a Day
1. Schedule some of your tweets – On Twitter, consistency is key; and since you can't be at your computer 24 hours a day, scheduling tweets using a tool like Hootsuite can help you maintain an active presence, even during your off hours. And the best part? Scheduling your tweets should only take you a few minutes a day. When scheduling your tweets, make sure you are using your authentic voice!
2. Use Twitter directories – This will allow you to find influencers to follow and connect with. I recommend Wefollow and Twellow. As you build relationships with these influencers, your own influence can't help but grow!
3. Use relevant hashtags – [Tweet "When you use hashtags in your tweets, you attract followers who are searching for those keywords."]
4. Follow the followers of influencers – Using a tool like Tweepi, or ManageFlitter, you can find and follow the followers of the influencers within your industry. This is great strategy because you already know they will, most likely,  be interested in your area of expertise if they are following a competitor!
5. Build a rockstar Twitter profile – Your profile will be the first place people turn to find out more about you. If you want them to follow you or click through to your site, make sure you have a completed profile that accurately reflects your brand.
6. Tweet breaking news – Use Google Alerts to receive up-to-date info you can tweet out.
7. Twitter chats – Take part in a Twitter chat to connect with others in your niche or industry. A tool like Twubs can make finding (or even hosting) Twitter chats simple.
8. Cross-promote on other social networks – If you already have a strong presence on another social network, ask your fans and followers to follow you on Twitter.
9. Respond promptly – If someone @mentions you, respond quickly! This will signal to others that you are active, engaged and ready to participate in conversations. Use the Twitter or Hootsuite mobile app to check in from anywhere.
10. @mention and retweet others – Be generous about mentioning others and retweeting their content. This means that you are sharing great content with your followers, and will increase the likelihood that others will share your content with their followers.
11. Tweet evergreen content – If you already have evergreen (content this is relevant regardless of when it was written) content on your site, tweet it out to your followers (if not, create some!). People love to share free content IF it's the best-of-the-best. This means well researched, value based and totally unique articles or blog posts.
12. Recommend people to follow – If you consistently 'share the love' on Twitter, chances are others will do the same for you! <<<Tweet this>>>
13. Promote a contest – Holding a contest on Twitter is one of the best ways to get followers fast. While the quality of your followers may not always be the best, this is still a good method for increasing your reach quickly with little work. To increase the quality of the followers you gain, try making the prize something that would appeal only to your target market (for instance, an industry subscription or tool).
14. Promote your Twitter profile to your email subscribers – You already know they are interested in what you have to say, so encourage them to get breaking news and unique content by following you on Twitter.
15. Promote your Twitter profile on your website – I am assuming you already have a Twitter badge on your blog, but take it a step further: add a call to action at the end of each blog post encouraging your readers to follow you on Twitter.
16. Follow Twitter Trends – Find out what's popular on Twitter and if it's relevant to your area of expertise or interest then join in the conversation.
17. Follow people who are talking about you – Well, maybe not YOU exactly, but do a Twitter search for people who are talking about your brand, your products, or about something around your niche.
18. Tweet inspirational quotes – People love sharing inspirational/motivational content, so this is one of the best ways to get retweets and to expand your reach on Twitter.
19. Join in the conversation – Don't focus exclusively on creating content and retweeting; make a point of commenting on other people's tweets as well.
20. Use promoted tweets – If you feel you need that little bit of extra exposure, take promoted tweets for a test drive. These allow you to extend the reach of your tweets to people who aren't following you, and Twitter's targeting options allow you to specify exactly what types of people will see your tweets.
And there you have it – 20 tips on how to build a HUGE, targeted Twitter following in just 20 minutes a day!
Looking more Twitter tips? See my posts 15 Tips to Get and KEEP More Twitter Followers and How to Get More TARGETED Twitter Followers.
About Author