When I started my first website back in 2005, I was completely lost. There were so many decisions to make, and no one to guide me through the process. So many choices but where to start? If this sounds familiar, then you are in the right place!
Whether you're just starting your first blog or are looking to make some changes to your existing website, choosing a web host is one of the most important decisions you'll need to make.
For this reason, you want to make sure you choose one who's reliable and who will give you the support you need when you need it.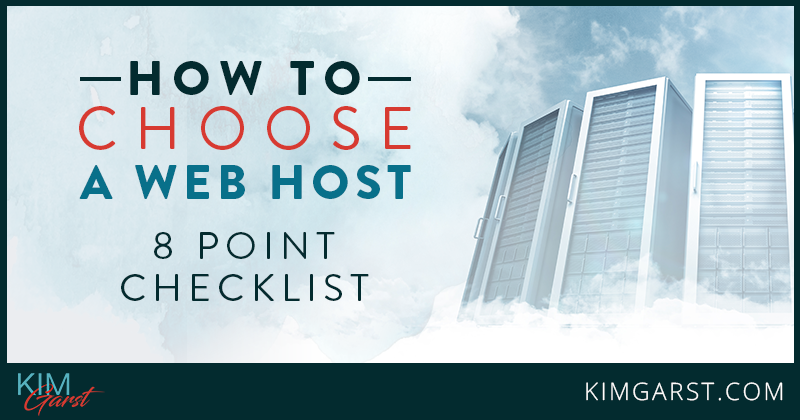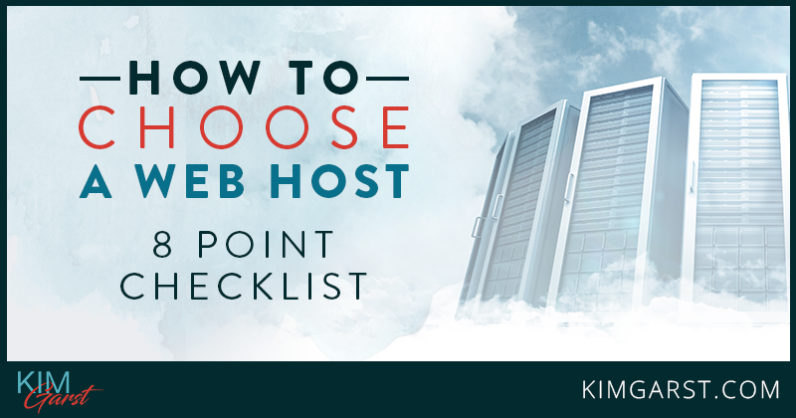 Wherever you're at in your journey, this post will walk you through exactly what you need to know to choose the best web host for your website or blog.
Why Do I Need a Web Host?
If you're new to the world of blogging, you may be wondering why you need a web host at all. Great question!
While there's some great free software out there you can use to build your blog (I strongly recommend WordPress.org), you'll still need a place to "host" your site. Think of this as your website's home online.
The companies who offer this service are known as web hosts, and there are many out there to choose from. In fact, there are so many that the process of choosing one can quickly become overwhelming.
In your research, you'll see mentions of bandwidth, performance, domains and storage…but may have no idea what these terms mean or what's considered "good"!
Keep reading, and I'll demystify these terms and get you on the right track!
(By the way, if you're feeling a bit confused about the whole concept of starting a blog, choosing a blogging platform, etc. I've got you covered. Check out my comprehensive guide, How To Start A Blog In 30 Minutes Or less).
Things to consider when choosing what type of hosting you will need
When choosing your hosting plan, it's important to consider your own specific needs and goals for your blog.
This means asking yourself these important questions:
How much traffic do I currently receive, and how much do I realistically expect to receive in the next 1-2 years? Choose a hosting plan you can grow into.
Do I have any intentions of using this blog to build my business or to make money? If so, you'll want to avoid using a free web host.
I currently have a good amount of traffic, am I happy with how fast my site is? If the answer is no, it may be time to consider upgrading to a plan that's designed for busier sites.
How much can I realistically afford to spend each month? With hosting costs ranging from free to hundreds of dollars a month, it's important to decide how much you want to spend. And keep in mind, most web hosts will require you pay for an entire year up front!
How hands-on do I want to be with the technical aspects of my blog? The answer to this will help you choose between managed and non-managed hosting (more on this in a bit).
8 Things to Look for in a Web Host
Hopefully, the section above helped you figure out what type of hosting account is right for you. However, now you'll need to decide which web hosting company you're going to go with.
Before signing on the dotted line, ask yourself the following eight questions.
1. Do they have a great reputation?
If possible, get recommendations from people you know and trust. Keep in mind that just because you've heard of a particular host, that doesn't necessarily mean they have a good reputation! In fact, one of the most well-known hosts (which I won't name here) also has a reputation for some of the worst support and performance. Buyer beware!
2. Do they offer enough bandwidth?
Bandwidth is simply the amount of data that can be transferred at one time. Loosely speaking, the more visitors and page views you have, the more bandwidth you'll need.
Most sites that are just starting out won't need more than 10 GB/month. However, if you anticipate quickly adding tons of content and receiving lots of visitors (e.g., 50K+ visitors per month), you may need a plan that offers more.
3. Do they offer enough storage?
Generally speaking, 50 GB of website space is more than enough for most sites. If you plan to host TONS of images or videos on your site, or will regularly be downloading extremely big email attachments, check with the potential host to see if they offer sufficient storage.
4. Do they offer 24/7 customer support?
Imagine you're in the middle of a huge sale or promotion and your site suddenly crashes. Before signing up with a host, make sure they are available 24/7 by phone or chat to answer questions or deal with any unexpected issues that come up.
5. Do they allow you to upgrade if you need to?
If you go with a free hosting plan, you may be unable to upgrade to a more flexible hosting plan later on. This will mean you need to start your entire site from scratch!
6. Do they give you your own email address?
Chances are you'll want an email address that uses your domain name (e.g., yourname@yoursite.com). Make sure your host includes this free with the purchase of your web hosting.
7. Does their price fit your budget?
Web hosts can vary significantly in terms of price, so be sure to do your research. If you're on an extremely tight budget, I recommend going with the cheapest plan of the most reliable host, rather than going with a free host.
For instance, Bluehost is offering my readers a special introductory price of just $2.95 a month. This is a low-risk way to try them out for yourself!
8. Do they back up your site for you?
I've learned the hard way what can happen when you don't back up your site! All your hard work down the drain in a matter of seconds. Protect yourself by choosing a host that offers automatic backups of both your site files and database.
What types of hosting do I have to choose from?
Before you can decide on a web host, you first need to understand the main types of hosting that are available to you. Here are the four most common options you'll want to choose from.
1. Free Hosting
Using a free web host like Wix or Weebly can be a great option for those who want to try out personal blogging for the first time. These companies allow you to create and manage your site for free. But there is a downside: you get what you pay for!
Free web hosting often comes with the following limitations: extremely low storage and bandwidth, no e-commerce allowed, no email address, and obligatory ads on your site (that you don't profit from). You'll also be stuck with a .wix, .weebly, or .wordpress domain name (e.g., username.wixsite.com/sitename/page-url).
For all these reasons, I DO NOT recommend using free hosting if you have any intention of using your website or blog for business or professional purposes.
2. Shared Hosting
I'll make this easy for you: if you want to start a website or blog to build your business or make money online, this is 100% the way to go.
Unlike free hosting, shared hosting lets you choose your own domain name (i.e., www.yoursite.com), doesn't require you to show ads on your site and comes with a free email address (i.e., yourname@yoursite.com).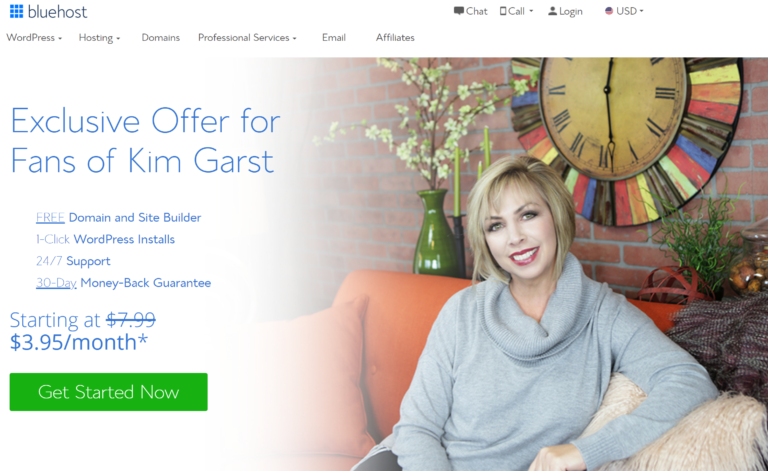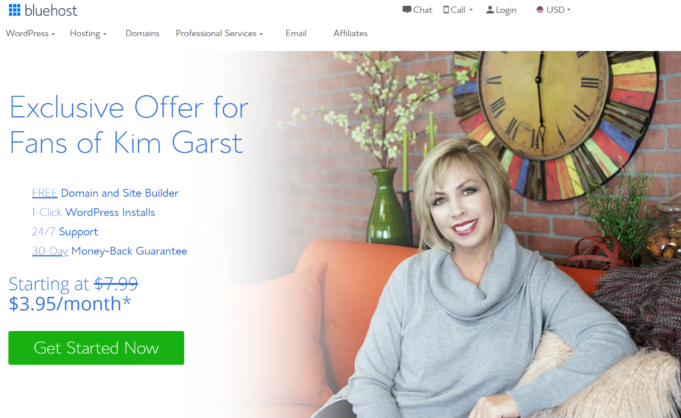 I recommend Bluehost for shared hosting…it's what we use on our site!
Shared hosting is just what it sounds like – you share a server with a number of other sites. On your end, you'll never even know you're sharing the server…the web host takes care of all of that.
The biggest upside to shared hosting is that the cost is extremely low (usually $5-$20/month). The biggest downside is that if your site suddenly really takes off (i.e.., you start getting tons of visitors to your site each month), your site can potentially slow down or even crash.
3. Virtual Private Server (VPS)
This is a great option for site owners with large amounts of traffic (e.g., 30-50K+ visitors per month). It's still considered "shared hosting", however you share the server with far fewer sites. This means you have more storage, more flexibility and your site will tend to run much faster.

 The cost of a VPS tends to start around $20-$30/month (for the introductory price) and increase up to $30-$50/month when you renew.
I typically recommend starting out with shared hosting, and upgrading to a VPS if or when it becomes necessary.
4. Dedicated Hosting
For virtually unlimited storage, speed and flexibility, dedicated hosting fits the bill. For very large sites, it also provides the peace of mind knowing your site is completely secure (since you don't share the server with anyone else).

The major downside? The cost. Dedicated hosting will start at around $80-$100/month (introductory price) and go all the way up to several hundred dollars per month when you renew.
5. Managed Hosting
This is a great option for anyone who doesn't want to deal with the technical aspects of their blog. Managed hosting is where the web host handles all the behind-the-scenes parts of the website…including backups, security updates, malware scanning, WordPress updates, and more.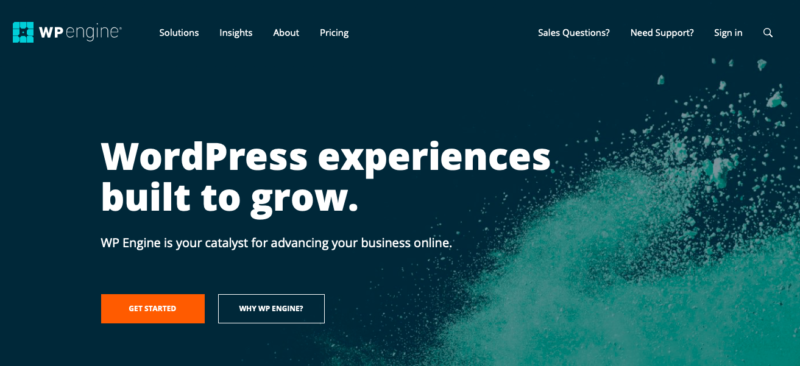 Of course, all these extra services aren't free! However, for business owners who want to focus solely on creating content, this could be a great option. Prices start around $25/month for smaller blogs and go up to hundreds of dollars per month for large sites.
Still feeling overwhelmed? I've done the work for you.
There are two web hosts I recommend, depending on if you want non-managed hosting or managed hosting (see above if you can't recall which is which!).
If you've been on the site for a while, you'll already know which non-managed web host I recommend: Bluehost. This is who we use for our web hosting, and I highly recommend that you do too!

Disclosure: I love Bluehost so much that I have become an affiliate partner with them. This means that if you click on a link in this post and then sign up with Bluehost, we receive a commission. However, please know that I would only promote a company I believe in 100%…my reputation depends on it!
 Here's why Bluehost is the perfect web host whether you're just starting your blog or already have a large, established website.
Low price: They're one of the most affordable web hosts out there. Plus, with the deal they're offering my readers – an introductory price of just $2.95 per month – you have nothing to lose!
Free email: The most basic shared hosting account comes with 5 free email accounts. All of Bluehost's other plans comes with unlimited email addresses.
"Unmetered" space and bandwidth: Does this mean there are NO limitations? Not exactly. Sites that choose to use up an enormous amount of space may be billed extra…but according to Bluehost, 99.95% of all their customers never fall into this category.
Bluehost is a WordPress.org recommended host: WordPress only officially recommends three web hosts…and Bluehost is one of them!
Free domain name with hosting account: When you sign up with Bluehost, you automatically get a free domain name for one year (e.g., www.sitename.com). This is a value of around $10.
24/7 customer support: The Bluehost team is available day or night to help you with setting up, managing or upgrading your account.
30-day money-back guarantee: If for any reason you decide Bluehost isn't for you, you can cancel your account within 30 days and receive a full refund on your hosting services.
Automatic backups: When you sign up for a prime hosting account (introductory price of $5.45/month), your site's files and database will be backed up automatically. This means you never have to worry about losing all your valuable content!
Ready to take the next step and sign up with Bluehost? Claim your special introductory price of just $2.95/month for the first year by clicking here.

If you've decided that managed hosting is best for you, I recommend WP Engine. Plans start at just $22/month if you pay annually, and come with a BUNCH of cool features.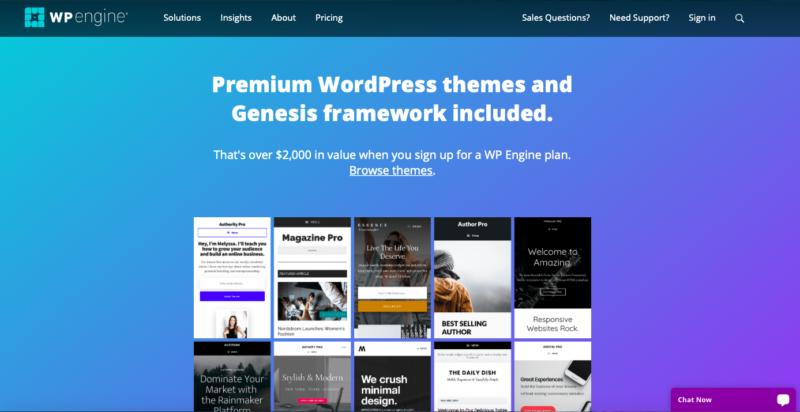 As the name suggests, WP Engine exclusively focuses on WordPress (WP) sites, and you automatically get the Genesis framework and your choice of 35 premium themes for free when you sign up for any plan.
Plans also come with:
Automated backups: Daily backups so you never have to worry about losing your valuable content again!
WordPress core updates: WP Engine automatically updates your site with all major WordPress updates.
One-click staging: This is an invaluable feature! It lets you basically create your entire site in secret before releasing it to the world.
One-click theme setup: Automatically install your theme and plugins, and load easy-to-edit demo content in under 30 seconds.
24/7 customer support: Besides having a comprehensive Help Center, their live support team is available 365 days a year (and boast an average response time of less than 3 minutes for chat).
As an ambassador for WP Engine, they are offering my readers a special 10% OFF your first payment! So if this is the right option for you, sign up here now!
Final Thoughts
There are many decisions you need to make when starting a website or blog. But hopefully this post made the process of choosing a web host a little bit easier!
I would love to know: Are you looking for a new web host? Do you have a new site, or are you looking for a new "home" for an existing site? Share below!
About Author