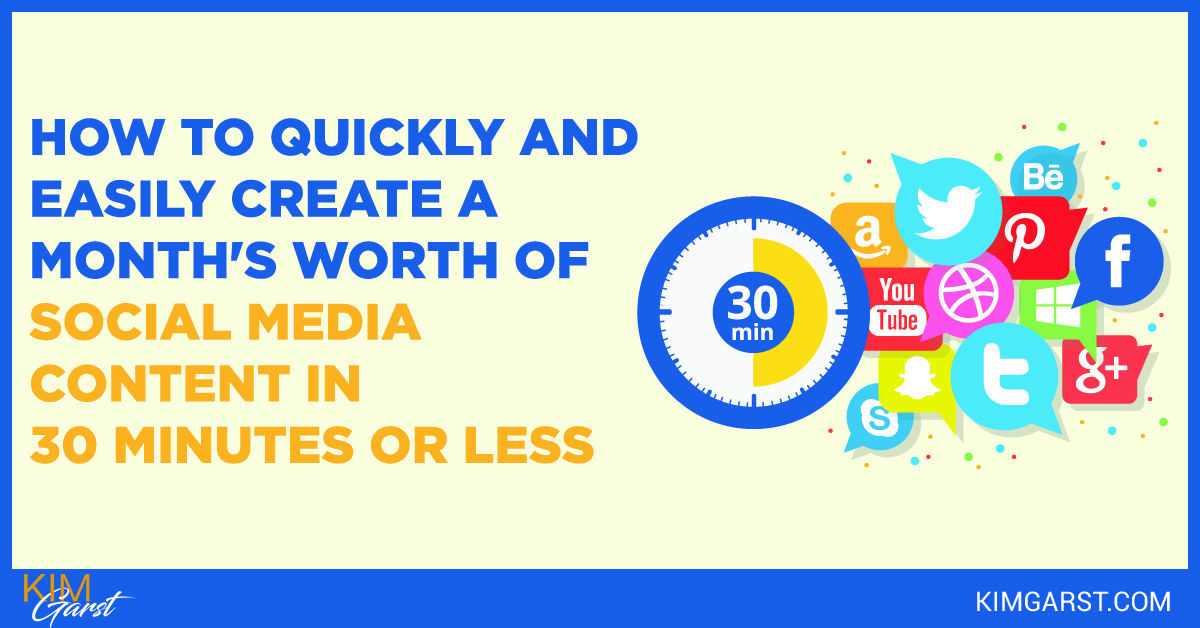 I know, I know it's a huge claim.
Is it REALLY possible to create an entire month's worth of social media content, enough to power ALL of your social media sites, in about the same amount of time it takes to have a cup of coffee?
Yep, 100%, for sure…absolutely!
I know because I am doing it.
This is just one of the many side benefits of using Facebook's still relatively new live streaming app, Facebook Live.
You Don't Have to Actually "Go Live" to Use Facebook Live (or this Strategy!)
Don't panic!
When I first started, the thought of live streaming, the rough equivalent of doing a LIVE television show, had me mortified.
What would I say? Would I have a panic attack? Would my mind go blank? What if people are mean to me?
If that's you let me start by saying this, "That was me too!"
I promise that it does get way easier over time. In fact, after just a few live streams, the fear was gone!
Also, you don't have to actually stream out live to the whole world on Facebook Live. You can adjust the settings to share the broadcast with just yourself, a few friends, or just on your personal profile, whatever you are comfortable with!
The Power of Video
Even without the re-purposing strategy I am going to share with you (which makes this the ultimate "no brainer"!), video is quickly becoming the leading format to use for social media content.
First, Facebook has made it absolutely clear that they have tweaked their algorithms to give more organic (spelled F-R-E-E!) reach to video over text-only posts.
My stats also clearly show that I get way more engagement on my video-based posts than my non-video posts.
A Majority of My "High Engagement" Posts are Videos
More importantly, my video content is usually better!
Think about it…
Writing takes forever! I mean how long does it you to write a 1,000 word blog? Hours, maybe even days!
Then, add on the time it takes for tweets, Facebook status updates, LinkedIn updates, Instagram posts, etc. Plus, each time I go to create another piece of content, I have to either go back to the original idea I was working with or come up with even more great ideas!
By the time I really get started I have forgotten half of the great idea that I originally had, or worse, I am fried and just don't have the energy to do everything I could with it.
However, with video, I can spend just a few minutes fleshing out my idea and then getting it onto video, while it is still fresh in my mind.
Once I have captured my thoughts on video it's GAME ON!
The First Steps to Re-purposing Your Facebook Live Broadcast
One great thing about Facebook Live is that within a few minutes of finishing a broadcast, Facebook will provide me lifetime access to the recording.
The very first thing I do is grab that recording and send it off for transcribing. There are lots of great, and very affordable, transcription services out there. Personally, I highly recommend Rev.com. I have had amazingly great service with rev.com, where I pay $1/minute of video, and usually get my transcribed broadcast back within 4-6 hours.
I also have rev.com create something called an "SRT" file. That is simply a uniquely formatted text file that I can overlay onto my video to create captions that follow the audio.
Why is that important?
Because a majority of people watch videos, especially on Facebook, with the sound off. If I provide them captions, they can read as the video moves along.
The majority of people watch videos, especially on Facebook, with the sound off. Use captions!
Click To Tweet
With just these first two steps completed I now have a highly useable text version of my video as well as a more functional video itself.
Time to Scale Your Content!
Blog posts?
Do you need a good idea for, and want to create a great blog post?
Start with the transcription from your Facebook Live broadcast and you are already 80% of the way there.
Sure, it takes a little practice going from a transcript of a video to a blog post, but inside of a couple of weeks you have cut your blog production time in half and are writing better blogs.
Why?
Because you captured that amazing idea on video…your Facebook Live broadcast!
What's even cooler is that, after a while, you start doing tighter and better Facebook Live broadcasts because you know you are going to use the video for a blog post!
Tweets?
I promise you that you will have 15 – 20 "tweetable moments", things you may not have even thought were "tweet-worthy" when you said them during your Facebook Live broadcast. Once you read them on your transcript you will go "Dang, that's really good".
Sit down with a highlighter and your transcript (either physically or on the computer) and have fun! It's like an Easter egg hunt, but instead of gathering eggs you'll never eat, you have a great Twitter feed for weeks!
Facebook Status Updates?
Same thing!
A status update is simply a longer version of a tweet isn't it?
This time when you read through your transcript, instead of picking out a few words, or an especially cool sentence, look for key concepts.
You'll find that during a 30 minute broadcast your will make 8 – 10 good points. Simply take each of those points, flesh them out a little bit and BOOM! you have GREAT Facebook content for weeks!
Even cooler, with a little practice you'll actually produce Facebook Live broadcasts with this process in mind.
Get really good and, before long, you'll be able to take little chunks of your broadcast and turn them into standalone content!
BOOM!
Think about that. You do ONE Facebook Live broadcast and you actually have 8 – 10 little videos that you can use for content by themselves.
Did your head just explode?
This is huge, right?
You Tube?
Sure! You can take your Facebook Live video and pretty much do what you want with it. Why not build your own YouTube channel from your broadcasts
Instagram Stories, Snapchat, LinkedIn, Pinterest?
Yes, yes, yes and yes!
If it involves either a little piece of video, text and/or a graphic then the video you created from your Facebook Live broadcast, together with the transcript you had created, will serve as the base for creating content for that social media site.
Finally…Podcast?
Ever thought about starting your own podcast, but don't know where to get started?
Well, isn't a Podcast just like a video but with just the audio stripped out? You can simply strip the audio off your original Facebook LIVE and viola, now you have an audio file that you can use to start your own podcast!
There are a lot of different softwares out there that can do that for you in just a few clicks. Audacity.com is a great option!
A Social Media Platform Building Powerhouse!
So, up until now we have talked about logistics and building a scalable social media content machine.
Maybe in doing so we have missed the biggest point of all.
By creating multiple pieces of content from ONE great idea, the one you used for that little 30 minute Facebook Live broadcast, and using those pieces on multiple social media sites, you have taken ownership and built social proof that will quickly build your credibility as a leader in whatever market or niche you operate.
Everywhere people look on social media they will see your great content, content that works together, and most importantly, it's all in your voice!
That's the biggest benefit of all!
So, are you in? Are you going to start using Facebook Live to create a month's worth of social media content in 30 minutes or less?
I would love to hear your thoughts on my strategy in the comments sections below.
About Author