Are you ready to control your Facebook newsfeed?  Are you ready to organize your "friends" on Facebook so that they are easier to follow and engage?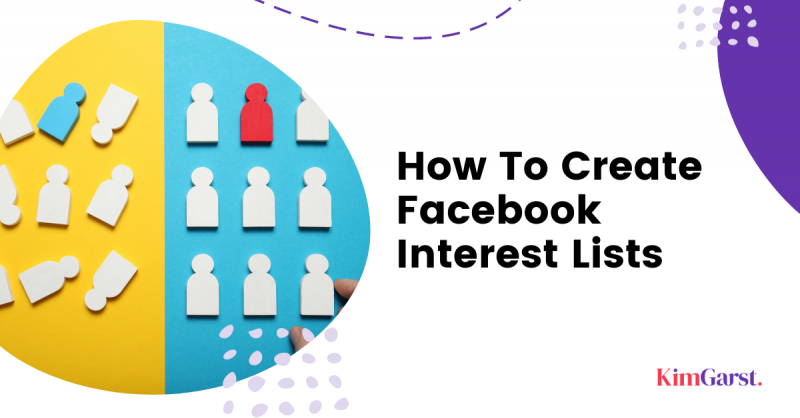 Then, let me introduce the latest Facebook feature called Interest Lists! 
Interest lists gives you more control over what you see in your newsfeed.  It allows you to group your friends together so that you can connect over a common interest.  If you want a comparison, it is similar to creating a list on Twitter.
For Entrepreneurs, this is an opportunity to appear more frequently in other's newsfeeds.  For example, if a friend creates a list with you in it, then they will see your updates more often. 
However, be aware that Facebook Interest List only works in connection to your personal page, not your fan page. Thus, you can't make lists as your fan page. 
So, how do you create a Facebook Interest List, or subscribe to one?
1.  Find Facebook Interest List 
Facebook interest list can be found on the Facebook homepage.  On the left hand side, in the left column, towards the bottom, you will either see the title: "Interests", or you will need to click on the word "More"  See the picture below.

Once your Interest tab shows up, you will have two options: "Subscriptions" or "Add Interests."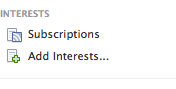 2.  Click on "Add Interests" 
Here you will have the option to create a list or add interests.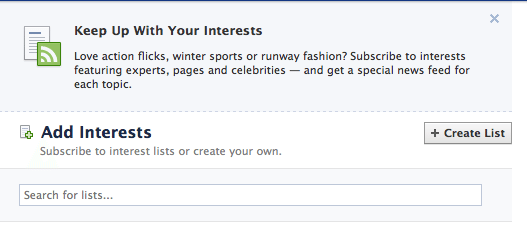 3.  Click on Create a List 
Once you've click on the "create list" button as seen above, you will be taken to a page that allows you to customize your list. Here, you can choose to add any of your current friends, any of the Facebook fan pages you currently "like", and any of the subscriptions to which you've already subscribed.  Check out the picture below.
Additionally, down the left hand side of this page, Facebook provides a list of topics that include everything from art and food, to business and technology.  If you click on one of the topics, Facebook provides clickable pictures of other fanpages and influential people that you may want to add to your list.
TIP:  Even if you choose not to make a list, do go through Facebook's provided topics and make note of anyone or company you'd like to follow.  This is a great way to find out whom Facebook deems as the top people and companies in any given topic. Connecting with these people and companies could propel your business by leaps and bounds!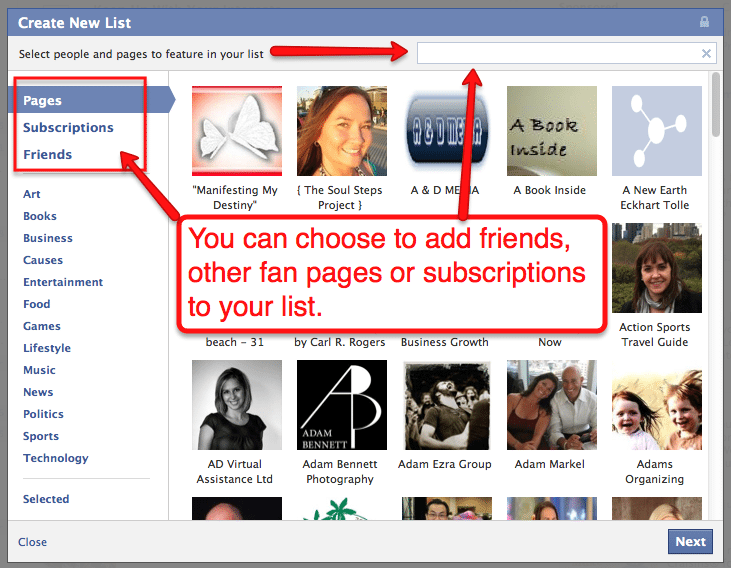 4.  Name Your List 
Once you've decided which people and fan pages will be apart of your list, it is time to name the list. 
Right now there is no data on whether or not your list name will have any SEO value, however, it is always best to assume it does.  So, instead of naming your list "Social Media Peeps" try, "Social Media Tips".
5. Exposure 
When you name your list, you can also choose who sees the list.  Now, for optimal business exposure, you will want to make your list public. 
However, if you've created a list of close family and friends, you may want to keep that list private – to only you.
6.  Viewing My List 
To view your list and to see the latest updates, you will need to go back to the Facebook home page and look for the list name under "Interests".  Then, click on the list name you created.  Your newsfeed will refresh and you will only see the most recent posts from anyone on your list.
Once you are done connecting with the people and fan pages on that list, you can simply click on the "home" button in the top right corner of your facebook page.  This will bring you back to everyone and your normal newsfeed.
If you'd like to add your list to "Favorites", then you will need to put your curser over the name of the list in the left hand column of the Facebook homepage.  Here, you will need to click on the pencil icon and choose "add to favorites".

See the image below for guidance:

Note – If you archive the list, it will, in effect, disappear.
Read my post if you want to use Interest Lists on Facebook to Take Back Control of Your Facebook Feed.
 7. Editing My List –
You can edit a list at any time.  To do so, open the list and click on "manage list" in the top right hand corner of the screen.
Once you click on manage lists, you will be able to change the types of updates you see in the newsfeed and limit the posts to just "status updates" if you'd like.  This way you are free from seeing extra, irrelevant content.
I would love to hear from you! Drop by my fan page at http://www.facebook.com/socialmediabrandinggal and let me know types of lists are you creating on Facebook? 
How do you use them? Do you find them to be an effective engagement tool? 
About Author