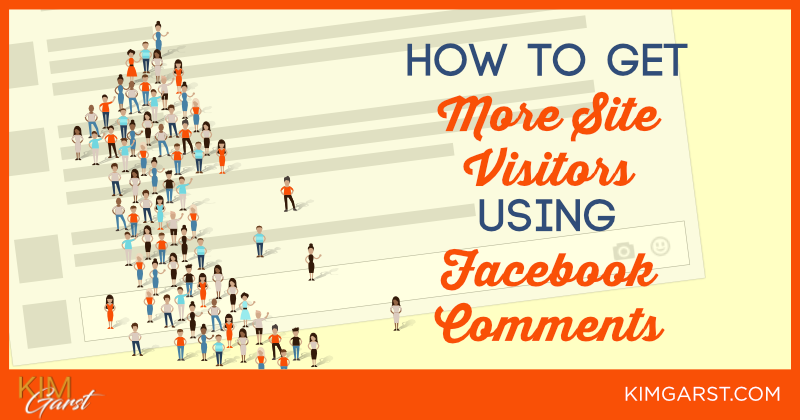 Did you know that you can get visitors to your website just by commenting on Facebook? No, really! Facebook is that powerful. Not only can you get direct traffic from Facebook fan pages, groups, walls and photo tags but you can also use the Facebook commenting system used on thousands of blogs to generate clicks to your website.
As you may or may not know, Facebook has an open comment system where blogs that are not located on Facebook or pages that are not located on Facebook can use Facebook as a concrete platform to moderate and allow comments. Think of this as Facebook's competition to Disqus and does a pretty good job at filtering out spam.
Why Bother with Facebook Commenting?
Let's get one thing straight:
For you to get traffic from Facebook comments, you need to use your Facebook fan page when making those comments.
It's not going to work if you're going to use your personal account because when people click your personal account they just go to a privacy protected page or your personal page.
So ensure you comment using your Facebook fan page account. When you create a Facebook fan page, it's usually tied to a personal account. You can choose to use Facebook as either your personal account, or your Facebook fan page. The advantage here of course is that you can use one account to centrally control multiple fan pages. Now here's where it gets interesting. When you navigate to a blog or a website that uses Facebook as its commenting platform, you can comment as your fan page. This is a springboard to free traffic.
How? When you post a comment and people find your comment interesting they can click your profile. When they click your profile instead of your personal page it goes to your fan page. When people get to your fan page and they're logged in to Facebook, they can click the like button and you have an instant fan. Why does this matter? When your Facebook fan page has a lot of fans, every time you publish a new piece of content on your fan page, it will appear on the timeline of your fans.
Annoyingly, thanks to the Facebook algorithm, only a fraction of your total fans see your updates (this wasn't always the case). This is just how Facebook works. Fortunately beneath each of your updates you can see how many people you reached with your update and can therefore get a rough idea of what percentage of your page is active and responsive. However, with regards to this commenting system what's important is for you to get targeted visitors that are interested in your niche becoming members of your fan page. Once they're a member of your fan page and they click your updates, there's all sorts of techniques you can use to get them to go to your blog post and sign up for your mailing list or get some sort of more direct form of  communication instead of through solely your Facebook fan page.
Finding Niche-Specific Blogs That Use Facebook Comments
This can be a little time consuming so would certainly be worth using a VA for if that's something you could consider especially if time is of the essence (as is the case for most of us). But regardless of how you go about it, you need to find NICHE specific blog that use the Facebook commenting system.
The reason it takes so long is because there's very few ways to actually find these blogs that use the Facebook commenting system. It's a simple case of going through blogs in your niche and scrolling down to see if they use the Facebook commenting system.
One way you can reduce the work load slightly is to couple your niche keyword in google with + "Facebook social plugin"which searches for pages that use a Facebook plugin. This will include the sidebar like box which many blogs use so it's a fool-proof way of going about it, but it certainly trims some of the fat from your search.
That's why in this case, it's a great idea to push the boat out and hire someone from Odesk for example or to use an existing VA.
Commenting With Your FB Fanpage Set To Default
Log in with your Facebook account making sure that you are using Facebook as your fan page (sorry to repeat myself but it's vital otherwise your efforts will just go down the pan). This means that your interaction and your engagement with people will be with your Facebook fan page and therefore brand and not with your personal account.
Now it's a case of leaving quality comments to show you know exactly what you're doing and have knowledge that the majority of other commentors are unlikely to have. You can't just post "Good job" or "Thumbs Up" or "I've Bookmarked this!", as if you do that you're going to be perceived as a spammer. Come on, you probably know all of this already. You need to post comments that you'd be happy to approve from other people on your own blog.
Post Lots Of Comments
You need to post a lot of comments because not everybody will click your profile. This is strictly a number's game. While some black hat marketers are using automated means to make this commenting method work, the problem with automation is that it can get you banned and is a short term approach to traffic generation via this particular technique.
Set yourself a daily target and get on with it. Once you have your list of blogs that use Facebook you can just work your way through it and then repeat and repeat and repeat and repeat…The more you comment, the more traffic you will naturally generate.
And of course remember that your comments become a part of your branding and show off how professional (or unprofessional) you truly are.
So How Do You Benefit?
There are many ways you can benefit from using Facebook comments with your Facebook fan page:
First, you get a lot of direct traffic from people in your niche who feel you're worthy of their 'mouse click.' If your comments are very intriguing and add a lot of value, people would be interested in what else you have to say. When they click on your name, they go to your Facebook fan page and they see the content that you've posted before.
Another way you can benefit is that you become credible to the operators of the niche-specific blogs that you're commenting on. These bloggers will appreciate the fact that you are blogging specifically about their niche and that you have a high level of expertise regarding the niche. Another way you can benefit from Facebook comments is that you may establish enough credibility with these bloggers that you might be able to get them to publish a guest post. Alternatively, they might be able to link to you as a resource. There just so many ways you can spin this.
Best Practices
First and foremost, you should not spam! The stakes are quite high. When you spam and your account is linked to your Facebook fan page, not only may your Facebook fan page get closed down, but your personal account might get shut down as well. It's extremely important that you resist the temptation of spamming.
Next, your comments must be very niche-specific. You have to be niche-specific in the blogs that you're commenting on and your comments must also be niche-specific. Basically, become a complete geek in your niche. Don't post random comments about the weather, or don't talk about personal stuff. And of course, no generic one-liners.
Finally, on your Facebook fan page, make sure you share only content that is worth sharing. This means that the content is so compelling that it really pushes the reader to click the Facebook share button.
The initial work might seem a real pain in the behind but once you've got that list of blogs written up and ready to go, it's a case of putting 20 or 30 minutes aside each day to make a few comments and the traffic rewards (and brand awareness benefits) can be incredible (and FREE). So go on…What are you waiting for?
About Author