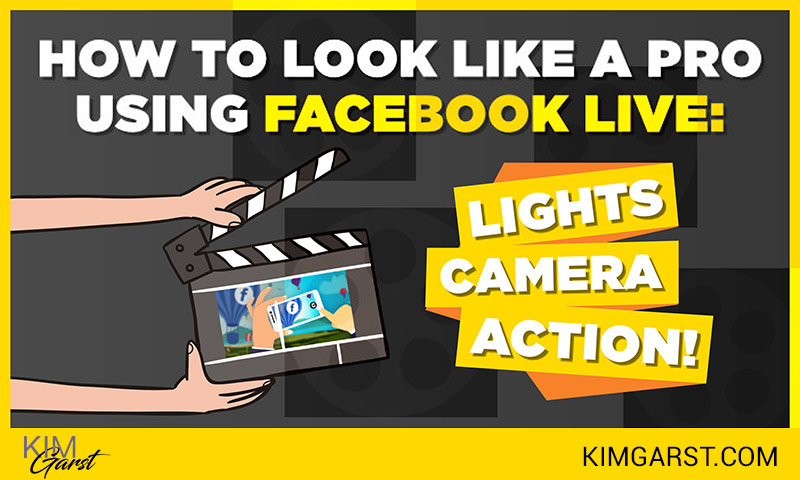 I really hope that by now you're using Facebook Live to connect with your audience and to promote your products and services.
It can be a fantastic way to boost engagement and visibility on Facebook…and who couldn't use that??
But even if you haven't tried it yet, it's not too late. I've put together a number of resources that can help you get started. You can check them out here:
How To Do Your First Facebook Live Broadcast
Once you understand the basics of using Facebook Live, you can dive right in!
The good news is that regardless of your budget, you can create amazing Facebook Lives that your audience will love.
It will take some creativity and may involve investing in a few items (even if you just want to use your smartphone)…but even a small investment in the right tools or equipment can take your broadcasts from ordinary to AMAZING!
This post will outline some simple and cost-effective ways you can go beyond the basics to create eye-catching, compelling Facebook Live broadcasts your viewers will love.
We'll cover:
Using your smartphone for livestreaming
Using a USB camera or webcam
Using an IP camera
Using a professional quality camera
Optimizing your lighting for your livestreams
To script or not to script?
Let's dive in!
Using your smartphone for livestreaming
Let's get real. I KNOW some of you just want to continue to use your smartphone to create your Facebook Lives.
If this is you – but you also want to boost the quality of your videos – there are definitely some ways you can do this on a budget.
1. An external smartphone lens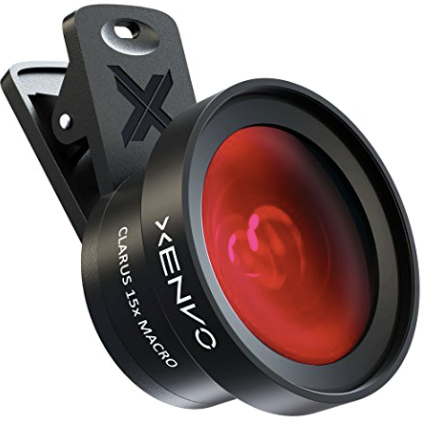 These will improve the quality of your videos, as well as widening your view…allowing you to get bigger, more expansive shots. Some kits will also include bonus items like a macro lens (for getting really close up shots), LED light clips and a carrying case.
And the best part? These lens kits don't have to break the bank!
Not sure where to start? Here are some of the top-rated lenses on Amazon:
Zeso camera lens kit – $29.99
Apexel 4 in 1 zoon telephoto lens kit – $23.46
Xenvo camera lens kit – $29.99
2. A smartphone mic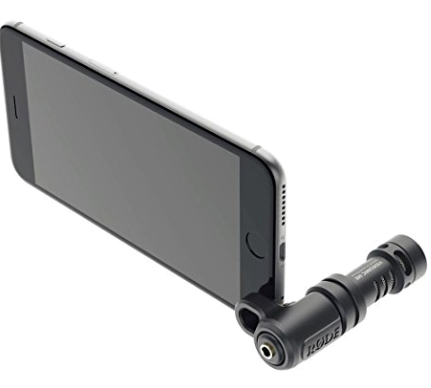 Satisfied with your video quality, but not the audio? This is pretty typical! An inexpensive smartphone mic can make all the difference.
Most offer a noise cancellation feature, and are omnidirectional…meaning less handling and wind noise, and the ability to speak into the mic from all directions (even upside down!).
Some good options:
Professional Grade Lavalier lapel microphone – $22.22
Rode VideoMic Microphone – $59.00
PoP Voice Lapel Microphone – $14.99
3. A smartphone tripod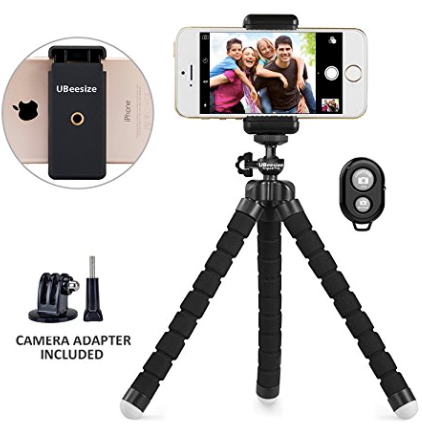 Why use books or other household objects to steady your smartphone when there are so many GREAT, inexpensive smartphone tripods out there?
Many even come with wireless remotes that let you shoot video from a distance, and have bendable legs…meaning you can clip them onto just about anything.
Some good options:
UBeesize Adjustable Camera Stand – $13.98
Fotopro Smartphone Tripod – $25.99
Fotopro iPhone Tripod with Bluetooth – $19.99
If you'd prefer, you can also use a selfie stick. While these won't provide the best stabilization, they will give you a bit more flexibility than using nothing.
Some good options:
Yoozon Selfie Stick: $21.99 (Can be used as a tripod AND a selfie stick!)
Fugetek Selfie Stick: $17.99
Mpow Selfie Stick: $9.59
What if you don't want to use your smartphone for your Facebook Lives?
If you'd prefer not to use your smartphone for your Lives, you're not alone.
This next section will help you choose the right camera, tripod and mic to best suit your needs.
Choose the right camera for your budget
If you're looking for a free option, you can always simply use your computer's webcam. Most will function fairly well, especially when paired with an upgraded mic (more on this below).
But what if the quality of your current webcam stinks…or what if your computer doesn't even have one at all? Following are some other options you should consider.
A USB webcam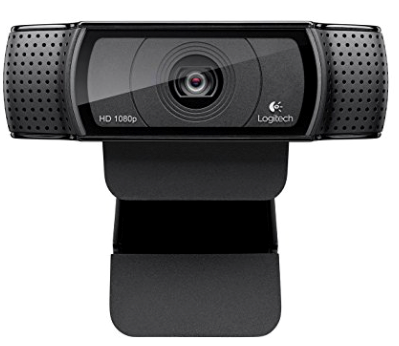 There are tons of USB webcams out there that simply pop right into your computer's USB port. Keep in mind you'll need a reliable Wi-Fi signal to broadcast live from your computer.
These will be a great improvement over your computer's built-in webcam, especially when it comes to audio.
Some good options:
Logitech HD Webcam – $21.99
Logitech Pro HD Webcam – $50.99
IP Camera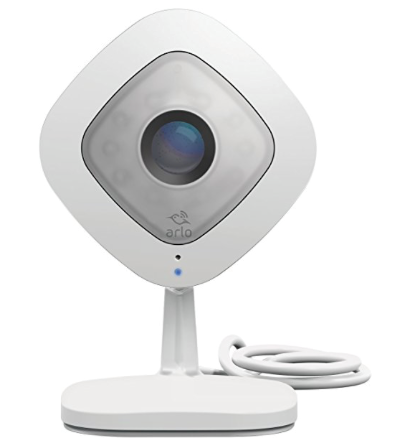 Prefer a standalone camera that doesn't rely entirely on your smartphone or computer?
Then an IP camera may be a good choice for you. While these are typically used for home security purposes, they can also be a good option for live streaming.
Because these have their own IP address, you can use them anywhere without worrying about how you're going to connect to the internet.
The downside is they're not as easy to use as a webcam, and the price is also significantly more.
Some good options:
Arlo Q by Netgear: $147
Amazon Cloud Cam: $119
Professional livestreaming camera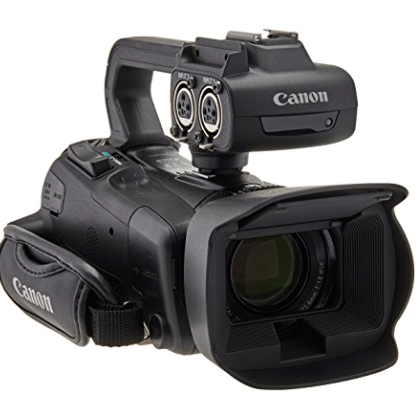 If live streaming is (or will soon become) an integral part of your marketing strategy, it may be time to invest in a professional-quality camera.
These cameras need to have either an SDI or HDMI output and capture card in order to stream live.
While the learning curve will be quite a bit higher with a professional camera, the quality of both your audio and video will be light years above that of a smartphone, webcam or IP camera…making it an investment you won't regret.
Some good options:
Canon XA10 professional camcorder: $1459
Canon XA35 professional camcorder: $2199
 Tripod for your professional camera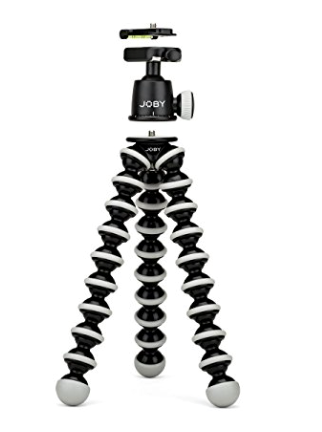 While a webcam or IP camera won't need any stabilization (since they'll usually be sitting flat on a stationary surface), with a camcorder you'll definitely need a tripod.
Using a tripod is important because it:
Keeps your hands free for giving demos or even just using hand gestures
Helps you avoid shaky, blurry videos
Allows you to pan smoothly around when showing movement
Ensures small (unintentional) hand movements don't ruin your close-up shots
Some good options:
Ravelli APGL4 Professional Tripod: $96.96
Fancierstudio Professional Heavy Duty Tripod: $115.99
JOBY GorillaPod SLR Zoom Tripod: $47.90
 Mic for your professional camera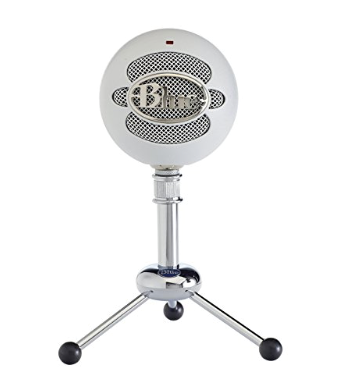 Even if you're using an expensive pro camera, you'll likely want to consider getting an external mic to improve sound quality.
The good news is that they're not expensive (at least not relative to the cost of the camera!), and can make a WORLD of difference in terms of blocking out ambient noise and reducing any distortion.
Some good options:
Rode VideoMicro On-Camera Microphone: $59
Blue Snowball USB Microphone: $69
 Lighting matters: Options for your livestream lighting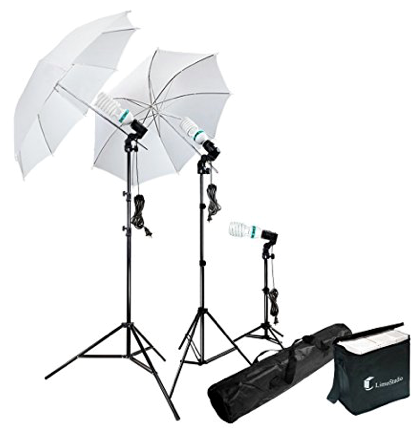 Hopefully by now you've narrowed down what type of equipment you want to use.
But whatever you choose – your smartphone, a webcam, an IP camera or a more high-end camera – don't forget about lighting!!
You can have the BEST camera, tripod and mic in the world…but if you haven't figured out the right type of lighting, it can all be for naught.
First, I'd recommend testing out your broadcasts in a number of locations.
In general, you want to have as much control over your light source as you can. This means blocking out natural light as much as possible (i.e., covering windows and doors). If you really want to use some natural light, at least avoid sitting directly in front of a window.
Ideally, use a number of different light sources. Three-point lighting, the industry standard for video production, means you light up three areas:  your subject (this is you!), the area behind you (back light), and the area opposite your subject (the fill light).
Second, in most cases you'll want to invest in at least one external light source so you have as much control as possible.
If you want to go the DIY route, consider buying a few simple paper lanterns. These are really inexpensive, and help create a soft, diffused glow that's very flattering for your subject.
If you need something a bit more heavy duty, you can invest in a lighting kit. These typically come with an adjustable light stand, lightbulb(s) and fabric diffuser.
Keep in mind that every house, office or location will have different lighting requirements, so no two set-ups will be exactly the same.
If you're on a budget, use what you have first and see how it looks…you don't always have to invest a ton of money to get great lighting!
For instance, marketing guru Yaro Starak started out simply using a $20 lamp from IKEA…proving you don't need to have tons of $$ to get good lighting!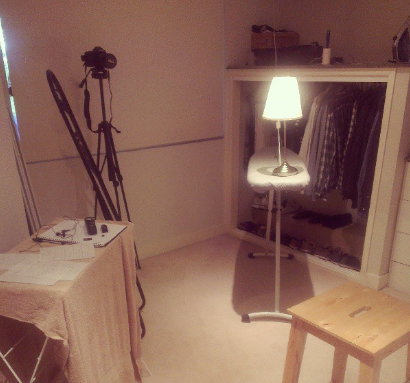 Yaro Starak's simple setup for great video lighting
Some good lighting options:
LimoStudio Video Studio Lighting Kit: $39.99
LimoStudio Continuous Light Kit: $52.99
Paper Lanterns: $8.49
To script or not to script
While this tip isn't strictly about video production, it's worth noting here.
I totally understand how nerve-racking it can be to do a live broadcast…especially if you haven't used video a whole lot.
And I know that when you're nervous, having a word-by-word script in front of you can feel really reassuring.
Unfortunately, reading off a script kind of defeats the whole purpose of live video. Live video works best when it's casual, friendly and a bit unpredictable.
This is why I recommend having a rough outline you can refer to just to keep you on track. Jot down your key talking points, as well as any other important details (like when to zoom in on a certain product, when to ask for audience questions, etc.)
Having this basic outline should be enough to calm your jitters, while also making sure you stay engaged with your audience.
Just remember: sometimes the most amazing videos happen when you just let loose and go rogue! J
Final thoughts
I hope the tips above give you a little more confidence when it comes to using Facebook Live.
But what I DON'T want is for you to assume you have to become some expert videographer in order to succeed!
That's why I wanted to leave you with this little video for inspiration…comedian Ricky Gervais received 845,000 views while doing this Facebook Live FROM HIS BATHTUB!

div>
About Author