Want to create a sales video for your website?
Trust me…it doesn't have to be hard!
Today I'm going to show you how to create a sales video using 2 simple tools. These are tools you probably already have on your computer, or that you can use for free.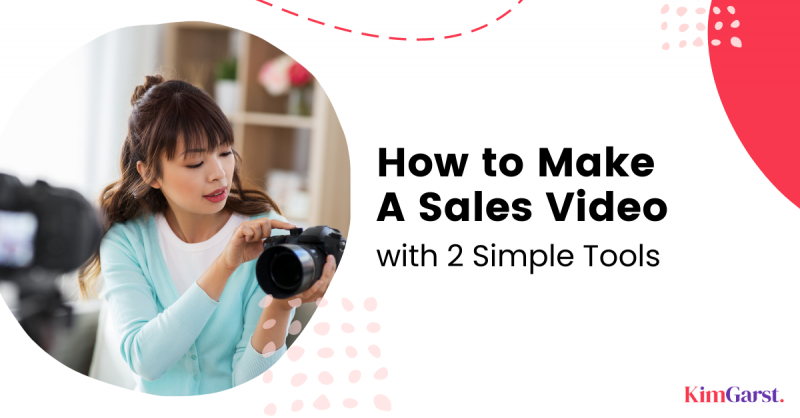 So let's get started!
1. PowerPoint (PC) or Keynote (Mac)
You've probably used at least one of these tools to create slideshows or presentations. But did you know you can also use them to create amazing videos?
If you have a PC, you likely already have PowerPoint on your computer, and if you have a Mac, you probably have Keynote.
Have a PC and don't have PowerPoint installed? No problem: you can use PowerPoint online for free.
Here's how to create your sales video using PowerPoint (Mac users: You'll need to play around a bit, but creating a video in Keynote is very similar to what I describe below).
The idea is that you're going to create a slideshow and then record your voice over it.
When you first go into PowerPoint, start by creating a simple text-based slide, like this: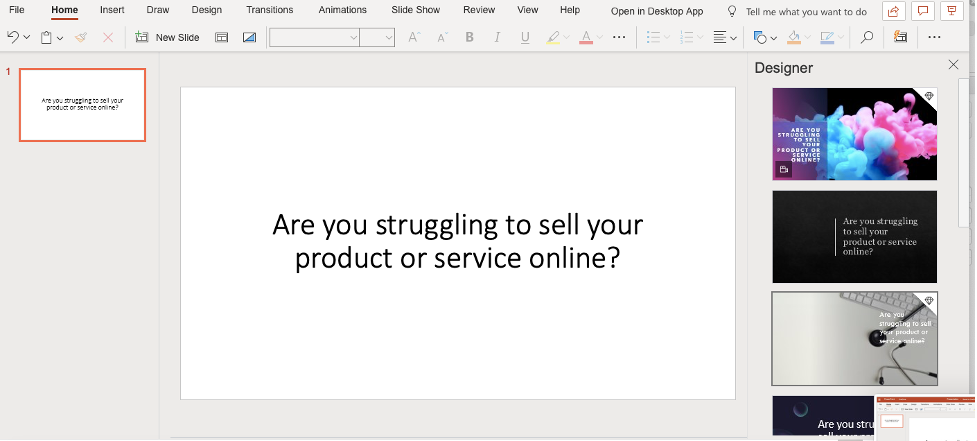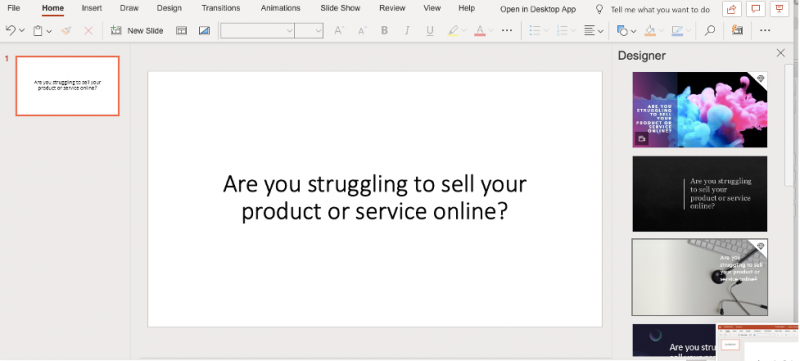 I call this the "ugly sales letter version". You'll probably want to make this look a little nicer! A super-easy way to do this is with the Designer tool.
Note: If you have PowerPoint downloaded onto your computer, you'll need a Microsoft 360 subscription to use the Designer tool. However, the good news is Designer is available for free in the web-based version of the tool!
On the right-hand side of your screen, you'll see a variety of templates under the "Designer" heading. Click on one to automatically apply it to the slide you've already created: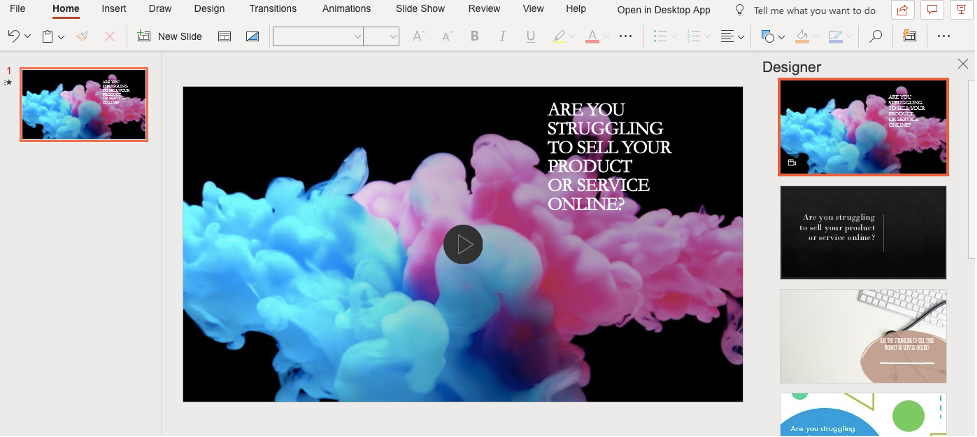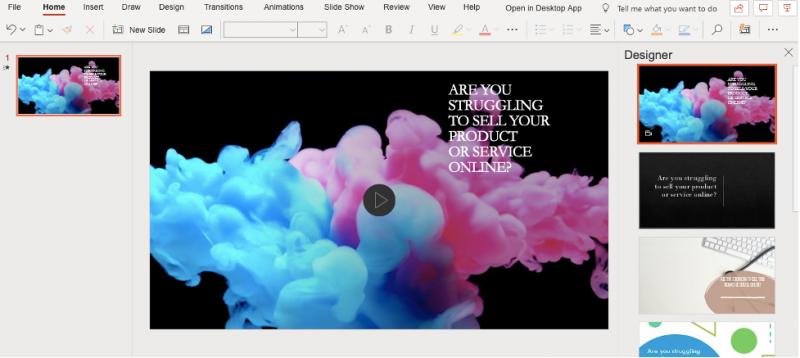 Want to change the fonts or colors? Simply click on the text to edit it. You can even customize the transitions between slides, or add animations like fading, the "fly out" or zoom.
Where to Find Custom Images and Animations to Use in Your Slides
Chances are you'll want to add some images or change the background on some of your slides.
There are lots of places online where you can get stock photos you can use. In terms of paid resources, my favorite site is Depositphotos. However, if you're looking for something free, my FAVORITE resource for high-quality images is Unsplash.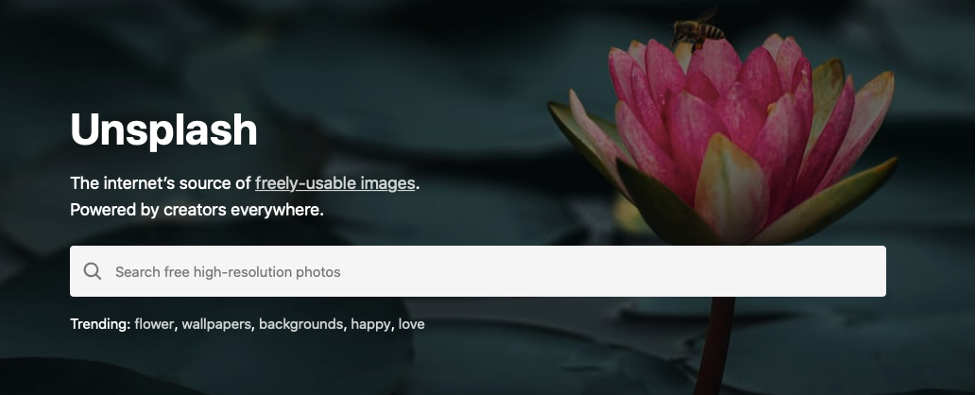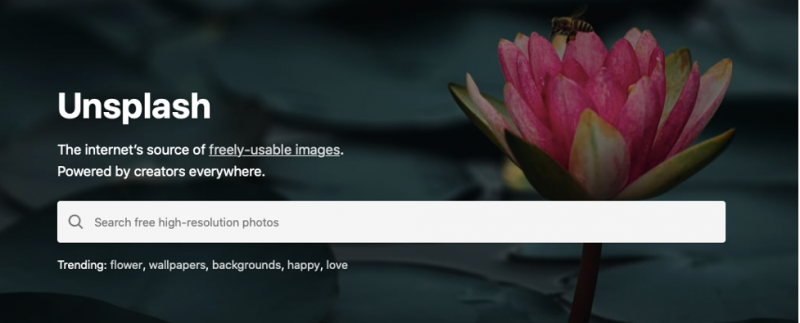 You can grab any image from the site and use it for free, without having to give any attribution. Then simply upload the image to PowerPoint or Keynote, and insert it onto your slide.
Another really cool option is to add your own custom animation to your slide. The tool I use for this is called PresenterMedia. It lets me easily add amazing little animations to my PowerPoints, complete with custom text.
Here's how to do it. Go to Powerpoint Animations in the menu, choose Custom Text, and then find the image you want to customize.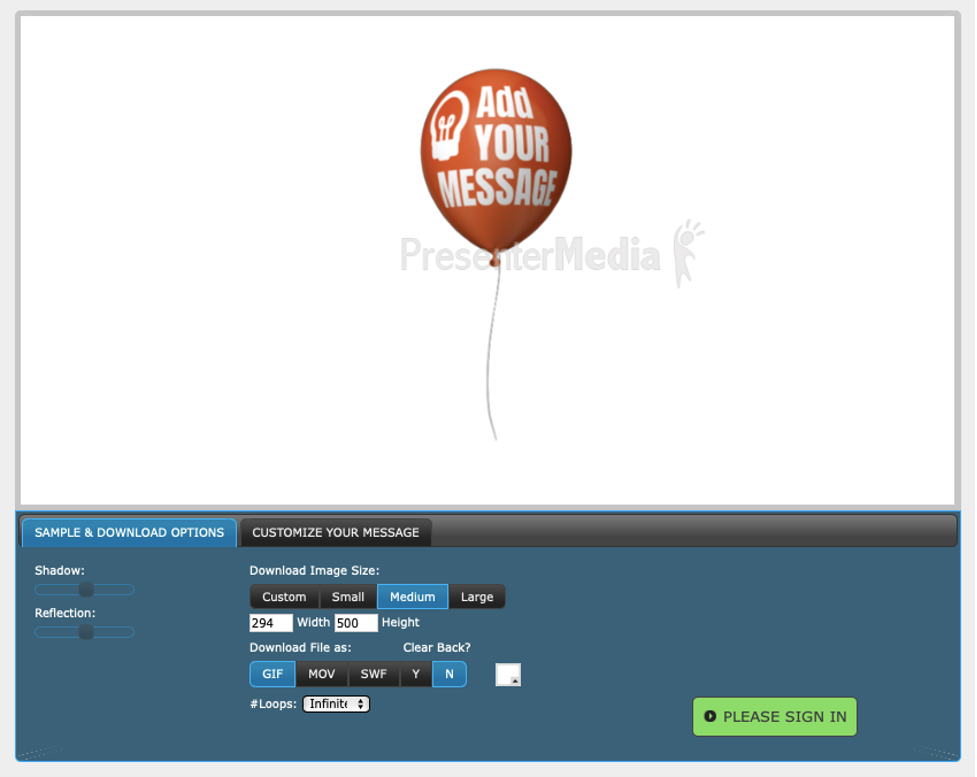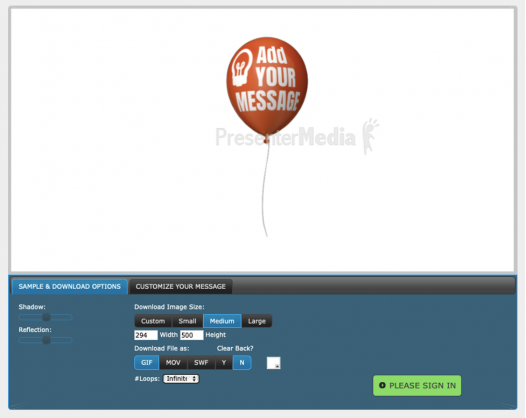 You can now click on the Customize Your Message tab to change the text or background, or to add special effects.
Other customization options you have include changing the image size, adding a shadow or reflection, or adding shapes or icons.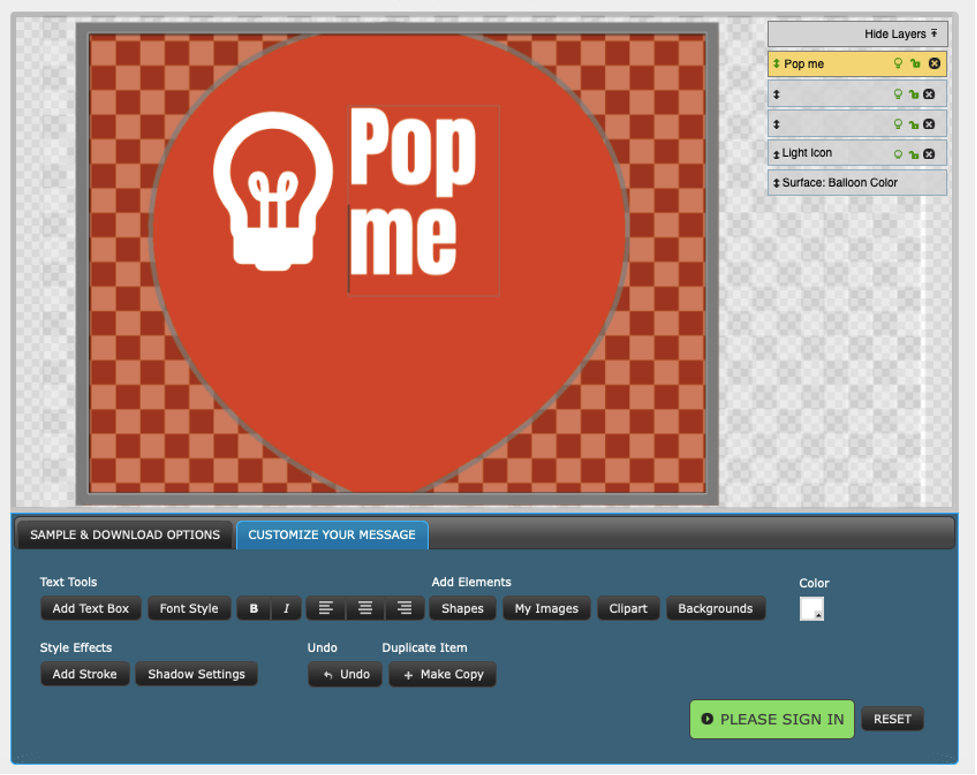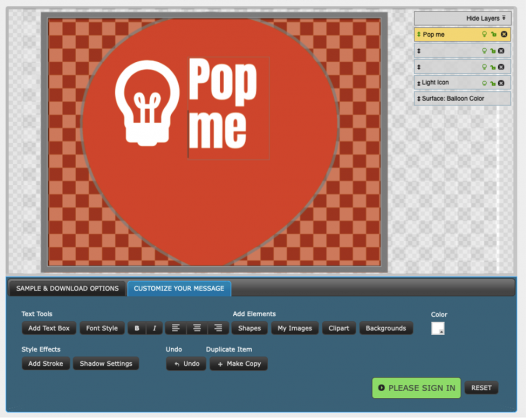 One thing I strongly recommend is to make sure to set your background to clear/transparent. To do this, simply select the "Clear" for the background.
If you don't do this, your animation will have a solid white background behind it when you add it to your PowerPoint. And if you have a background image on your slide, this background will cover up part of the image (and this looks pretty tacky!).
Once you have the animation the way you want it, simply click the Build Custom Graphic button at the bottom of the screen.
You can now go back to your PowerPoint or Keynote slide and insert your custom animation!
Want to add a custom video background? You can do this with PresenterMedia too. This a super-fun way to create a really custom look for your sales videos.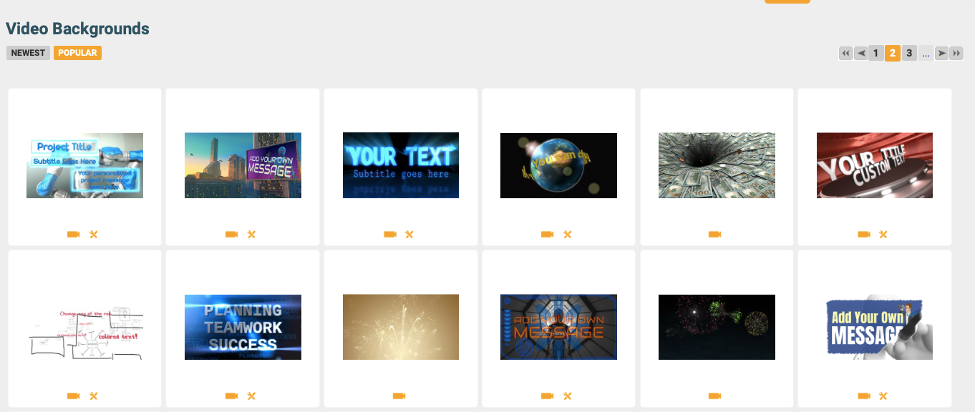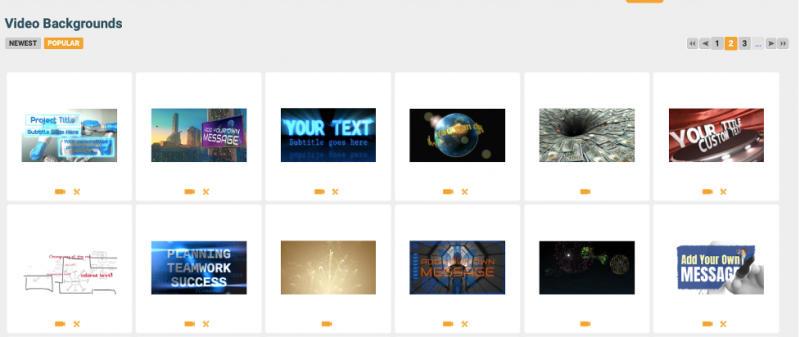 Simply go to Video Backgrounds in the menu, and choose a background to customize. As with your custom animation, just upload your completed video background to PowerPoint and you're good to go!
If you want to check out PresenterMedia, you can do so at kimgarst.com/presentermedia. (Full disclosure: This is my affiliate link).
The cost is $59.95 for a full year, so it's not a huge expense, and it can add a ton of character to your sales videos!
2. Canva or WeVideo (Online Video Creation Tool & Editor)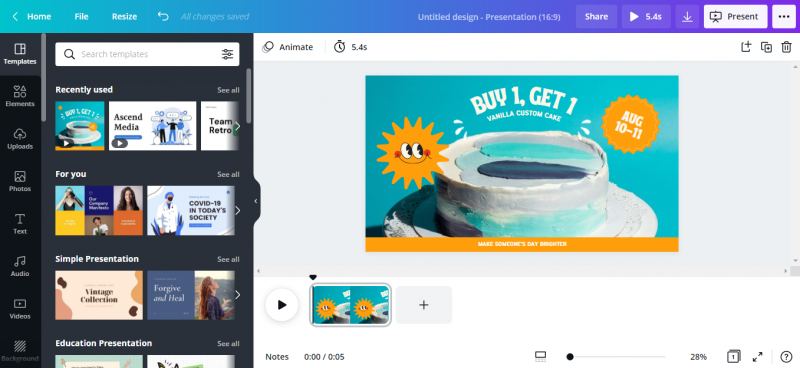 Now that your slides are done, there's only one thing left to do: record your screen and your voice-over!
Both Canva and WeVideo are two great choices for this.
Canva has a new screen record feature that is super quick and easy to use. It is available in both the free and pro versions of Canva, so you can give it a test run for free. The only downside is that you can only screen share from within Canva, so your presentation slides have to be created inside Canva.
If you are looking for something a little more robust, then, I highly recommend WeVideo because you can share any screen, record and edit your video sales letter all within WeVideo. And, if you make a mistake, you can go back and cut out any parts where you messed up! WeVideo offers free to paid plans, so you can test drive it for free! You will need to upgrade to a paid plan if you don't want a watermark on your video – the unlimited plan gives you a ton of functionality at just $7.99/mo (billed annually) and doesn't break the bank!
Canva is a great solution if you want something that is super easy to use. WeVideo is the perfect solution for you if you want a little more functionality.
Ready to Make Your Own Sales Video?
If you want to create a robust sales video that's actually going to sell, you may be interested in my training, VSL (Video Sales Letter) to Profit.

One of the reasons VSL to Profit has been so successful for my students is my Fill-In-the-Blank VSL script. It's basically plug and play, meaning you add in your own details and your video script is ready to go! This has been worth its weight in gold for all of my students.
When you're done with the course, you'll come out on the other side with a finished product. This doesn't happen with a lot of other courses!
I'm super pumped about this training, and I would love to work with you to get your own video sales letter created…in just 7 days.
Find out more about VSL to Profit here.
Final Thoughts
Using the 2 tools above, you can create any type of video…including, of course, a sales video.
First make sure you have the structure and script of your sales video nailed, then pop it into a video format using the tools above.
It's not difficult! I'm all about streamlining things, and this is the best way I know to make your sales video, quickly and easily.
Are you going to use these tools to create your own sales video? Let me know in the comments below!
About Author