Whether you work online, at the office—or both—your physical surroundings have an effect on you. And since you live so many hours of your life at work, giving some thought to where you live those hours is smart. When you set up your workspace or rearrange your current space, think about both efficiency and what feels comfortable to you.
It can help to study yourself and how you work in your current space. Basically, observe how you get things done, working with your current tools and environment.
Ask yourself some questions about your workspace and the stuff you use:
Does your stuff work the way you need it to?
This can be anything from limping along with a clunky slow computer to not having staple refills conveniently available. Does that new device work for you the way you hoped it would? I bought a certain model of e-reader and hardly used it because I didn't like the black and white screen and the interface. After admitting that this one was a mistake and replacing it with a model with different features, I realized that I should have gone with my gut the first time around. Get stuff you like whenever possible, and make things easy as much as you can.
Do you like the way your stuff feels, looks, sounds and works?
Do you need to adjust the height of your computer screen or change the desktop background? Is it time for a new phone cover or a bamboo divider for your desk drawer? It may sound silly, but these little things can have an impact on how you get things done. You might subconsciously avoid a task because your tools bug you. In the same way, when you like the "feel" of your stuff it will encourage you to use it.
Do you feel comfortable and energized by your workspace?
Yes, there are times when we work in less-than-ideal conditions. I've built my entire business in the corner of the dining room, with kids and dogs passing through at inopportune moments. But there's a window with a lace curtain and the desk sits at an angle facing the room so I don't feel closed in. Antique china plates and family photos are in view, and the corner feels pleasant.
Make the best of the workspace you have, clean it up and bring in what you love. Just don't let your stuff take over to the point that your work area is cluttered. We either gain or lose energy by our surroundings. Look around with new eyes and see if your energy is being sucked by a messy, dirty environment—then do something about it.
Rearranging the placement of furniture or equipment can make a big difference in the "feel" of a space. Set aside some time to think it through and play with a new configuration.
While you're evaluating your stuff and space, look at other people's, too. Ask around, find out what works for others. I found an office décor book at a used book sale, studied the pictures to see what I liked about each workspace, and came away with ideas to adapt for my own office area. A few tweaks in arrangement or some funky new office supplies might be just the ticket to inspire you.
Of course it's possible to get into the trap of constantly rearranging and tweaking and shopping until you get everything perfect, but that's just a way of blocking and procrastinating on getting things done because of fear of moving forward or lack of belief in yourself. Thinking you won't succeed until you have a "real" office or your dream computer is just an excuse for not getting to work.
But let's not discount the impact of our surroundings and tools on our productivity. Human beings are affected by their environment, period. A new potted plant on your desk won't transform your work habits, but it just might refresh your spirit. You don't have a work life and a personal life—you have a life. You spend hours of your life in your work environment. It's worthwhile to thoughtfully create a comfortable, pleasant workspace with tools that work well for you.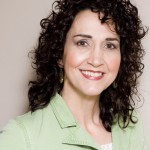 Charlotte Siems is a happy wife and mom of twelve who is a speaker, author and coach. After losing 100 pounds she became a Master T-Tapp Trainer, sharing her encouraging story with thousands of people all over the world. She has built a successful online business and writes about family life and T-Tapp at www.CharlotteSiems.com
About Author