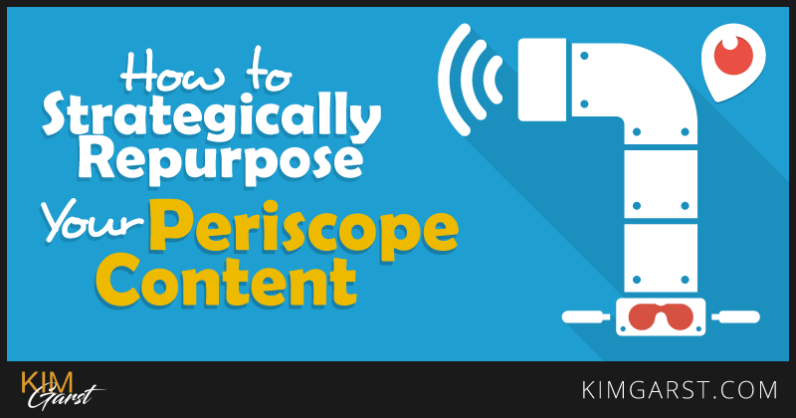 Live streaming doesn't immediately sound like an opportunity for brands to create compelling evergreen video content; however, with a few tricks, you can re-purpose your Periscope broadcasts to use in conjunction with your other social media efforts.
Record Your Live Stream and Share on YouTube
The live and temporary content format that make Periscope a unique social channel can also make repurposing content a challenge for marketers. After you finish recording a Periscope broadcast, your content can only be viewed for up to 24 hours—if your followers aren't online, this could mean that you are missing an opportunity to engage with your audience.
One method of capturing your content is to enable the autosave feature on Periscope so that your broadcast is saved to your phone or mobile device's media gallery after your event is completed. After saving, you can then transfer your broadcast to a desktop device for post production or upload it directly to YouTube or another video sharing website.
While it may initially seem that directly uploading your content from mobile is the best option, it is important to consider that this will leave blank space on each side of your broadcast since Periscope currently records media in a vertical portrait style format.
One way that you can take advantage of this empty video space is by using YouTube's annotation feature to engage with you viewers. For example, multimedia consultant Gina Miller adds YouTube annotations to encourage her audience to subscribe to her YouTube channel and ask questions regarding her content.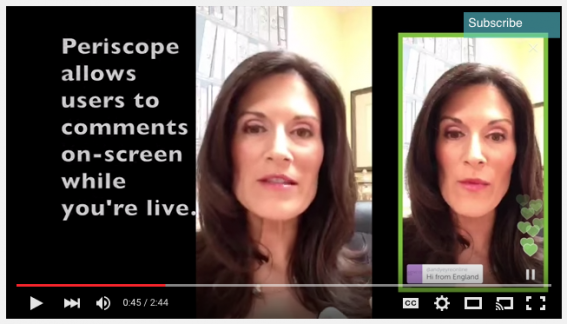 Alternatively, if you have access to post production software or a multimedia specialist, you can edit your Periscope broadcast in ways that creatively convert your content into the 16:9 aspect ratio that YouTube prefers.
For example, Kim Garst incorporates her brand design into the blank space and uses it to both describe her broadcast content and promote the scope on her other social channels.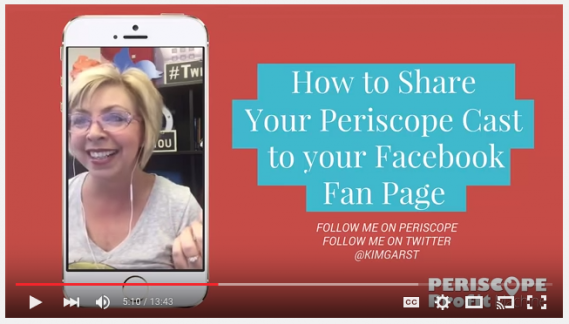 Editing your Periscope content in post production prior to uploading to YouTube can help you better represent your brand and create a more visually compelling final product for that channel.
Archiving your scopes can make your content more accessible to your audience that may have missed your live stream, while giving you more opportunities to reach new people searching for the subjects on YouTube and Google that you're live streaming about.
Write a Blog Post That Addresses Your Viewer's Feedback
During a Periscope broadcast, it's common for engaged viewers to leave comments, appreciation and feedback while you're live streaming, but often times, it can be difficult to respond to each comment and answer every question while live.
One way to ensure that all of your viewer's needs are attended to is by creating a recap article on your blog and addressing their comments. This can help ensure that anyone that missed the original broadcast can still engage with your content and get value.
To accomplish this, first start by capturing your live stream using the methods outlined above and publishing to a multimedia sharing platform such as YouTube, Vimeo, Facebook or elsewhere. This video can serve as a reference point for your readers and be embedded directly into your blog post or used in social media updates on other channels.
Next, address any audience questions or comments that you may have missed during your broadcast within the blog post as you're writing it to recap the discussion you previously had on Periscope.
For example, Constant Contact created a Periscope recap article to share their expertise in the email marketing industry and answer many of their customers common pain points—email unsubscribes.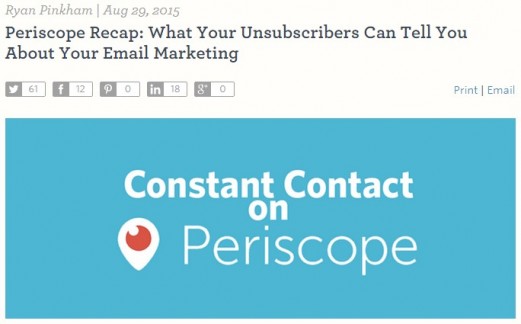 In the article, Constant Contact uses their Periscope discussion to guide their writing and provide more in-depth answers to questions and topics raised during their broadcast. By repurposing their Periscope broadcast into a valuable article, Constant Contact can better provide value to their customers in the long term and have new content to distribute throughout their social channels.
Other ways that you can strategically repurpose your Periscope content could include: separating key topics into individual social media updates, using the ideas to inspire an infographic or designing a detailed slide deck—amongst many others.
About Author