Two questions for ya: Do you use Facebook for your business? Do you have an email list? If you answered "yes" to both of these questions, or if you even just WANT to answer yes, this blog post is for you! Did you know that you can build relationships with your messenger subscribers AND build your e-mail list at the same time using Facebook Messenger Bots? Well ya can! But first, in case you didn't already know, Facebook Messenger is absolutely HUGE right now…there are around 1.3 BILLION people using it.
? Facebook Messenger is absolutely HUGE right now…there are around 1.3 BILLION people using it. Wowzers!
Click To Tweet
This presents an enormous opportunity for business owners to reach their audience in a new and unique way.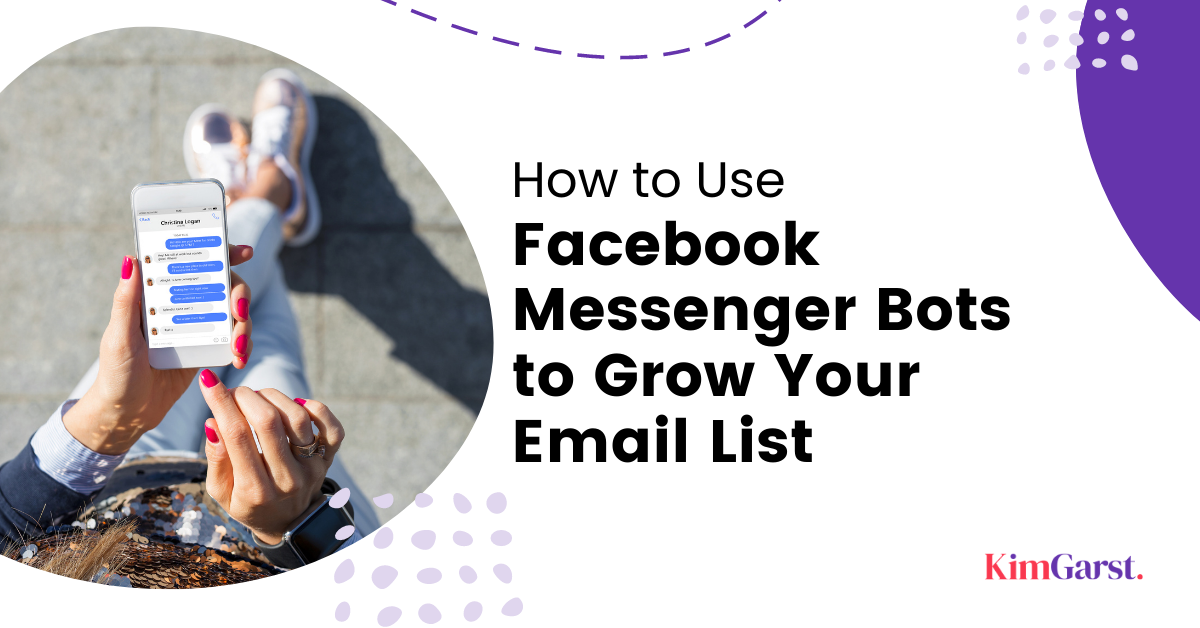 There are a ton of benefits to using Messenger for your business, but some of the biggest involve using chatbots to:
Provide real-time, hands-off customer support, 24/7
Help potential customers find the right product(s) from your site (and even complete the purchase right on Messenger)
Respond instantly to questions, and direct users to your website or landing page
Of course, Messenger can also be used as a tool to build your email list…which is what this blog post will focus on.
Why move People off Facebook and Onto Your Email List?
This is a GREAT question!
If you can use Messenger pretty much the same way as you would an email list, why go to all the trouble of moving people off Facebook?
Well, as is the case with your social media fans and followers, you don't own your Messenger subscriber list.
For instance, messaging people on Facebook means having to familiarize yourself with and follow Facebook's terms and conditions for using Messenger, or risk getting into trouble and getting your bots shut down. And of course, if Facebook were to suddenly close down (I know, it's a big if!), they would take all your subscribers with them.
For theses reasons, I strongly recommend continuing to build your Messenger subscribership, while also using it to grow your email list.
After all, two lists are better than one!
Let me introduce you to my newest program, The Facebook Messenger Bot Academy. The complete A-Z system that will simplify the process of creating your bot marketing strategy and turning it into a list-building, revenue-generating machine.
First Things First: You'll Need a Facebook Chatbot 
There are many chatbot tools out there that can help you get your Messenger chatbot up and running quickly and easily.
In this post, we'll take a quick look at two of them: Messenger's Response Assistant and ManyChat.
Using Messenger's Built-in Chatbot to Build Your List
If you want to take the fastest, easiest and cheapest option (100% free!), you can start with Facebook Messenger's built-in bot*.
This is known as your "Response Assistant". You can access all the settings for your chatbot by going to:
Your page > Settings > Messaging
**This is a fantastic way to test out using chatbots for your business. BUT, if you're serious about using Messenger to build your list, you'll want to use the other tool I describe below.
From here, you'll have the option to send an instant message whenever someone messages your page (e.g., "Thanks for messaging us! We'll respond as soon as we can."), and to show a pre-prepared message when someone first opens up Messenger to contact you (e.g,. "What can we help you with today?").
So, how can you use this feature to build your list?
Here is the main strategy you can use: In your instant reply, include a link to a general lead magnet that most of your Facebook fans would be interested in. For example, "Thanks for your message. If you need more help with xxx, download our free guide here."
Unfortunately, since this is a "one size fits all" message that everyone will get – regardless of why they're messaging your page – this isn't ideal.
For instance, if someone is messaging your page with a complaint, they probably won't be too excited about signing up for your freebie!
That said, this is definitely a way you can test out the whole process with virtually no risk and no techy skills.
And once you're ready to take things up a notch, I recommend…
Using ManyChat to Build Your Email List
ManyChat is a tool that lets you set up a Facebook Messenger chatbot quickly and easily….for FREE! The basic version lets you create unlimited broadcasts (messages), and up to two broadcast sequences (think autoresponders). And as you need more sequences or features, you can upgrade your account starting at just $10/month.
Simply connect your Facebook account and ManyChat will walk you through the process of setting up your first chatbot.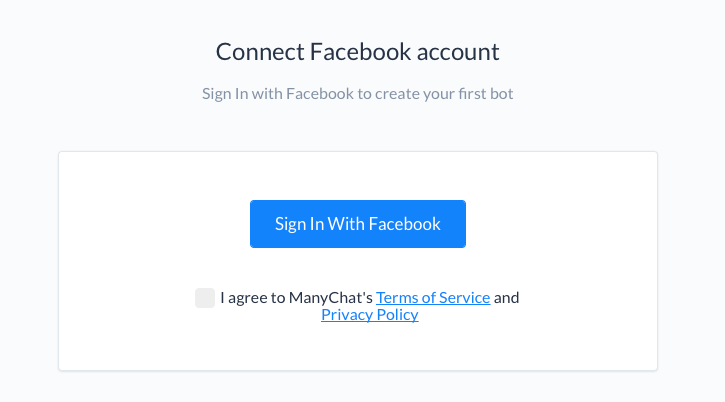 Once you're all connected, you'll be taken to your main ManyChat dashboard where you can view your subscribers.
Your current subscriber count will be ONE (just you!), as the people you've messaged with in the past WON'T be added to this list; only the people who message you in future will become subscribers.
How to Get Your Messenger Subscribers to Sign up For Your Email List 
If you're already an email marketing pro, the following strategies will be pretty familiar to you. And even if you're not quite a "pro" yet, you'll still find this process quite manageable!
1. Create at Least One Lead Magnet For Your Audience
No one joins email lists anymore just because you're promising "amazing, free content delivered to your inbox every week".
You'll need to create at least one (and preferably more) freebies that will entice people to sign up for your email list.
I've written about this extensively on the blog, but here are a few ideas for your lead magnet.
A Quiz
Create a quiz either for fun or to teach people something (or both!). The low-tech way to create a quiz is just to make it into a pdf – if you want people to be able to fill it in online, use a free tool like PDFescape.  A higher-tech way would be to use a tool like Thrive's Quiz Builder: it lets you create and host your quiz on your website. Once users get to the end of the quiz, they're even asked to input their email in order to get their results!
An eBook or Guide
Write a short book or guide on a topic your audience really cares about. It can be as simple as a pdf document, or if you want to take things up a notch, you can actually format your eBook for reading on a Kindle, Nook or phone (Ebook Launch is a great option for getting your eBook formatted). 
A Mini-Course
Create a short, actionable mini-course to teach your fans an important strategy or skill. Each day, send one short lesson, along with a quick question or action item they can complete. Use your email marketing service's autoresponder feature to automatically deliver each day's lesson!
A Cheatsheet 
Think of a big problem your audience deals with, and create a simple "cheatsheet" to help them solve it. List all the strategies or tactics they'll need to overcome the problem. Provide links for additional reading, and you're good to go!
A Resource List
Create a list of all the top products, tools or websites you recommend your audience uses. Format it into a handy one or two-page reference guide. Be sure to include links to let your audience know exactly how to get their hands on each item. 
A Discount or Coupon Code 
If you're not interested in creating a free info-product, no problem. Offer people an exclusive discount, coupon code or even a free trial. Of course, in order to claim their discount or code, they'll first need to opt-in to your list! 
When creating your lead magnet, keep this in mind: it's super-important that it's related to a topic you know your audience REALLY wants to know more about.
Figure out what their BIGGEST questions, concerns and problems are. Then create a freebie that answers, solves or addresses them.
For help with figuring out the best topics to focus on, check out my post How to Come Up With BIG Ideas to Create Super Awesome Content Every Single Time.
Already have a lead magnet, but aren't sure if it's as good as it can be? Check your lead magnet for greatness in 60 seconds here.
2. Set up Keywords That Will Trigger Relevant Freebies
Now that you've got at least one freebie, you want to set up a way to tell people about them in Messenger. 
A fantastic feature of ManyChat is the ability to use keywords to trigger specific messages.
For instance, let's say you're a parenting coach and you have a free mini-course titled "The Basics of Positive Parenting".
Basically, you want this course mentioned to every person who messages you using certain words, perhaps like "discipline", "yelling" or "punish". Alternatively, you could choose keywords like "course", or "video".
Here's a real-life example of how DigitalMarketer uses keywords to promote their freebie. Whenever someone uses the word "guide" in Messenger, they receive this message: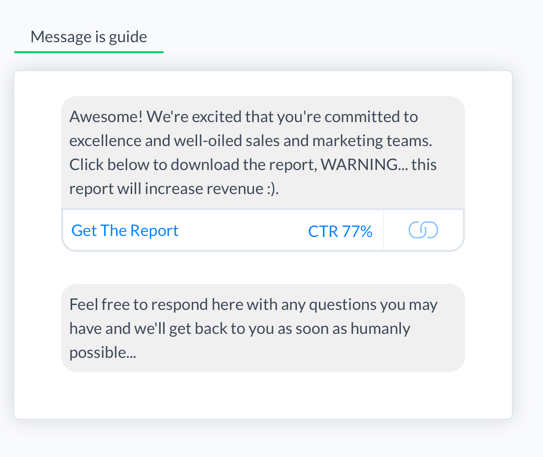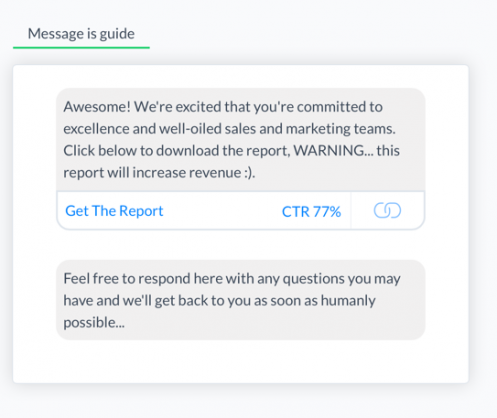 In this example, you could indicate in ManyChat that when users click on "Click The Report", they'll automatically be taken to your landing page where they can sign up for your freebie. It's that simple!
3. Set up Sequences
Another great feature in ManyChat is Sequences. This is the feature that will allow you to set up a series of messages that will act as a funnel – to get people who message you on Facebook to join your email list. You'll find Sequences in the Automation tab of your ManyChat account.
You'll use your sequences just like you would use an email follow-up or autoresponder series.
The basic setup will look something like this:
Someone messages your FB page > They receive a message asking if they would like to subscribe > They are sent a series of messages (sequences)
Once people are in this funnel, you would deliver content just as you would with your email subscribers.
A good rule of thumb is to promote your stuff (even your free stuff) no more than 20% of the time. So, you would send awesome, free content 80% of the time, and then promote your freebie (your guide, eBook, course, etc.) 20% of the time.
? A good rule of thumb is to promote your stuff (even your free stuff) no more than 20% of the time. So, you would send awesome, free content 80% of the time, and then promote your freebie (your guide, eBook, course, etc.) 20% of the time.
Click To Tweet
When promoting that 20%, provide a link to your landing page where they will – you guessed it – hand over their email in exchange for the freebie.
Here's an example of a sequence you could use:
Send initial welcome message to those who message you. Example: "Thanks for your message! What can we help you with today?". You can then offer a number of choices people can select from. One of which can be to download your freebie, if you so choose. Be sure to provide an unsubscribe button each step of the way, but especially here.
Helpful/educational/inspiration message #1. Example: Give them a quick tip, useful strategy or word of encouragement for the day. Remind subscribers why they're getting this message from you.
Helpful/educational/inspiration message #2.
Helpful/educational/inspiration message #3.
Helpful/educational/inspiration message #4 and invitation to get your freebie (guide, eBook, e-course, etc.). Give link to freebie landing page.
Helpful/educational/inspiration message #5.
And so on, and so forth.
Final Thoughts: Go forth and create your own Messenger chatbot!
After reading this post, I assume your goals are twofold: to build relationships with your Messenger subscribers, AND to build your email list. The process above is ideal for meeting both of these goals.
I would love to know if you decide to use the strategies above, and how they work for you. Leave a comment below!
About Author