Does the time you spend on social media leave you wondering, "is it really profitable?"
If so, then you are in the right place!
Today's focus is twitter, and how to use twitter lists to improve profit and time management.  Also, be sure to check out the great example of list names/categories to create!
What are twitter lists?
The twitter list feature allows you to organize the people you follow into groups.  After grouping followers, you can open a single list and engage easily with only their tweets.
How can you create a twitter list?
1.     Once you are on twitter, click on your picture; this will take you to your profile.
2.     Underneath your picture is 'LISTS'. Click and all the lists that you are subscribed to and a member of will appear.
3.      To create a new list, click on the "create list" button in the top right hand corner.
TIP: Check out the names of the lists that you are "a member of."  These are the lists that others have put you in, and are a great indication of how well your followers understand your business and if they are connecting with you on your message.
3 Ways Twitter Lists Will Save You Time
 1. Twitter lists helps you to get in touch with the right people in a very short time frame.  
Once you're following more than a few hundred people, your newsfeed can become a nightmare to engage with your followers. Lists allow you to cut the noise and avoid the clutter of your newsfeed. You can connect with your target audience and those that you wish to engage with very quickly by using the list feature.
2. You can use your twitter lists to find out the latest trends in your niche, and how your target audience feels about the trend.
Now, you can be among the first to blog about it, or utilize it to build a joint venture partnership. 
3. Be sure to create lists that actually save you time.  Name the lists to help you quickly find those that you wish to communicate and/or see what they are tweeting. It can be tempting to create a lot of social lists like, "my peeps" or "funny tweets." However, if these proliferate your list feature, then you are cluttering it, and not using your twitter account for business as effectively as you could.
5 Ways Twitter Lists Can Create You Profit
1. By effectively setting up your lists, (see example below) you can showcase quick and helpful customer service.
For example, setting up a Customers/Clients list, allows you to stay on top of any questions or concerns.  When you tweet your supportive answer, the whole world sees that you have great customer service.
2. Create a list of networking contacts.  With these followers, you want to ask them niche specific questions, "how do you do.." "what's most overwhelming to you.." Second, you want to retweet and promote THEM, as much as possible.  By flattering them, they will do the same for you, and soon you will see referrals flying in the door! 
3. Follow influencers and news organizations in your industry.  The information they post can give you an edge, or early lead for your own tweets, blogs and press releases.  The more you can expose your niche to the latest news, the more you are seen as an expert in your field.  Followers will come to expect the latest and greatest from you.
4. Following influencers and peers in your niche can create joint venture opportunities.  If a influencer starts to talk about a coming project or program, do what you can to learn more. Perhaps, you can offer a service that will further enhance their program, and create a joint venture relationship.
5. Be strategic.  You can create up to 20 lists and you have the option to make each one public or private.
Public lists flatter the people on them and allow other followers to follow your list.  Having popular lists is another indication that people look to you for expert advice and will want to do b
On the other hand, private lists offer you the ability to closely follow your competition without their notice.
Some Great List Names Include:
Influencers or VIP's  – They are the influencers or big names in your niche.  They can be your source of news and trend changing ideas.
Industry Peers – This group, along with engaged fans, may be the list you frequent most.  Industry peers are great for JV opportunities, hot news, and referrals.
Engaged Fans – These are the active followers of your account.  They consistently @mention @reply or Retweet your comments.  When you are online, they will gladly jump into a conversation with you.  Because of this, you want to keep the engagement high, and comment on their tweets whenever applicable. You never know where your next client or client referral will come from!
Clients/Customers – These people keep you in business.  Here, you can quickly answer any questions, concerns or product issues.  As long as you are on top of it, the public nature of twitter helps to showcase your amazing customer service. Likewise, making this a public lists allows clients to interact.
Networking Contacts – These are people you've met at networking events or on other social media platforms.  They are great supporters and motivators, and they own businesses outside of your niche. Keeping in touch with them as this may lead to referrals or JV opportunities.
World Topics – These include organizations, newspapers or world events that you want to follow. Don't under estimate the power of this list.  It can help you create blog topics and popular press releases.
Co-workers – If this applies to you, having a co-workers list can also be helpful to keep an eye on what's happening within your company.
Friends – These are real-world, local people that you know and keep up with. They are the ones with whom you spend your down time and funny stories. Hopefully, they are some of your biggest fans and supports, and love to keep up with what you are doing!
To keep yourself well-rounded…
Personal interests – When you need an escape from your business niche, check out the latest news on a fun, personal interest topic.
The Junk Drawer – This list is your delightfully random mix of interesting, funny, or local twitter's that you enjoy reading!  Everyone loves a junk drawer!
Bonus Tip!!
Are you more comfortable on Twitter than on Google+?  Twitter lists can help you feel at home on Google+, too. 
How?  Think of the circles feature on Google+ as a deluxe version of the Twitter list feature, and create your circles on Google+ in the same way.
To receive Kim's "30 Fun & Creative Ways To Increase Your Facebook Likes "CLICK HERE"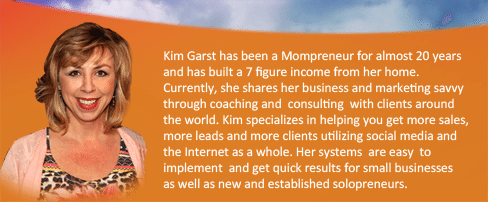 About Author