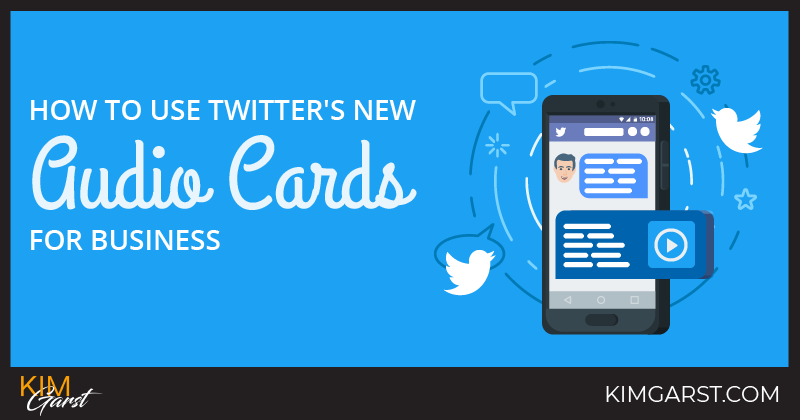 Did you know Twitter is now offering the ability to share and listen to audio right from within your Twitter feed? Twitter recently announced the launch of audio cards, a new way to stream music, podcasts and other audio content without ever leaving having to leave Twitter.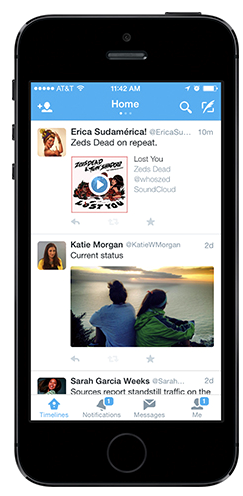 When users click on the card, the audio begins streaming; and docking the card means you can continue listening to the audio while browsing the rest of your feed.
While the feature isn't yet available to all users, you can see it in action in the feeds of users like @Washingtonpost, @WhiteHouse and @Coldplay.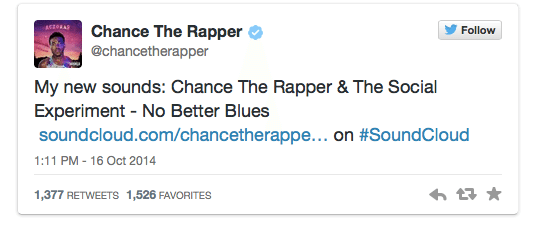 Some musicians have even used the new feature to release new singles or exclusive mixes:
So, what will this new feature mean to business owners?
How to Use Twitter's New Audio Cards for Business
Currently the feature is only being offered to a limited number of users, and songs or podcasts are limited to select partners on SoundCloud or iTunes.
While we'll have to wait until Twitter gives us the capability to share our own podcasts and mixes, I imagine this will happen soon.
Just to clarify: Player cards have been available for some time now. Player cards allow you to add audio or video to your tweets through adding a snippet of code to your site. This post refers to the newly released audio cards that will allow you to stream audio directly from SoundCloud and iTunes.
1. Stream your podcasts.
Podcasting is steadily growing in popularity as it allows an audience to get to know the 'voice' behind the business.
It also gives non-visual learners a great alternative to text-based blog and social media content.
If you haven't yet started a podcast, this may be the time. Imagine your followers being able to click on an audio card and listen to your podcast – all while continuing to browse Twitter!
Podcasting is a great way to share relevant audio content with your audience. Content like interviews, news, Q&A sessions, tips your listeners could benefit from, etc.
If you don't have a podcast (and don't want to start one), you could always share another podcast that your followers would enjoy.
2. Offer a free audio eBook.
Do you already have a free eBook you use as a lead magnet? Why not making an audio recording of it, and stream it to your Twitter followers? This can help build trust and increase the personal connection people feel towards your brand.
Include calls to action within your audio eBook to spur listeners to further action. Do you want them to download a paid eBook? Register for a webinar? Join your email list? Make sure to include CTA's that let your listeners know there's more valuable content where this came from.
3. Put together a music mix your followers would enjoy.
Have certain songs that inspire or motivate you while you work? Share it with your followers…I guarantee they will appreciate it! Here are some examples:
If you are an author: Share music you listen to while you write.
If you are a personal trainer: Share a mix your followers can use while they work out.
If you work with moms or babies: Share soothing music for relaxation and calming.
4. For musicians: Sell your music directly through Twitter.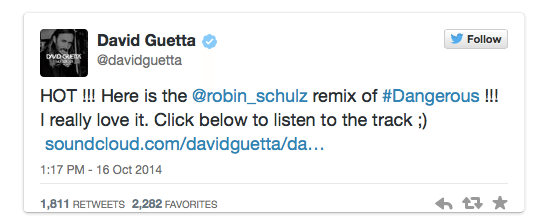 Obviously musicians will have the most to gain through the release of audio cards. Musicians can tweet out the release of new albums or promote existing albums directly within Twitter.
Artists can choose whether to share a preview of their song, or the song in its entirety; something that isn't available in the iTunes store. If your followers like what they hear, they can then purchase the song with just a few taps in their timeline.
It will be interesting to watch audio cards roll out over the coming weeks. SoundCloud has stated that all its users will be able to access the feature over the next few weeks.
Have you tried audio cards yet? What do you think? 
About Author