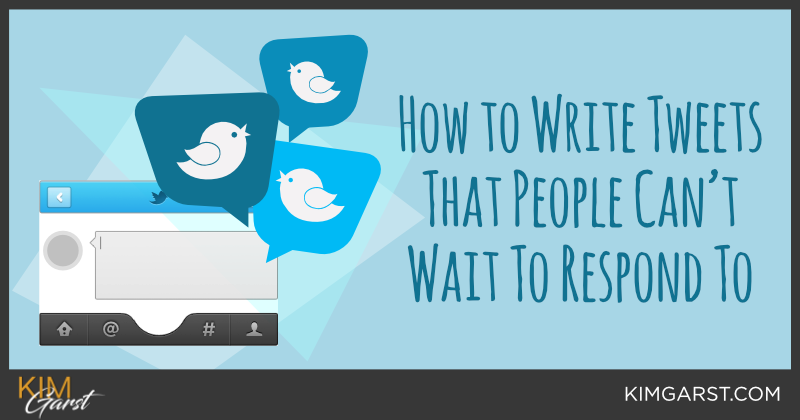 It's hard to stand out on Twitter. With around 5,700 tweets happening every single second (!), getting your tweets seen, noticed and engaged with can be tricky.
A while back I wrote a post 20 Quick and Easy Ways to Get More Retweets. If you're looking for proven techniques to get your tweets shared, start there. This post, however, will be about how to write tweets that stand out from the rest; tweets that your followers will not only notice, but will want to read, click and share.
3 Foundational Strategies for Writing Engaging Tweets
Before you even write a tweet, try working through these 3 foundational techniques for maximum impact and engagement.
1. Put yourself in your followers' shoes.
This is perhaps the #1 tip I can give you for achieving success on Twitter. Too many business owners think of Twitter as primarily a way to promote their business. Problem is, when it comes down to it, no one cares about your business!
If you are honest about it, what do you care about? What kinds of tweets get you reading and responding? I bet it's tweets that apply directly to you, your life, your problems and your interests.
Your followers are no different! Before you tweet, take a minute to get yourself in the mindset of your followers:
What issues are they likely struggling with today?
What information can you provide that would help them?
What's going on in your industry that they would like to know about?
2. Look at what's worked in the past.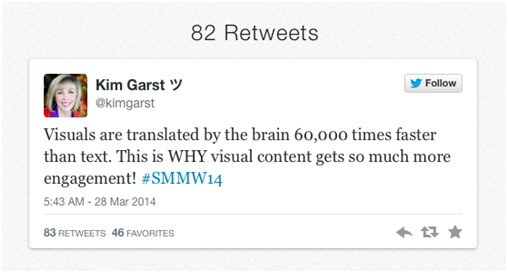 Find your most popular tweets using My Top Tweet
You know the saying,  "The best predictor of future behavior is past behavior"? Well the same holds true on Twitter.
Take a look at which tweets have been the most engaging in the past. This will vary from audience to audience, although we know that typically the most engaging tweets are those that contain videos, images and links.
To see your most popular tweets, try using a tool like My Top Tweet, which will give you an overview of your 10 most popular tweets. From here, you can either create new tweets based on what you have learned, or even recycle your old tweets so they can reach your new followers.
3. Be real.

This sounds so obvious, but unfortunately some people are willing to do whatever it takes to get noticed; even if it means not being true to themselves.
People want to engage with the real you – the good, the bad and the ugly (well, you can keep some of the bad and the ugly to yourself!). But you know what I mean: they want to know that you are a real person with real struggles. Essentially, they want to know that you are a real person, just like them.
8 Tips for Writing Tweets People Will Respond to
Following these 3 maxims will give you a solid foundation for your tweeting strategy. But now it's time to find out exactly how to write a tweet that people will respond to.  Here are 8 tips for writing tweets that can't help but get engagement!
Use a clear call to action: Tell your followers exactly what you want them to do. Retweet? Download? Click a link?
Ask a question: Asking questions is one of the best ways to elicit a response on Twitter. Most of us have a really hard time leaving a question unanswered…take advantage of this tendency!
Ask for a follow: If you're wanting to expand your audience, try actually asking for a follow. According to Twitter, promoted tweets that ask for a follow get 258% more follows!
Be inspirational or motivational: Almost all of my most popular and engaging tweets have been ones that have inspired or motivated my followers.
Use mentions: If you're looking for a response for one or two specific people, @ mention them in your tweet.
Be conversational: Remember that this is Twitter, not the boardroom! Keep it real, use humor where appropriate and most importantly: be yourself.
Share relatable experiences: Part of keeping it real is sharingreal-life experiences with your followers. For instance, "Guy in car in front of me threw sandwich out the window…yuck!" is far more likely to get engagement than "Can't stand people who litter".
Remember…your tweets are like a headline: Use the best practices of writing engaging headlines for optimal engagement. For more on this see my post The Ultimate Guide to Writing Social Media Headlines That Get More Clicks.
Above all, remember to tweet useful information that will help your target market. This is at the core of any successful social media strategy, and your efforts to meet the needs of your followers will pay off richly!
What's YOUR best tip for writing engaging tweets? Share it with us below!
About Author