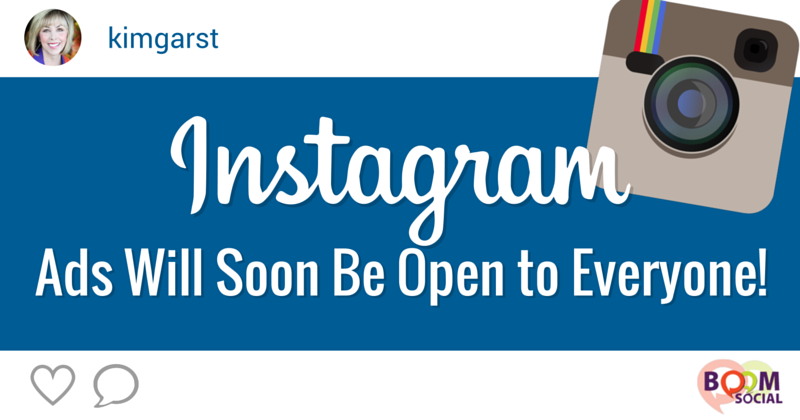 If you've been wondering how you can leverage Instagram's huge, engaged user base for your business, you can stop wondering. Instagram has announced that they will be opening up their advertising API, meaning regular business owners can now purchase ads on the platform!
Prior to this, advertising on Instagram meant contacting a company rep and investing big bucks. Now, ads will be available to ALL business, both big and small, on a self-service basis (just like Facebook and Twitter ads).
The ads will appear in users' Instagram feeds, just like regular posts. Because the ads will blend in to organic posts, users won't feel like they are being inundated with flashy ads. And according to The Guardian, Instagram will take additional steps to ensure that ads don't become spammy or annoying: "Instagram will manage volume, frequency and creative integrity, ensuring that users are not spammed with offer-based advertising".
How will this help marketers?
Besides the obvious benefits of being able to promote products and services to a larger audience on Instagram, businesses will now be able to purchase the ads right alongside their Twitter and Facebook ads. Using 3rd-party platforms, businesses will be able to buy, manage and track the performance of their Instagram ads, and even cross-promote their ads between their various social media accounts.
According to Hootsuite, this feature will streamline digital ad management considerably for business owners:  "This integration will also make marketers and social-media managers more efficient as they will no longer have to switch between their phone and computer to track all aspects of a social-media campaign. For example, if a new product is launched, responses to comments and engagement with users on Instagram can be carried out from the same window that is being used to engage followers on Twitter and Facebook. Everything is in one place."
Instagram ads announced in wake of other new features for advertisers
We've known for months now that Instagram has been working to improve their ad offerings. Here are a few of the new advertising options they've recently released (or are currently releasing).
Enhanced targeting options: Back in June, the company announced that they would be offering expanded targeting options so advertisers could better reach their target market: "Working with Facebook, we will enable advertisers to reach people on Instagram based on demographics and interests, as well as information businesses have about their own customers. We will also improve the feedback mechanisms within Instagram to give people greater control and improve the relevance of the ads they see".
Direct response formats: Instagram also announced that advertisers will soon be able to take advantage of direct response ad formats. This means that after clicking on an ad, users will be able to take a direct action, like going to the advertiser's website or purchasing a product.
Carousels for multiple photo ads: In March, Instagram gave advertisers the option to include multiple photos in one ad. Users can swipe through the images, ending up at a link to the advertiser's website. This will allow companies to tell better stories, increasing engagement as well as website traffic.
How can I start using Instagram ads?
Unfortunately, you'll have to wait a little bit longer to begin using Instagram ads. The company plans to first make self-service ads available to a select group of Facebook marketing partners before expanding the offering to all users. Some of the launch partners that already have access to the API include Salesforce Marketing Cloud, SocialCode and 4C, among others.
Stayed tuned, and I'll be sure to let you know as soon as Instagram ads are available to all users!
What do you think of the new Instagram ads features? Will you be jumping on board once they're available to the general public? Why or why not?
About Author